Joe Fex (Bigfoot Specialist)
March 27, 2010 – Show Archive – Podcast Hour 1 – Hour 2 – Hour 3 – Hour 4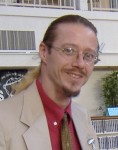 In the studio with us this Saturday is Joe Fex is an expert in antiques and internationally recognized UFO and Bigfoot specialist as well as the founder and curator of Ape-X Research Archives, which houses one of the most extensive paranormal and rare-data research archives in the Midwestern region, including some of the oldest known UFO photos and Sasquatch documents of the modern age dating back into the mid-1800s.
Joe has had a lifetime of paranormal experiences and these experiences, along with his 2 and a half tons of rare artifacts and raw scientific data, have led to his research collaboration with many of the most renown and respected names in the UFO and Sasquatch fields.
Joe's research interests span the gamut of the super unknown, and also include research into topics such as phantom panthers; an enigma that is one of the most prominent forms of phenomena, yet remains one of the least publicly realized mysteries.  Rarely photographed in any form, new knowledge and technology has allowed a wealth of evidence.
Joe's extensive research and studies in the Sasquatch, UFO, and paranormal fields have led to many highly controversial theories, and Joe feels that mainstream crypto zoology is overlooking the importance of how this entire unknown phenomenon is interrelated.
Share this post...