December 19, 2015 – Archives/Pod Casts  Hour 1 – Hour 2 – Hour 3
Hour 1:  OPEN DISCUSSION on Peace on Earth, Good Will…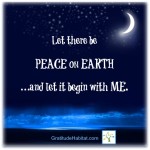 Whatever happened to Peace on Earth, Good Will Toward Men or Peace on Earth to Men of Good Will?
Everywhere you look (at least in the media), there seems to be little peace on Earth these days. The simple words of comfort and cheer somehow ring hollow with all the armed conflict and interpersonal strife present in the world.
During the holiday season we are reminded to share good will with others and to find peace, but often the holidays only add to the stress and emphasize the lack of peace in both everyday life and on Earth. While creating a more peaceful world may present a complex challenge, there is always reason for hope–for peace begins within.
JOIN Barb and John as they share some of their own stories about the holidays and finding Peace on Earth as they discuss Peace on Earth, Good Will…
Hour 2:  Don Williams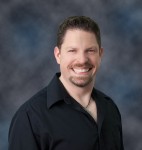 Joining the show during the second hour is author,  speaker, and life coach Don Williams, who will be discussing his soon-to-be released book in January 2016, The Human Instruction Manual.
You never know where the next great invention of life-changing technology will come from. For Don Williams, it was a near fatal and freak accident at age 10 that forever changed the course of his life and gave him a blueprint for living. For the past 25 years, Don has developed this wisdom into The Human Instruction Manual, which he will soon with people around the world.
In 1987, Don suffered a paralyzing injury which was typically fatal. Throughout the injury, the difficult surgery to repair his neck, and painstaking recovery process, no one bothered to listen or to ask Don what he was feeling or to explain anything about what was happening to him. The feelings of isolation and neglect fueled a powerful anger and determination in Don to grow up a lot sooner. In hindsight, Don was pushed into self-actualization by the accident and everything involved in his healing journey.
Flash forward to 2001.  Don graduated with a B.S. in Mechanical Engineering from the University of Southern Florida. His experiences in the work world soon puzzled him as much as his earlier experiences. After a number of similar experiences in the engineering field, Don knew it was time to do something different and he chose to create a teachable system that could bridge the gap between what society teaches people in school and natural reality. The result is a company called Get On 2 IT, designed to educate people on lifestyle choices that will help elevate their quality of life in eye-opening yet sustainable ways. The coursework is based on his Human Instruction Manual, a set of universal principles and concepts that can aid anyone in the steps that must be taken to become self-actualized.
Don Williams is also the author of Personal Management with Purpose + Wisdom.
For more information, visit http://GetON2It.com.
Hour 3:  Diane and Mario Cloutier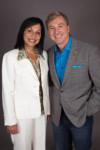 Relationship coaches and authors Diane and Mario Cloutier join the show during the final hour to discuss their latest book, ReLovenship:  Look Within to Love Again!
Would you like to find out how to find a great, fulfilling relationship? Nothing hurts like a broken heart, and certainly no one wants to re-live that pain! The process of looking back at the hows and whys can be agonizing, though. Many of today's more than 100 million singles turn to the matchmaking industry, which grosses more than two billion dollars annually. But in spite of all the ways to search for and vet potential partners, failed romances still overtake successes. So how do you attract the ideal partner?
Listen in as Mario and Diane Cloutier offer proven tips to help anyone unlucky in love.  They'll discuss their breakthrough approach to attracting that ideal partner as well as the pitfalls and traps people fall into that keep them from finding their lifelong partner.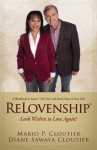 Mario and Diane Cloutier are the authors of ReLovenship: Look Within to Love Again!
Mario and Diane are relationship coaches who found each other in 1998 after both experienced unfulfilling relationships. Mario is the Founder and Chief Creative Officer of Xclamation Marketing.  Diane enjoyed a successful career in managerial roles with Fortune 500 organizations before focusing fulltime on the couple's ReLovenship book and seminars.
For more information, visit http://relovenship.com.
Share this post...