Hour 1 – John J. Higgins and Barb Adams, China, Are You Listening?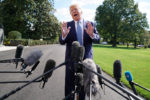 On Wednesday, while speaking to reporters about Chinese officials heading to the United States this coming week for negotiations regarding his costly trade war, Trump nabbed the opportunity to ask the Chinese, a geopolitical foe of the U.S., to start an investigation into the Bidens — amounting to yet another impeachable offense by using his office for political gain.
Many experts agree this second offense is even worse than the first, which triggered an impeachment inquiry when Trump asked the Ukrainian president to do him a "favor" and investigate the Bidens.
JOIN Barb and John as they discuss the latest regarding the scandal involving Trump and his "asking" both the Ukraine and now China to investigate the Bidens.
Hour 2 (Rebroadcast) – John Foley, Fearless Success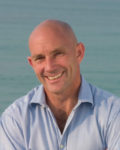 Joining the show during the second hour is former lead solo pilot of the Blue Angels and author, John Foley. John will be discussing his book, Fearless Success: Beyond High Performance.
Four thousand climbers have scaled the summit of Mount Everest and 2,450 active personnel have what it takes to be called Navy SEALs. The world has seen 536 astronauts' journey to outer space. But since 1946, a mere 257 pilots have flown as Blue Angels. Only 0.01% of all U.S. military pilots in history have achieved the unparalleled performance symbolized by the Blue Angels gold helmet.
Despite reassigning a whopping one-third of personnel each year—a Navy policy that shakes up maintenance crews to leadership—the Blue Angels have mastered and continually improve their craft in extreme, high-stakes environments, year after year. How do they do it? Through a unique combination of mindsets and processes that ignite performance.
The Blue Angels, lean startups, and Fortune 500 companies all have something in common: a thirst for improvement, says former lead solo Blue Angel pilot, Stanford Sloan Fellow, and thought leader, John Foley. In today's turbulent business environment, where change and disruption are coming hard and fast, you can't afford not to mirror the stabilizing methods used by the best of the best.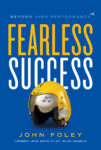 In his new book, Fearless Success: Beyond High Performance, Foley shares a repeatable and scalable blueprint that's empowered more than 1,000 of today's highest-performing organizations, including Google, the Mayo Clinic, Merrill Lynch, Procter & Gamble, Mercedes-Benz, and more. During the discussion, Foley will discuss:
How to embed a culture of excellence and caring that elevates organizations, even through changing conditions
How a "CenterPoint" unifies focus and allows teams to spot opportunities for advancement or improvement that would otherwise go unnoticed How the best get better: why changing a belief in one area creates clarity for teams
Four simple words that will change the way you perceive the world
John Foley is a former lead solo pilot of the Blue Angels, a Sloan Fellow at Stanford Graduate School of Business, a venture capitalist, and an expert in the "how" of high-performance teams. Recognized as one of the top 10 most in-demand keynote speakers, he has worked with over 1,000 organizations across the globe to create and sustain excellence in the face of dynamic change.
For more information, visit JohnFoleyInc.com.
KEN GOLDSTEIN – Comments each hour on Why the Leadership Industry Has Failed
Share this post...