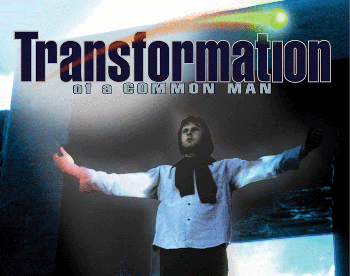 Show Podcast Hour 1 – Hour 2 – Hour 3 – Hour 4
Jim Frazier, author of  Transformation of a Common Man,  is our guest during the first half of this Saturday's Amerika Now program.  Jim will discuss the Brian Scott Story and its message for humanity at this important crossroads of history.
During our last two hours the emerging swine-avian flu 'pandemic' has our attention.
Dr. Gabrielle Landolt, a board-certified veterinarian at Colorado State University, graduate of the Univ. of Switzerland and Ph.D. from the Univ. of Wisconsin under one of the leading swine flu researchers in the world (Dr. Christopher Olson) will be our guest for the second half of the show.  Dr. Landholt will join us at 10:30PM and discuss swine flu and the current outbreak in Mexico and the U.S.
We will share with you the very latest information from the CDC, Mexican authorities, and give you a comprehensive 'how-to-get-through' the possible coming flu pandemic.  This information is  something you are  not going to want to miss.  –Scott and Barb
The Brian Scott Story was documented on a daily basis for over four years, from 1976-1980.  Brian started out as a UFO contactee under investigation by several UFO groups. However, paranormal events frightened early investigators. During hypnosis, a Presence began to speak through Brian with a bold, authoritative voice. The Host requested that Brian go to certain spots in South America on specific dates to receive knowledge. Early investigators demanded proof, and refused the requests. This began a long process of chaos and confusion for Brian. Eventually, I met Brian and suggested we simply answer the requests and see what happens. I asked for a sign and received a "Ball of Fire in the Sky for All Mankind to see."  This sparkling meteorite soared over San Francisco on August 23rd, 1976, and impacted at a latitude and longitude given 22 hours in advance.  This sign in the sky started the process of transformation which was described as the "Days of 20" or "The Play of Life."
This process ran on a twenty-four day cycle, and continued from 1976 to 1980, when the paranormal events ended. Brian's transformation was declared a success in March of 1980.
Brian completed two gifts that portray the moral and a message of  "The Play of Life": The Neural-Optical-Responder, placed in a major university lab, and the Voice of Common Man, presented to the White House on February 7, 1980.  The gifts illustrate that Brian succeeded in a process of transformation described as a "sudden evolution." The actual request made to Brian was to accept a "quantum evolution to mind level 10."  Supposedly, he found a way to survive and achieve the goal, and he was just a common man. One warning in the story is that the "thinking person" can also succeed, but perhaps with greater difficulty.  As paranormal powers are developed, the "thinking person" may be tempted to betray his own heart, and the common man of his nation. The "thinking person" may be more likely to self-destruct, or to destroy others. Just why and how is shown in Jim Frazier's book about Brian Scott, The Transformation of a Common Man.
Another lesson in the book is that new technology and new wisdom of this age should be used for one political purpose: to create freedom for the Common Man. Some of these freedoms are hard to imagine today. Brian carried the "Voice of Common" to the President of the United States in 1980 to make this point.  In the future, if Brian's story is fulfilled, Quantum Displacement Physics will create much freedom, especially with the ability to transport matter through time and space by mind at level 4.  The vision given to Brian was that people, objects, and resources could be transported, at will, anywhere around the planet and eventually—throughout the solar system. Quantum Displacement Physics would, perhaps, allow each person to meet a lot of people, and encounter many foreign cultures in a short amount of time, for little expense.  If so, then politics, diplomacy and peace-making would play an important role.
Share this post...