Hour 1 – Winfried Sedhoff, The Friendship Key: To Lasting Peace, United Communities, Stronger Relationships, Equality and a Better Job!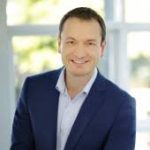 Joining the show during the first hour is author and physician, Dr. Winfried Sedhoff. Dr. Sedhoff will be discussing his book, The Friendship Key.
Most of us yearn for a deeply satisfying life filled with meaning, purpose, peace and security. In this disconnected world we seek a sense of belonging–to be accepted and loved for who we are. But considering the state of the State in America today, where we have so many opposing sides and hate, corruption and greed in our political arena, how do we achieve a life filled with meaning?
Dr. Sedhoff will discuss how friendship empowers us to achieve such meaning and by doing so reconnect with and ultimately change our political situation and the world political situation.
Dr. Sedhoff will reveal how we lost sight of close personal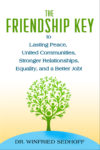 connection, how competition became more important than uniting as friends, and why we'd rather keep up with the Joneses and the ruthless pursuit of often-insatiable lusts than support and care for one another. He reminds us of the inevitable personal, social, and global devastation when we no longer prioritize and value being friends.

Blending elements of Dr. Sedhoff's passion for history, tribal society, ethnology, psychology, and self-understanding, we are offered a tool chest brimming with simple, practical steps to help us prioritize and build friendships, strengthen the depth and quality of our relationships, increase business success to global standards, eliminate bullying, prejudice and hate, unite communities, and restore governments to the people—finally ridding them of corruption.

As our own lives are transformed, we automatically become powerful instigators of immense positive social and global change. We can be the creators of a satisfying peace potentially spanning generations.

In his early 20s, Dr. Winfried Sedhoff faced a life-threatening personal crisis that sent him into self-imposed isolation. Over a 12-month internal quest he discovered not only answers to his crisis, but uncovered a sense of genuine self. More than 25 years later, having continuously refined his approaches via his work as a family physician specializing in mental health, Dr. Sedhoff shares his insights with patients, colleagues, medical trainees, and the general public via his books, A Balance of Self, A New Approach to Self Understanding, Lasting Happiness, and Self-Truth (Vivid, 2011), The Fall and Rise of Women, How Women Can Change the World (Ingram, 2016), and now The Friendship Key to Lasting Peace, United Communities, Stronger Relationships, Equality, and a Better Job! (Senraan Publishing). His writings convey his passion for history, tribal society, ethnography, psychology, and self-understanding.
Winfried lives in Brisbane, Australia.
For more information, visit https://www.winfriedsedhoff.com.
Hour 2 – John J. Higgins and Barb Adams, Mueller Report, Part Deux
Former Special Counsel Robert Mueller appeared before two Congressional committees on Wednesday offering his much-anticipated testimony on the Russia investigation. The result, however, may have left just as many questions and frustrations as the report itself.
For those who believed Robert Mueller's testimony would lead to indictments of Trump and his associates or that it would show that serious crimes had been committed and that Trump should be impeached or indicted, it quickly became apparent that Mueller was not going to go there.
Unfortunately, by not answering those questions and refusing to use sharper language in regards to Trump's behavior, Mueller has become complicit in ensuring Trump never being held accountable for his actions.
And by continuing to allow Trump and Attorney General William Barr to make the DOJ a political arm of the Executive Branch, has Mueller himself now become part of their ambitions, or is there something else he isn't saying because he cannot?
JOIN Barb and John as they discuss Mueller Report, Part Deux.
Ken Goldstein comments each hour on Life Planning.
Share this post...