Hour 1 – John J. Higgins and Barb Adams, After the Midterms
Join Barb and John as they discuss what happens next after the Midterm elections.
Hour 2 – Rick Miller, Be Chief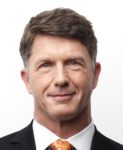 Joining the show during the second hour is unconventional turnaround specialist, sought-after speaker, servant leader, and expert in driving sustainable growth, Rick Miller.  Rick will be discussing his book, Be Chief: It's a Choice, Not a Title.
Conventional wisdom has long defined "Chiefs" as rulers of people—those who are successful and hold the most power. In business and society, we view Chiefs as "special" and selectively chosen, a title reserved for those at the top of an organization. But what if conventional wisdom is wrong?
When Fortune 50 turnaround specialist Rick Miller was tasked with rehabilitating million- and billion-dollar organizations facing market crashes and the perils of war zones, he didn't do it by turning to Chiefs in the top echelon. Instead, he drew from lessons he learned from a six-year-old girl, Melissa—an energized and goal-driven wheelchair-bound girl who inspired and motivated everyone at a Morristown hospital—who taught Miller a lesson: powerful Chiefs don't need a title, they're all around us.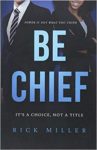 If you want to drive sustainable growth that turns companies around, says Miller, author of the new book Be Chief: It's A Choice, Not A Title (Motivational Press, September 2018), your organization needs to be filled with Chiefs at every level. When employees feel the power of being Chief, they unlock their true potential—and your organization's as well.
Drawing from over 30 years' experience in leading multinational and startup organizations, Miller lays out research-based strategies, road-tested tools, and compelling case studies that show how empowered Chiefs create a culture of performance that drives amazing results.  Learn:
-How "being Chief" is contagious and creates viral, energizing engagement.
-How a Power Compass—a combination of values, insight, creativity, discipline, and support—will guide the direction you should take in any given moment.
-Why "people metrics," and measuring with granularity, maximizes success.
-Why vulnerability sparks meaningful connections between Chiefs at all levels.
For over 30 years, Rick Miller has served as a successful senior executive in roles including President and/or CEO in Fortune 10, Fortune 30, nonprofit, and startup companies, including AT&T Global Services and Lucent Technologies. Throughout his career, Rick has been recruited from the outside to turn around poor performance in difficult times. His new book, Be Chief: It's A Choice, Not A Title, helps leaders at all levels achieve their true potential.
To learn more, visit BeingChief.com.
Hour 3 (Rebroadcast): Marie D. Jones, Mind Wars
Share this post...