July 23, 2011 Show Archives/Pod Casts  Hour 1 –  Hour 2 –  Hour 3 –  Hour 4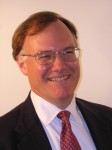 Eric Petersen joins Amerika Now for the first half of the show to discuss his bestselling book, Light and Liberty: Reflections on the Pursuit of Happiness, offering a collection of essays on the American ideal in Thomas Jefferson's own words.  Eric Petersen has culled the entirety of Thomas Jefferson's published works into 34 original essays on themes ranging from patriotism and liberty to hope, humility, and gratitude.  The result is an inspiring distillation of the wisdom of one of America's greatest political thinkers and is as uplifting today as when Jefferson first set his immortal words on paper.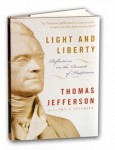 Mr. Petersen will discuss the insights he gained from working with Thomas Jefferson's writings and how Jefferson's illuminating prose can guide us through our trying times today.  You'll feel like you're having a one-on-one intimate conversation with Jefferson himself!  It's an ingenious gathering of the best of Thomas Jefferson. As Desmond Tutu stated, "At once deeply spiritual and practical, this inspirational book has the potential to capture the imagination and energize the present-day world to dream great dreams and to do good deeds."
Eric S. Petersen is a managing partner at the New York City law firm of Hawkins Delafield & Wood LLP.  He was educated at Brown University and the University of Chicago Law School, where he studied Jefferson's life and works since 1993.  Mr. Petersen lives in Connecticut.
Mr. Petersen's website including contact information is:
http://www.lightandliberty.org.
PLEASE CALL 800-259-5791 TO SPEAK WITH ERIC PETERSEN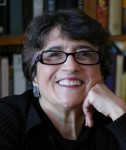 Julia Schopick, author of the Amazon.com bestselling book, Honest Medicine, and creator of the award-winning blog, HonestMedicine.com, joins Amerika Now during the third hour.
Julia has been a published writer and a public relations consultant for more than 20 years.  When her husband, Tim Fisher, became ill with a cancerous brain tumor, Julia became his medical advocate and began writing on topics relating to health and medicine.  Her articles and columns, which are critical of various aspects of the health care system, have been published in numerous publications, including the AMA's American Medical News and  alternative medicine's Alternative and Complementary Therapies.  Her work and essays have also been featured in the British Medical Journal, Modern Maturity, and the Chicago Sun-Times.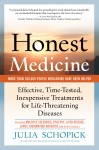 Julia published Honest Medicine:  Effective, Time-Tested, Inexpensive Treatments for Life-Threatening Diseases in 2011 to educate the public about effective, low-cost treatments the medical profession has not yet accepted–treatments for life-threatening diseases, such as MS, Lupus, Rheumatoid Arthritis, epilepsy, and terminal liver disease.  Julia points out that these treatments often work better and with fewer side effects than the pharmaceutical treatments most doctors recommend.
Julia's mission is to use her writing, speaking, and public relations skills to inform the world about little-known but promising treatments via her website, her presentations, and her book; and she seeks to empower people in their health care choices.
Julia has been a guest on numerous radio programs including Coast to Coast AM and her book, Honest Medicine, has received many accolades and positive reviews.
For more information about Julia and her book, please go to
http://www.honestmedicine.com/media.html.
Her website is http://www.honestmedicine.com.
You can find Julia on Facebook at http://www.facebook.com/pages/Julia-Schopick-Presents-Honest-Medicine/145402085476798?ref=ts
To purchase a copy of Honest Medicine:
http://www.amazon.com/dp/product/0982969007/.
PLEASE CALL 800-259-5791 TO SPEAK WITH JULIA SCHOPICK
John Ringer joins the show during the final half hour to talk about his project, "My Country, My Ass" (see his website at http://mycountrymyass.com).
John is a songwriter who has written a country-rock protest song called "My Country, My Ass," and the song itself is set up as a project where fed-up Americans can use the hundreds of links provided on John's website to request hearing the song played on mainstream radio stations across the country.  It's  "grassroots" participation, and John feels Americans need to hear his message.
The song has been getting some play on radio, and John hopes that it will sweep the country and change popular culture.  Peter Boyles of KHOW radio in Denver, Colorado, called the song "a liberal's worst nightmare."
John's real reason for recording the song, however, is to have it heard by his target audience of  what he calls "government flunkies from police up to the president."  He says "They need to have their comfort zone cut way back!"
You can get more information about the project at:
http://mycountrymyass.com/why.html.
You can also find John on Facebook at http://www.facebook.com/pages/My-Country-My-Ass/363871310592.
PLEASE CALL 800-259-5791 TO SPEAK WITH JOHN RINGER
Share this post...