December 7, 2013 – Archives/Pod Casts        Hour 1 –    Hour 2 –    Hour 3
Hour 1:  Mark D. Diehl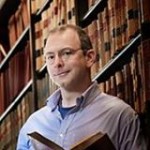 Joining Amerika Now during the first hour is author and scholar, Mark D. Diehl, who will be discussing his book (XVII) Seventeen:  Book One.
Institutions grow ever larger.  Generation by generation, the compliant edge out the wild, and conformity and obediance to hierarchy are now our most important survival skills.
Based on Darwinian selection, the people most likely to survive and successfully pass on their DNA to the next generation are the most corporate, says Diehl.
"They have the least dangerous jobs, live in the safest neighborhoods, and have the best access to health care; extrapolate this for several generations and a distinct pattern emerges: We are evolving into a corporate species," says Diehl, who has studied in Singapore, fled South Korea as a fugitive, and was stranded in Hong Kong for weeks.

Diehl's book, Seventeen:  Book One (www.armyofthedoomed.com), is a natural progression from Ayn Rand's objectivist works and describes a world in which corporations control all of the world's diminishing resources and all of its governments, dividing the world into two types of people: those who unquestioningly obey, and those who die.
Humanity is not the pinnacle of evolution but merely a step in it, he says.
"The next stage for us is what happened to bees and ants millions of years ago: The collective is becoming more important than the individual. We are evolving into a corporate species, divided only into so-called 'superorganisms,' just like the beehives and anthills. The corporation is the new superorganism of humanity, and those of us on the outside have about as much chance as a grasshopper covered in a swarm of biting ants," Diehl says.
Mark D. Diehl writes novels about power dynamics and the way people and organizations influence each other. He believes that obedience and conformity are becoming humanity's most important survival skills, and that we are thus evolving into a corporate species. Diehl has been homeless in Japan, practiced law with a major multinational firm in Chicago, studied in Singapore, fled South Korea as a fugitive, and been stranded for weeks in Hong Kong. After spending most of his youth running around with hoods and thugs, he eventually earned his doctorate in law at the University of Iowa and did graduate work in creative writing at the University of Chicago.  He currently lives and writes in Cape Elizabeth, Maine.
For more information, please visit his website at www.armyofthedoomed.com.
PLEASE CALL  800-259-5791  TO SPEAK WITH MARK DIEHL.
Hour 2:  Margaret Placentra Johnston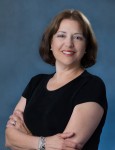 Author and optometrist Margaret Placentra Johnston, O.D., joins the show during the second hour to discuss her book, Faith Beyond Belief:  Stories of Good People Who Left Their Church Behind.
Margaret will discuss what she calls "spiritual development theory," which is based on the work of about fourteen "theorists" from various centuries, various parts of the world, and various disciplines.  All of them described a path to spiritual maturity, and when seen from a bird's eye view, all can be seen to have been describing a common phenomenon.  The endpoint of the path is always unity and universal love.  It also tends to take a person beyond the need for literal religious beliefs.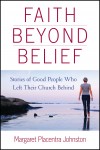 Johnston's book, Faith Beyond Belief, was recently named the Gold Winner of the 2013 Nautilus Book Award in Religion/spirituality, and illustrates this concept through the use of true stories from real-life people.  It also compares and contrasts the commonalities in the works of various spiritual development theorists.
Additionally, Johnston has been able to draw a direct line between the spiritual stages and the mindset of certain political groups.  More specifically, the religious right may be viewed as a caricature of one of the lower spiritual stages, which Johnston calls "the Faithful."  This group interprets scripture literally, needs security, and needs to know their beliefs (and their group) are more right than others.  They like to think things never change, and are motivated by fear.  Contrast this against "more spiritually mature" groups that don't need as much certainty, can appreciate paradox, and view themselves as part of a larger community rather than just their particular religion or political group.  They see themselves as part of all humanity or even as part of the entire Universe.
Margaret Placentra Johnston, O.D., as an optometrist has spent decades improving people's eyesight.  Now she offers clearer vision on a higher level.  Her writings have appeared in optometry journals and in the personal growth journal, Recovering the Self. She serves as an expert on AllExperts.com in the categories of spiritual growth and skepticism.  She also leads discussions and speaks to interested groups about spiritual development.
Dr. Johnston holds a Bachelor of Arts (BA) and Master of Arts (MA) in Education from the Catholic University of America; a Bachelor of Science (BS) and a Doctor of Optometry (OD) degree from the Pennsylvania College of Optometry (now called Salus University.)
For more information, please visit her website at www.faithbeyondbelief-book.com.
PLEASE CALL  800-259-5791  TO SPEAK WITH MARGARET.
Hour 3:  Sue Elliott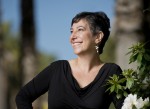 Joining the show during the final hour is Founder and Editor-in-Chief of Law of Attraction Magazine and Creator of Heartfelt Holidays, Sue Elliott.
The holiday season is upon us.  It's supposed to be "…the most wonderful time of the year."  So why, then, do so many people feel depressed, anxious, fearful, irritated and upset from Thanksgiving to New Year's? It's not always the annoying relatives and pressures to meet end-of-year deadlines at work. In fact, our unhappiness seldom comes from outside… Most often what makes us craziest at the holidays is OURSELVES.
Sue Elliott, the Founder and Editor-in-Chief of Law of Attraction Magazine and a leading personal and executive transformation coach, says there are five key ways that we torture ourselves at the holidays!
Mastering these are the first steps in making your holidays the joy they were intended to be and relaxing into peace, ease and fun.  Sue will talk about how to learn to watch for these hot buttons, and will offer the shifts you need to make in your attitude in order to regain equanimity and joy.
Torture #1:  Comparing our real families – and the memories of holidays with them – with the "perfect" families we've seen in movies and on TV.
Torture #2:  Beating ourselves up over gaining weight at the holidays.
Torture #3:  Keeping score in gift-giving.
Torture #4:  Getting upset every time we have to stand in line.
Torture #5:  Trying to buy the "perfect" gifts for people.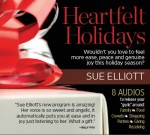 Sue will shed light on these and dozens more triggers and old scripts that keep us from experiencing a peaceful and pleasurable holiday season. She'll draw on her Heartfelt Holidays laser-focused audio program designed to deactivate holiday triggers and clear the old patterns.
It's time to create new attitudes for a new Yule!
For more information, go to www.LovingMyself.com/holidays.
NO CALLS PLEASE, THIS SEGMENT WAS PRERECORDED.
Share this post...