(1) OPEN DISCUSSION on 2016 Predictions

Happy New Year!–2015 is behind us and all eyes are on 2016 and what the new year will bring.  And while many are already trying to predict what's in store ahead, in American politics, one question will be answered:  Who will become the 45th president? But beyond the race for the White House, there are plenty of other opportunities for major changes in our political system, the economy, healthcare, corporate America, and culture.
JOIN Barb and John as they "predict" what they believe will be the big issues in 2016.
(2) Dr. Rachel Ehrenfeld

Joining the show during the second hour is counter-terrorism researcher and the Founder and CEO of the American Center for Democracy and the Economic Warfare Institute, Dr. Rachel Ehrenfeld. Dr. Ehrenfeld will discuss the evolving terrorism situation as well as the shadowy world of the global terrorist financing network. In addition, she'll offer "tools to fight terrorist financing."
Dr. Ehrenfeld is the author of hundreds of articles, academic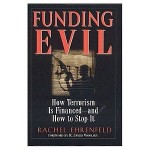 publications, and several books, including Funding Evil: How Terrorism is Financed–And How to Stop It.
Dr. Ehrenfeld's work encompasses nontraditional warfare, including cyber, economic warfare, disinformation, incitement and Free Speech, Weapons of Mass Effect (WME) and Weapons of Mass Destruction (WMD); political Islam and radical Islamic movements and states (including Iran, Saudi Arabia, ISIS, and the global Muslim Brotherhood and its affiliated jihadi movements and their links to transnational criminal groups involving arms, drugs and human trafficking, money laundering and terrorist financing).
Dr. Ehrenfeld has testified before Congressional committees as well as the Canadian and European Parliaments. She has provided evidence to the British Parliament and advised government agencies such as the Department of Justice, Treasury, Defense and Homeland Security.
On her own, Dr. Ehrenfeld took on a Saudi billionaire and terrorist financier who sued her for libel in London. She countersued in New York and went on to initiate and successfully lobby for the Libel Terrorism Protection Act (Rachel's Law) in New York State in 2008. A federal version of Rachel's Law was passed unanimously by Congress and enacted in 2010.
Dr. Ehrenfeld was a visiting scholar at Columbia University Institute of War and Peace Studies, a research scholar at the New York University School of Law, and a fellow at John Hopkins School of Advanced International Studies and Jesus College at Cambridge University. She holds a Ph.D. in Criminology from the Hebrew University School of Law and is the recipient of the American Jewish Historical Society's Public Service Award (2008) and the Sappho Award from the Free Press Society (2011).
For more information, visit http://acdemocracy.org.
(3) Nancy du Tertre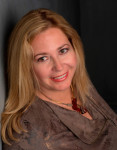 Joining Amerika Now during the final hour is author and "Skeptical Psychic," Nancy du Tertre, who will be discussing her latest book, How to Talk to an Alien: Can They Speak Our Languages? Can They Read Our Minds? What Are They Trying to Tell Us?
Nearly half of all Americans believe that UFOs may be signs of extraterrestrial visits. Ten percent claim to have witnessed an actual UFO and 2.9 million Americans believe they have been abducted.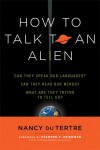 Where are these aliens and how can we communicate with them? Who will speak to them on behalf of Earth, and who can translate their intentions–good or evil–toward the human race?  Where can we learn about their technology?
Nancy du Tertre will answer these and many more fascinating questions.
Nancy is a trained psychic and spirit medium, attorney, and trained remote viewer and Gestalt therapist. Widely known as the "Skeptical Psychic," du Tertre's approach, predictions, and research into connecting with ETs emerged from her scientific interest into psychic intuition and linguistics (along with her own alien/UFO experiences), resulting in the new field of extraterrestrial/alien communication.
Nancy du Tertre is a graduate of Princeton University (magna cum laude), received her JD with honors from Pace Law School, and is certified in Intuitive Gestalt Psychotherapy. In addition to How to Talk to an Alien, Nancy is also the author of several other books. From 2010-14, she hosted the CBS radio show Hot Leads, Cold Cases , and is a frequent media guest on radio and television.
For more information, visit http://talkalien.com and http://theskepticalpsychic.com.
Share this post...