Oct 30, 2010  Show Archives/Podcast  Hour 1 –  Hour 2 –  Hour 3 –  Hour 4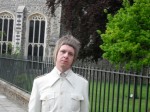 Our guest for this evening's spooktacularly frightening show is Neil Arnold, full-time monster hunter and writer from Kent, United Kingdom.  Neil has written extensively on the paranormal and is the author of Monsters! The A-Z of Zooform Phenomena, Paranormal Kent, and Mystery Animals of the British Isles. His latest book is Paranormal London and it is full of short tales regarding monsters, strange beasts, occasional UFO/ghost reports, but most concerns very obscure mysteries and sheds light on more well-known mysteries such as the Brentford Griffin, the Highgate Vampire, and Spring-Heeled Jack.
Neil is well versed in Bigfoot, Yeti, phantom hellhounds, the Jersey Devil, Mothman, Chupacabras, vampires, werewolves, ghosts, and other paranormal subjects.  His research includes obscure monsters around the world, and he writes for many newspapers.  Neil is also a member of the world's largest mystery animal monster research center in the world, The Centre for Fortean Zoology.  With over two decades of monster hunting, Neil has many amazing and bizarre stories he's going to share with our listeners this evening!  Be prepared for a bone-chilling night!
Neil's interest in monsters and the paranormal began at the early age of 9, when he watched the movie The Legend of Boggy Creek and read Carey Miller's book, A Dictionary of Monsters and Mysterious Beasts.
Neil has been a guest on Coast to Coast with George Noory and was also featured on The Today Show.  His websites are www.beastsoflondon.blogspot.com and www.zooform.blogspot.com.
So pull up a chair and turn down the lights, we're going all out tonight on Amerika Now's Halloween special!
And if you want to share some of your own personal scary stories with Neil, give us a call at 1-800-259-5791.
BOOOOOOOO!!
Share this post...