Hour 1 – Barb Adams and John J. Higgins, America, Wake Up! (Part 1)
Hour 2 – Barb Adams and John J. Higgins, America, Wake Up! (Part 2)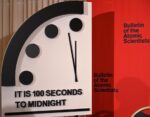 It's July, and we're just a bit over halfway through 2020. In hindsight, 2020 has been a year like no other thus far – seemingly becoming more bizarre by the day.
As examples, just this week, in the midst of a now rapidly resurging pandemic, the president and White House, a.k.a the Department of "We Have It Totally Under Control," attacked this nation's top public health expert, Dr. Anthony Fauci, in a nonsensical attempt to discredit him. Targeting Fauci at this time not only is a tragic misuse of White House time and energy if it really is intent on defeating the coronavirus, it's downright dangerous. COVID-19 is surging across the country, deaths are rising rapidly, and Americans remain divided and confused about how to keep themselves and their loved ones safe. Yet Trump remains more concerned about discrediting Fauci and those who oppose his 'Chuck Woolery approach' to COVID-19. Yes, the President of the United States is taking advice from ex-game show host Chuck Woolery during this time of high crisis instead of listening to the experts like Fauci, the CDC, doctors, and scientists. Like Woolery, Trump and his F troops believe everyone is lying…the CDC, media, Democrats, doctors, scientists…and that it's all about the election. On that last part he's correct,  it is all about the election, but it is Trump who's 100% focused on his own re-election over public health and saving American lives. Absolutely mind boggling!
Perhaps just as bizarre are the GOP governors who are goose stepping with the president. On Wednesday this week, during an obvious surge in Covid-19 in his state, Georgia's Governor Brian Kemp, in an attempt to, as he said, "flatten the curve," signed an executive order banning cities and counties from mandating that people wear a mask in public. He really did that! And Kemp's move came on the same day that Governor of Alabama Kay Ivey, a fellow Republican, mandated mask-wearing and Oklahoma Republican Governor Kevin Stitt announced he contracted coronavirus. And all of this happened just 48 hours after the CDC reiterated that masks are the best tool we have at the moment to combat the virus.
In regards to the CDC, the Trump administration this week ordered hospitals to bypass the CDC and send all coronavirus information to a central database maintained by the Department of Health and Human Services, removing public data from the CDC website and stripping CDC control of coronavirus data. Public health experts are concerned that the change could lead to less transparency and accuracy about the state of the pandemic. Exactly, and that's why they're doing it.
Meanwhile, back at the bunker, while Trump continues to criticize coronavirus testing, claim suburbia will be destroyed if Biden gets elected, and poses for photo ops with Goya Foods on the resolute desk, the White House's personnel office is busy conducting "loyalty tests" with health officials and political appointees. In the midst of a devastating pandemic and economic crisis, Trump is selling beans and the White House is focusing on the most urgent question of all…are you loyal to Trump?
You can't make this stuff up, but sure wish you had, especially when we need real leadership now more than ever. America, wake up! How much more bizarre and surreal are we going to have to get to wake us up to see what's real here? We're perilously close to losing our Republic and democracy. Our nation is literally being ripped apart by polarization of attitudes, the rise of hate, and a president who is working against the greater good for all of us. And perhaps just as upsetting, we're losing our Humanity.
Now is not the time for I and me; now is the time of We…We all must respond to the rising and depressing challenges before us if We are to save ourselves, this nation, and this planet. Now, more than ever, We need real leadership that shows fierce compassion combined with commitment to the We.
A better day for all of us and the world is available and waiting…We just need allow it to BE. We will get there but the options on 'how'  are closing. It's always been a choice, but We need to make the choice.
JOIN Barb and John as they discuss America, Wake Up!
Share this post...