(1) John J. Higgins & Barb Adams – JOIN Barb and John as they discuss and offer insights on some of the top stories of the week, including Hurricane Harvey, the total eclipse, Trump and "The Pardon," the transgender ban memo, North Korea, and a possible Unity Party (Kasich/Hickenlooper).
(2) Peter Afrasiabi
Joining the show during the second hour is entertainment litigation attorney and author Peter Afrasiabi. Peter will be discussing his  book, Burning Bridges: America's 20-Year Crusade to Deport Harry Bridges.
Earlier this month President Trump endorsed legislation that would effectively cut immigration to the U.S. by half. The Raise Act would sharply reduce the share of people admitted through family ties and create a skills-based system that scores applicants on such factors as age, education, income, job prospects and proficiency in English. While Trump supporters see little difference between his actions and those of President Obama, few can deny we are more divided on this issue now and that the fear is greater and more widespread under this administration.
Soon to be a major motion picture and based on declassified FBI documents, including secret documents from J. Edgar Hoover's vault and never-before-published National Archives documents, Burning Bridges is the first detailed account of the 20-year legal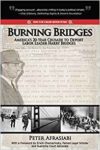 campaign waged by government lawyers and policymakers, in secret conjunction with private enterprise, to deport labor leader Harry Bridges. Set in the middle decades of the Twentieth Century during the Cold War, this is a story of bribery, perjury, and wiretaps; of secret FBI investigations, witness intimidation, and secret deals; and of assassination attempts, overzealous government prosecutors, and larger-than-life defense lawyers risking prison defending their clients.
Three-quarters of a century on, the legacy of the Harry Bridges' trials still haunts America's legal system and is critical to assess because Americans today again confront aggressive prosecutorial and police action and a modern surveillance state with the greatest threat of government intrusions into civil liberties since Bridges' era.
Peter will discuss the disturbing parallels between a Cold War deportation battle and Trump's immigration policies.
As a federal court lawyer and adjunct professor of law, Peter is Co-Director of the University of California Irvine School of Law Appellate Clinic. Every year, he takes multiple pro bono appeals, mostly immigration asylum cases. Drawing from the ranks of his real-world cases, his first book Show Trials addressed the broken contemporary immigration system.
Peter regularly speaks as a provider of Continuing Education services to the legal bar, and has received numerous awards for his pro bono legal efforts. He was a Founding Director of the Rock School Scholarship Fund, a 501(c)(3) devoted to raising money to pay for music scholarships for children who need financial assistance to attend music programs.
A founder of the elite, acclaimed intellectual property boutique law firm, One LLP, with offices in Newport Beach, Beverly Hills, and Del Mar, California, Peter and One LLP specialize in all manner of intellectual property, entertainment, and technology litigation, and corporate and IP transactions.
For more information, visit http://burningbridgesbook.com.
(3) Rosanne Thomas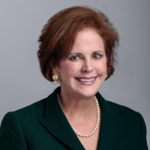 Founder and President of Protocol Advisors, Rosanne Thomas, joins the show in the third hour to discuss her book, Excuse Me: The Survival Guide to Modern Business Etiquette.
In today's diverse, evolving workplace, the rules of behavior seem to shift constantly. But how you present yourself at an interview, how respectful you are to colleagues, what your social media says about you, and what you wear—these unspoken expectations determine whether you succeed or not. So how can you avoid doing something that might offend or alienate someone and how do you minimize interpersonal missteps?
Blending different generations, genders, and cultures brings energy and fresh perspectives to the workplace. But the flip side is an environment ripe for confusion and social blunders. Mix in increasingly open-plan workplaces and constant connectivity, and the chance that we'll unintentionally annoy or offend others increases exponentially.
Exactly what are the rules these days? Is it acceptable to text your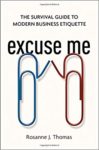 boss at home? What is the polite way to ask a colleague to take a distracting conversation behind closed doors? What about the use of smartphones in meetings? Merging classic rules of behavior with new realities of modern business, Excuse Me spotlights dozens of puzzling situations, with suggestions for bridging divides. The book untangles the nuances of:
Meeting etiquette • Interview expectations • Proper office attire • Electronic manners • Privacy in tight spaces • Eye contact and nonverbal cues • Small talk • Business dining • Social media use • Working remotely and flexibly • And more.
While the youngest employees might seem unruly, the oldest can seem rigid. Good manners create an atmosphere of respect, and smooth the way for everyone to succeed.
Rosanne Thomas specializes in providing business etiquette training to professionals at respected organizations from Tiffany and Company to Boeing. In addition, she also helps prepare students at top colleges and universities to achieve the highest degree of workplace success.
For more information, visit http://protocoladvisors.com.
Share this post...