Hour 1 – John J. Higgins and Barb Adams, Empathy and the Common Good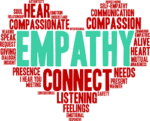 Empathy is key in understanding the perspectives, needs, and intentions of others. As Harper Lee wrote in her Pulitzer Prize-winning novel, To Kill A Mockingbird, "You never really understand a person until you consider things from his point of view… Until you climb inside of his skin and walk around in it."
But in this Age of Trump and polarization, Trump and many of his supporters as well as the Republican Party itself appear to have an empathy gap.
Once upon a time, both parties vied against one another to be seen as the "good guys," but today's GOP (aka, Trump Party) and its extremist factions seem to revel in being the "bad guys," literally. Take for example, their multi-faceted attacks on women, including a woman's right to choose, even if she's raped. Against it!  But they don't stop there. Children in cages without proper hygiene or food? For it!  An athlete taking a knee in peaceful protest for racial justice? Against it!  Reasonable gun control? Against it!  Scientific evidence on climate change and global warming? Hoax! And the list goes on.
We're seeing a political strategy unlike anything we've ever seen before, where ceding the moral high ground is the goal and attacking your opponents for being nice or empathetic is common practice.
But Karma's a "you know what," and this strategy can't "win" forever.  The Don of Con and his party didn't count on people's ability to research and connect in empathy and compassion for the common good.
JOIN Barb and John as they discuss empathy, research, the common good, and the consequences of conning others.
Hour 2 – Jodie Jackson, You Are What You Read

Joining the show during the second hour is author, researcher, and campaigner, Jodie Jackson. Jodie will be discussing her book, You Are What You Read: Why Changing Your Media Diet Can Change the World.
Do you feel overwhelmed and powerless after watching the news? Does it make you feel sad about the world, without much hope for its future? Take a breath – the world is not as bad as the headlines would have you believe.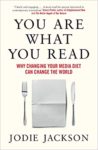 In You Are What You Read, campaigner and researcher Jodie Jackson helps us understand how our current twenty-four-hour news cycle is produced, who decides what stories are selected, why the news is mostly negative, and what effect this has on us as individuals and as a society.
We know the effect food has on our health. A balanced diet of quality, fresh food does us far more good than junk food. The same is true for the news. On a steady diet of bad news, our sense of individual and social well-being suffers.
According to media researcher, Jodie Jackson, we need to get back to the original intention of news–to inform, educate, and empower–not to entertain us. Today's news is delivered to hook us into drama and problems with no solutions. But solutions are critical to a more balanced, healthier news diet. It's time to wake up and become deliberate about how we consume our news.
During the interview, Jodie will discuss:
Why the news industry feeds us a steady diet of bad news–and why we need to change it
How paying for news helps enable news organizations to gain independence
How to burst the filter bubble and gain a fully-dimensional view of the world
Why the news has such a negative impact on our individual and collective health
How to tap into the power of solutions-based journalism
How we can consume news that gives us hope and empowers us to act.
Jodie Jackson is an author, researcher and campaigner. She holds a Master's in Applied Positive Psychology from the University of East London where she investigated the psychological impact of the news. She is a regular speaker at media conferences and universities.
For more information, visit https://www.jodiejackson.com.
KEN GOLDSTEIN Comments each hour on Is Your Job Creative Enough to Resist Robot Automation? (Rebroadcast from May 9, 2015)
Share this post...