November 1, 2014 – Archives/Pod Casts            Hour 1 –    Hour 2 –    Hour 3
Hour 1:  Stefan Verstappen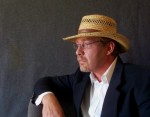 Joining the show during the first hour is writer, adventurer, and martial arts expert Stefan Verstappen, who will be discussing what he believes is the source of so much suffering in the world – a "parasitic" takeover of our minds and souls by psychopaths.  Likening what's happening to the Invasion of the Body Snatchers, Stefan is the author of Defense Against the Psychopath:  A Brief Introduction to Human Predators. In addition, he's the creator of the viral video documentary titled Defense against the Psychopath.
Stefan has researched dozens of species of parasite that literally take over the host's brain.  In our case, parasitic institutions have literally taken over the minds of most people through media and education.  He cites the Common Core math solutions as an example.
Is there a difference between a sociopath and  a psychopath?  Stefan has read every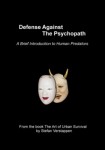 version of the Diagnostic and Statistical Manual of Mental Disorders and has concluded the difference is semantics.  Originally one was used to designate career criminals and the other to describe adjusted, or professional, psychopaths.  He also believes the difference is in I.Q., "stupid" psychos commit petty crimes whereas "smart" psychos commit massive frauds.
Verstappen's documentary, based on the first chapter of his book The Art of Urban Survival, is a how-to instructional video that explains the types, characteristics, and modus operandi of the most ruthless human predators on our planet.  Offered as a defense strategy for personal safety, the video also shows the logical consequences these people would have on society as a whole.  It shows psychopaths as not just the insane serial killers seen in movies, but that your boss, your church leader, and even your political leader could be a malevolent and heartless predator.
In addition, when Stefan was researching history for his first book, The Thirty Six Stategies of Ancient China, he began to see a similar pattern common to history's leaders, a pattern of ruthless self-interest that resulted in the deaths of countless billions of people and the destruction of dozens of civilizations.
Stefan Verstappen likens what is happening in society today to the Invasion of the Body Snatchers – a real battle for the entire planet and our collective souls.
Tonight, Verstappen will discuss how he came to his conclusions, what he foresees for the future, and if there are any solutions to the "terminal cancer" that has infected our civilization.
Stefan Verstappen is a graduate of a three-year Outward Bound program and was soloing in Algonquin by age fifteen, traveled through Europe alone the next year, and was teaching wilderness survival by age nineteen.  He later worked as head instructor for St. John Ambulance in Brampton, Ontario, and won two civic awards for his participation in mock disaster drills.  In addition, he was also the first aid and CPR instructor at the OPP Police College.
Stefan is one of the first westerners to live and  study martial arts in China with several renowned Kung Fu teachers, from Hill Tribe Shamans of the Golden Triangle, to back alley street fighters in the concrete canyons of Hong Kong.  His adventures have been featured on Taiwan TV, radio interviews, and newspaper and magazine articles.
For more information, visit http://www.chinastrategies.com.
CALL  800-259-5791  TO SPEAK WITH STEFAN VERSTAPPEN.
Hour 2:  John J. Higgins, Esq.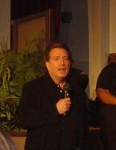 Author, former state-wide prosecutor,  and attorney John J. Higgins, Esq. joins Amerika Now during the second hour to talk about the polarization that is running rampant in our political system as well as our society.
According to a recent study by the Pew Research Center, America has never been more polarized.  From public opinion to politics, liberals and conservatives have never been so widely separate.  Both sides prefer to associate with and live near fellow partisans, creating a divided society where liberals and conservatives increasingly keep apart.  Unfortunately, when such polarization occurs, moderate voices often lose power and influence.
According to Pew Research Center's website (http://www.pewresearch.org/fact-tank/2014/06/12/7-things-to-know-about-polarization-in-america/), "Political polarization is the defining feature of early 21st century American politics, both among the public and elected officials. As part of a year-long study of polarization, the Pew Research Center has conducted the largest political survey in its history – a poll of more than 10,000 adults between January and March of this year. It finds that Republicans and Democrats are further apart ideologically than at any point in recent history. Growing numbers of Republicans and Democrats express highly negative views of the opposing party. And to a considerable degree, polarization is reflected in the personal lives and lifestyles of those on both the right and left."
John will also talk about the "crass, crude, and rude behavior of many politicians."  As a former special prosecutor, he'll comment on the level of corruption occurring.
John J. Higgins, Esq., is an attorney and former statewide prosecutor who has had a multi-faceted career and life. He has worked on farms, performed firearm repairs, and refinished and sold antiques, all before he finished high school.  In between pursuing his college studies, he supervised industrial finishing operations and assisted in developing a powder coating system.  After college, he worked full time and attended law school at night. He also filmed rock stars and celebrities for public service announcements and produced and emceed a play that performed before audiences that totaled over 170,000.
In his career as an attorney, he researched and wrote policy papers for governmental committees, drafted legislation, and revised statutes. In his role as a statewide prosecutor he was involved in some of the highest profile cases in his state, from prosecuting multiple and complex crime rings to homicides, including those committed by a serial killer.
John is also the author of the trilogy, The Archangel Jarahmael and the War to Conquer Heaven (In the Beginning, In Rebellion, and In Exile), which he discussed in a previous interview on this show (https://barbadamslive.com/?p=8301).
Among other things John does in his private life are scuba diving and piloting an airplane.  An avid student of history and spiritual development, John lives in New Jersey in an old Victorian train station he converted into his residence.
For more information, visit his website at http://john-j-higgins.com.
CALL  800-259-5791  TO SPEAK WITH JOHN HIGGINS.
Hour 3:  Joseph Meyer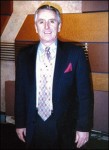 Joining the show during the final hour is the President of Meyer Associates, Joseph Meyer, who will provide an easy and understandable analysis of what is happening in the domestic and international marketplace.
In today's volatile investment community, we all need to be confident of obtaining the most accurate information possible in order to make some very critical financial decisions.  We find this valuable information by locating the most experienced individuals in their particular fields of expertise.  In the field of financial services, there are few who compare with the level of professional experience of Joseph Meyer.
For nearly four decades, he has been personally and professionally involved with the U.S. financial industry.  He has literally helped thousands find their ways through the maze of questions that can arise in an ever-changing financial environment.
Tonight Joseph will provide an analysis of what is happening in the markets.  He'll define the key elements of the on-going transformation of the world's economy as a result of globalization.  In addition, he'll talk about the widening income gap, its effects on housing and the middle class, and what effects the upcoming mid-term elections will have on the markets and economy.
Joseph Meyer entered the brokerage industry in the early 1970s as a broker/dealer trainee with the firm Edwards and Hanley, a member of the New York Stock Exchange (NYSE).  He was employed by a number of top NYSE firms, and was also a professional insurance agent with Bankers Life and Casualty Company.  He became a self-employed stock market stategist and professional equity trader and went on to become a registered investment advisor.  In 1989, Meyer developed his management-consulting firm Meyer and Associates.
Meyer is an "Industry Arbitrator" with the National Association of Security Dealers and with the NYSE.  The National Association of Securities Dealers approved him as an NASD Regulation Approved Mediator in 1997.  The NYSE followed and approved him as a mediator within their forum, and he continues to serve to this day.  In this capacity, he has served as a panel chairman on some of the largest and most complex securities law cases.
Joseph Meyer continues to be a solid and informative guest on local and national television and radio programs centered on investment-related issues and the process of arbitration/mediation in both the NASD and the NYSE.  He is featured on many of the nation's most notable national and international radio and television outlets, as well as newspapers and magazines.
For more information, visit his websites at http://www.meyerassoc.com/ and http://straightmoneyanalysis.com/.
CALL  800-259-5791  TO SPEAK WITH JOSEPH MEYER.
Share this post...