February 23, 2013 – Archives/Pod Casts          Hour 1 –   Hour 2 –   Hour 3
Hour 1:  Barbara Dzikowski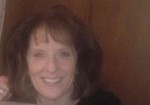 Joining Amerika Now during the first hour is author Barbara Dzikowski who will be discussing her debut novel, Searching for Lincoln's Ghost.
Studying Abraham Lincoln is part of every American's childhood, and Barbara's debut novel, Searching for Lincoln's Ghost, offers many fascinating Lincoln facts and folklore through a stunning story woven through the eyes of a six-grader coming of age during the tumultuous 1960s.  In this disquieting tale, there are plenty of profound lessons to be learned regarding the Golden Rule:  How we treat one another–one person, one situation at a time–truly matters.  Based on fact, this historical novel teaches empathy while also providing a powerful storyline.
The protagonist, Andi Powell, loses her parents in an accident, and in her quest to find evidence that there is an afterlife after death, stalks the ghost of Abraham Lincoln (who profoundly haunts her school).  Through the innocent eyes of childhood, we see firsthand the damaging and crippling effects of judgment, intolerance, and oppression in the form of prejudice, bullying, and abuse.
Tying these disparate human rights issues together, author Dzikowski links the injustices of the past with those of the present:  cruelty is cruelty, no matter the issue or era.  The common denominator is the personal responsibility each of us bears in making a positive difference in the world by examining the quality of the "seeds" that we are sowing.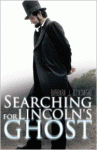 Searching for Lincoln's Ghost is a historical work of fiction, and offers an authentic look at growing up in  the turbulent and racially-segregated 1960s.   In addition, the book also deals with  many social issues such as  clergy abuse, homosexuality, and  bullying that are also relevant in today's world.  The book teaches tolerance, personal responsibility, and the value of seeing people as individuals.
If you liked To Kill a Mockingbird, you'll love this book.
Barbara Dzikowski earned an undergraduate degree in Philosophy and a graduate degree in Counseling from Indiana University, areas of study that fueled her desire to create fiction that closely examines the human heart and its complex search for love and meaning.  After living on both coasts for several years, she returned to Indiana where she how serves as the program director of a social services agency.
Fascinated by the passion, idealism, and lost hope of the 1960s, she is currently working on her second historical novel about two families struggling with the changes and uncertainties of that decade, with a particular focus on the cataclysmic year of 1968.
For more information, please visit www.barbarajdzikowski.com.
PLEASE CALL  800-259-5791  TO SPEAK WITH BARBARA.
Hour 2:  Carla Wills-Brandon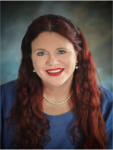 Carla Wills-Brandon, a licensed Marriage and Family Therapist, joins Amerika Now during the second hour to discuss The Departing Vision:  Physical Death is Not the End, which is based on her books Heavenly Hugs:  Comfort, Support, and Hope From the Afterlife (2012), A Glimpse of Heaven:  The Remarkable World of Spirtually Transformative Experiences (2003), and One Last Hug Before I Go:  The Mystery and Meaning of Deathbed Visions (2000).
Carla Wills-Brandon, M.A., is a Licensed Marriage and Family Therapist and the author of 13 published books discussing topics ranging from relationships, healthy intimacy, sexual healing, self esteem, sexual trauma, addiction and recovery to grief, death, afterlife research and spirituality.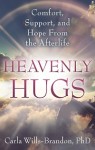 Carla's latest book, Heavenly Hugs:  Comfort, Support, and Hope From the Afterlife deals with both the historical and modern-day heavenly visions the dying often encounter before physical death occurs. Visited by deceased family and friends only they can see, death loses its sting.  Friends, family and healthcare workers also report seeing "something" leaving the body at the moment of passing.  Such experiences have been documented for centuries and continue to be scientifically researched today. These comforting encounters strongly suggest the personality, soul, or consciousness continues after death.  Based on this information, death is nothing to fear.
Carla has lectured across the U.S. and U.K. and has appeared on numerous national radio and television programs, such as Geraldo Rivera, Sally Jesse Raphael, Montel Williams, Coast To Coast Radio Show with Art Bell and George Noory, Uri Geller's Coast To Coast Radio Show and Politically Incorrect With Bill Maher. Wills-Brandon has also appeared on several programs with her husband, Licensed Clinical Psychologist Michael Brandon, PhD., to whom she has been married for over 35 years.  Together, Carla and her husband have been in private practice for more than 25 years.
Carla received her undergraduate degree in Psychology at California State University Fresno and then went on to receive a Master's Degree in Clinical Psychology from the California School of Professional Psychology Fresno, in Fresno, California.
For more information, please visit www.carlawillsbrandon.com.
PLEASE CALL  800-259-5791  TO SPEAK WITH CARLA.
Hour 3:  Sudhguru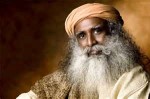 Joining the show during the final hour is renowned yogi, mystic, and visionary and the Founder of the Isha Foundation Sadhguru, who will be discussing how capitalism can bring about world peace.
The answer(s) to the world's problems are easily within humanity's reach; we have the resources to end economic strife, poverty, hunger, warfare and climate change, says renowned mystic and visionary Sadhguru, Founder of the Isha Foundation (www.ishausa.org), a nonprofit organization with two million volunteers across 150 cities worldwide.  "Building businesses which are beneficial to all will set the needed conditions for a peaceful world," says Sadhguru.  "Of the four major forces in the world–politics, military, religion and economics–that decide the quality of people's lives to a large extent, I see the economic force as the biggest possibility for bringing about some unification and sensible action.  If business and other economic leaders are spiritually equipped, they will naturally have a more inclusive way of experiencing life.  Inclusive Economics was a concept first mentioned by the modern mystic.
"The decisions economic leaders make today impact not just themselves but a large number of lives.  It is very important they are balanced and joyful by their own nature, and not because of their quarterly balance sheets," says Sadhguru.  "That is why we are talking about inclusive economics.  Expansion is inclusion."
Named one of India's 50 most influential people, Sadhguru has addressed prominent global forums on issues including socio-economic development, leadership and spirituality.  He has served as delegate to the United Nations Millennium Peace Summit and the World Peace Congress and has been a special invitee to the World Economic Forum, TED, Dartmouth's Business School, Microsoft, and other conferences.  A yogi and humanitarian, Sadhguru works tirelessly toward the physical, mental and inner well-being of all.  He was recently honored with the Indira Gandhi Award, India's highest award for environmental work in recognition of his Project Green Hands initiative.
Sadhguru is the author of more than 50 books and has been featured by the New York Times, Huffington Post, CNBC, BBC, Detroit News, PBS, CNN International and others.
If you'd like more information about Sadhguru, please visit http://www.ishausa.org/sadhguru/
PLEASE CALL  800-259-5792  TO SPEAK WITH SADHGURU.
Share this post...