(1) John J. Higgins & Barb Adams – Trump v the Constitution
In a unanimous decision, three judges from the U.S. Court of Appeals for the 9th Circuit have maintained the freeze on President Trump's controversial travel ban, rejecting his administration's argument that the suspension should be lifted immediately for national security reasons and thus effectively serving as a check on the president's power.
The judges also asserted that "…any suggestion that they could not 'runs contrary to the fundamental structure of our constitutional democracy.'"
This isn't Trump's first run-in with constitutional law nor will it be his last.
Trump's lack of knowledge of the Constitution has been apparent all along. When asked by House Republicans last July about how he intended to protect Article I of the Constitution, rather than answering the question, Trump responded by displaying his commitment to the Constitution, citing Article XII (which does not exist).
Trump's erroneous proclamations about the Constitution as well as his attacks on our country's judicial system imply he either lacks interest in the Constitution or, worse yet, has blatant disregard for it, turning more to authoritarian tactics.
JOIN Barb and John as they discuss Trump v the Constitution.
(2) Adam Hansen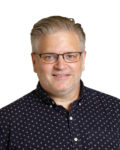 Author and VP of Innovation and Innovation Process Consultant at Ideas to Go Adam Hansen joins the show during the second hour to discuss his and co-authors Edward Harrington and Beth Storz' book, Outsmart Your Instincts: How the Behavioral Innovation Approach Drives Your Company Forward.
"Just trust your gut" is great advice when your instincts tell you to run from a lion in the jungle, but when it comes to thinking creatively about your business, those same instincts can be your  worst enemy. Cognitive biases–the instinctual mental shortcuts we all have in our brains that shape how we see and respond to the world, can also be the arch-nemeses of innovation/innovative thinking.
According to Hansen, it's time to let go and learn a new way to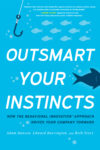 think. Created by innovation experts, Outsmart Your Instincts merges behavioral science with business savvy. Hansen will provide an examination of eight unique biases that get in the way of creativity/creative thinking and discuss how we can overcome these barriers and break from the status quo.
Hansen will discuss how to move beyond judgment mode into discovery mode; how to consciously change from "yes, but…" to "yes, and…;" how to list solutions to ideas rather than problems; and how a more playful approach to the creative process can help you get the most out of each idea.
Adam Hansen is VP of Innovation/Innovation Process Consultant at Ideas to Go and a career-long innovation leader, student and devotee. He received his MBA in product management at Indiana University and has served on the board of the Product Development and Management Association and as an innovation and strategy expert with select causes in education and public health care.
For more information, visit http://ideastogo.com.
(3) Jonathan Ferrara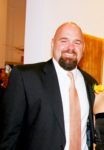 Artist, gallery owner, and community activist Jonathan Ferrara joins the show in the third hour to discuss his book and project, Guns in the Hands of Artists.
Artists have long played a key role in social movements in the United States, addressing issues from immigration and racism to sexism, human rights, and gun violence. Through the expressive use of their talents, artists can challenge cultural narratives and inspire conversations in ways that traditional methods cannot.
The mission of the Guns in the Hands of Artists (GITHOA) Foundation is to promote community-based activist art as a means of opening a dialogue around guns, gun ideology, and gun violence in contemporary American society.  The Foundation works with various community, social, arts and governmental agencies including police departments, using art as a catalyst for open ended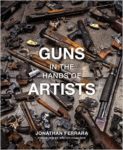 conversation and discourse about guns and gun violence. The Foundation works with individual communities, organizations and local entities to bring the Guns in the Hands of Artists exhibition to the community and organize discussion forums, panels and community outreach on this issue.  Most importantly though, the GITHOA Foundation works with communities to create their own blueprint of how to start a similar project in their own backyards, expanding a movement of art made from guns taken off the streets.  By taking guns off the streets and channeling them to artists to use in their art, The GITHOA Foundation encourages a new way of conversing about guns in our society without the fever pitched politics that often surround the contentious issue. Every community has unique experiences and issues surrounding guns and gun violence and this allows them to address those through art; working to expand the network of communities and artists critically engaged to create a lasting legacy of possible change and greater awareness of the issues that face each community and our nation.
Jonathan Ferrara is an artist, gallery owner, community activist, and cultural producer. He has been a voice for the arts for twenty years and is a leader in the movement to make New Orleans an international arts destination.
Cultural activism―using art to affect social change―is Ferrara's trademark. He is the founder ARTDOCS, a medical program for artists without health insurance, as well as the Annual No Dead Artists International Juried Exhibition of Contemporary Art, and the Guns in The Hands of Artists Foundation, Ferrara continues to challenge his audience and himself in search of the best contemporary art and ideas wherever that may take him around the world. He has produced cultural exchange exhibitions with Cuba, Hungary, Germany, and Jordan as well as across the US.
He lives in New Orleans with his wife, artist Sidonie Villere, son Anson, and daughter Quinn.
Jonathan Ferrara Gallery exhibits works of art from around the world and has been featured in The New York Times, Time, NPR, The Associated Press, Art in America, ARTnews, The Art Newspaper, MSNBC, ABC's Good Morning America, and in numerous other national and international media. The gallery regularly exhibits during Art Basel Miami Beach, Armory Week in New York, Art Basel in Switzerland, and in the Houston, San Francisco, and Seattle art fairs.
For more information, visit http://gunsinthehandsofartists.org.
Share this post...