August 24, 2013 – Archives/Pod Casts         Hour 1 –    Hour 2 –    Hour 3
Hour 1:  Dr. Kirk Schneider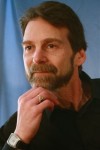 Joining Amerika Now during the first hour is licensed psychologist and the past Editor of The Journal of Humanistic Psychology, Dr. Kirk Schneider, to discuss his book, The Polarized Mind:  Why It's Killing Us and What We Can Do About It (University Professors Press, 2013).
What is a polarized mind? It is a mind stricken with one absolutist point of view, to the utter exclusion, even demonization, of all others. The polarized mind is, in its way, the great "mistake" of history and yet we repeatedly fall into its clutches. We see this lapse every day–in the streets, the suites, and the battlefields; in the psychiatric clinics, the factories, and the shrines; and because of our potential for technological destruction today, the polarized mind may be even more dangerous than in our primordial past.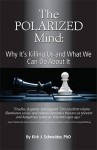 The polarized mind can appear as bigotry, bullying, tyranny, vengefulness, and arrogance. It can also appear as addiction, compulsion, and recklessness. It is found in fields as diverse as governance, religion and science, often hidden in plain sight until rearing its ugly head in the morning headlines.
Dr. Schneider will explore why and how estranged killers, corporate swindlers, bullheaded ideologues, and notorious leaders and their followers have become repeatedly polarized throughout history, why it's problematic – even dangerous, and how we can begin to understand and undo it.
In order to combat polarization, Kirk will offer steps to address it through what he calls "awe-based reformation," based on accepting and embracing the mystery of our being, including:   • Learning to raise "awe-grounded kids"; enabling them to experience sadness, disappointment, and anger as well as wonder. • Decreasing existential panic in ourselves by developing the capacity to be both vulnerable and bold; fluid and yet centered, as the situation demands.  • Strengthening substantive self-esteem through encouraging ourselves to pause, slow down, and recognize that we are a part of something much greater than ourselves.  • Learning to distinguish between fear-based and awe-based revolutions and movements.
Kirk J. Schneider, Ph.D., is a licensed psychologist and past editor of The Journal of Humanistic Psychology, Vice-President of the Existential-Humanistic Institute, and adjunct faculty at Saybrook University and Teachers College, Columbia University.  He is also a Fellow of three Divisions of the American Psychological Association (Humanistic, Clinical, and Independent Practice).  Schneider has published over 100 articles and chapters and has authored or edited 10 books, including The Paradoxical Self, Horror and the Holy, The Psychology of Existence (with Rollo May), The Handbook of Humanistic Psychology (with James Bugental and Fraser Pierson), Rediscovery of Awe, Existential-Integrative Psychotherapy, Existential-Humanistic Therapy (with Orah Krug—accompanying APA video also available), and Awakening to Awe. Schneider is the 2004 recipient of the Rollo May Award for "outstanding and independent pursuit of new frontiers in humanistic psychology" from the Society of Humanistic Psychology of the American Psychological Association and the 2009 recipient of the Cultural Innovator Award from the Living Institute, Toronto, Canada, which also awards diplomas based on Schneider's "Existential-Integrative" psychotherapy approach. In April, 2010, Schneider delivered the opening keynote address at the First International (East-West) Existential Psychology Conference in Nanjing, China.
For more information on Dr. Kirk Schneider, please visit his website at www.kirkjschneider.com.
Hour 2:  Dr. Norman Rosenthal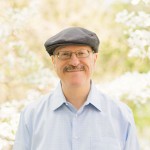 World-renowned psychiatrist and bestselling author Dr. Norman Rosenthal joins Amerika Now during the second hour to discuss his latest book, The Gift of Adversity:  The Unexpected Benefits of Life's Difficulties, Setbacks and Imperfections.
Adversity is an irreducible fact of life.  Although we can and should learn from all experiences, both positive and negative, bestselling author Dr. Norman E. Rosenthal believes that adversity is by far the best teacher most of us will ever encounter.
Whether the adversity one experiences is the result of poor decisionmaking, a desire to test one's mettle, or plain bad luck, Rosenthal believes life's most important lessons—from the value of family to the importance of occasionally cutting corners—can be best learned from it.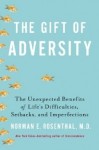 Running counter to society's current prevailing message that "excellence" must always be aspired to, and failure or mistakes of any sort are to be avoided at all costs, Rosenthal shows that engaging with our own failures and defeats is one of the only ways we are able to live authentic and meaningful lives, and that each different type of adversity carries its own challenges and has the potential to yield its own form of wisdom.
Using stories from his own life—including his childhood in apartheid-era South Africa, his years after suffering a violent attack from a stranger, and his career as a psychiatrist—as well as case studies and discussions with well-known figures like Viktor Frankl and David Lynch, Rosenthal shows that true innovation, emotional resilience, wisdom, and dignity can only come from confronting and understanding the adversity we have experienced. Even when life is hardest, there are meanings to be found, riches to be harvested, and gifts that can last a lifetime.
Dr. Norman Rosenthal was born in Johannesburg, South Africa, and attended the University of the Witwatersrand, where he obtained his medical degree with high honors. He moved to the United States and was resident and chief resident at Columbia Presbyterian Hospital and the New York Psychiatric Institute. He conducted research at the National Institute of Mental Health for over 20 years. It was there that he led the team that described Seasonal Affective Disorder and pioneered the use of light therapy to treat it.
Dr. Rosenthal has maintained a private practice in the Washington, D.C., metropolitan area for over 30 years, where he treats a wide variety of psychiatric problems using many forms of therapy. Dr. Rosenthal was awarded the prestigious Anna Monika Foundation Research prize for his contribution to research in treating depression. He has been listed as one of the Best Doctors in America and as one of this country's top psychiatrists.
He is the author or co-author of over 200 professional articles and five popular books, including Transcendence: Healing and Transformation Through Transcendental Meditation, Winter Blues, The Emotional Revolution, St. John's Wort, and How to Beat Jet Lag.
Dr. Rosenthal and his work have been widely covered in the popular media and he has appeared on The Today Show, Good Morning America, National Public Radio and many other forums.
"Dr. Norm is a cosmonaut of consciousness, launching into the murky abyss and returning with meteoric treasures for us all. His writing on the value of adversity may come to be regarded by Alien archeologists as a Rosetta Stone in understanding how we advance as individuals and as a culture." —Russell Brand, Actor
"Dr. Rosenthal catalyzes conversations around adversity with tales of wisdom and survival that we can all treasure." -Mehmet C. Oz, M.D.
For more information on Dr. Norman Rosenthal, please visit his website at www.howtobeatadversity.com.
PLEASE CALL  800-259-5791 TO SPEAK WITH NORMAN ROSENTHAL.
Hour 3:  Bill Farr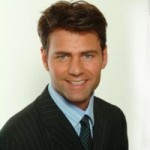 Joining Amerika Now during the final hour is author and wellness coach Bill Farr who be discussing his book, The Power of Personality Types in Love and Relationships.
People often make the mistake of thinking opposites attract. Opposites never attract, that would be like a criminal hooking up with a nun.  However, opposing personality types often attract; this is when one partner says "black" the other says "white."  Bill will talk about what is required to keep these opposing forces complementary.
The Chinese philosophy of the Yin Yang states that two opposing yet complementary forces lie at the base of how all things work. This philosophy shows how people can flow in natural harmony and what is required during conflict.
We have all delightfully experienced a waiter who obviously takes joy in serving his clients or a boss who naturally leads while caring for his employees, versus those not equipped for the responsibility they work in. Character dynamics exist similar to these in relationships and understanding them provides insight as to why certain couples naturally get along while others operate with a lack of intimacy and connection. By answering a questionnaire, you can identify your type and the formula for how to identify your logical match.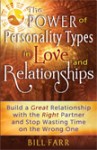 Learn how to know a partner who is complementary to your character and how to remain connected without conflict to people who are not. Understanding these types enables you to discover what went wrong in past relationships, a way to find harmony in current strained relationships, and a formula for finding more compatible partners moving forward.
Rumi said, "Not to seek for love, but to seek all the barriers within yourself that you have built against it." A basic understanding of these types allows you to overcome self-imposed barriers preventing the flow of abundance in your life and relationships. Fears, insecurities, shame, defense mechanisms, and past relationships all play a part in how a person seeks to find their contentment or avoids perceived discomfort or fear. Awareness of these aspects shows when you sabotage the harmony in your life or relationship and how to overcome that. This awareness also allows you to recognize a partner that has the ability to accept your nature while fulfilling theirs.
Bill Farr is an author, wellness coach, instructor in various forms of martial arts and meditation, and a former kickboxing champion and professional Argentine Tango dancer.  As a consummate student Bill studies with well-known Western psychology teachers as well as Buddhist monks, South American Shaman, Chi Gong masters, Grand Masters of martial arts, and other prominent teachers. He travels worldwide teaching the principles in his book as well as meditation and wellness.  His concepts are designed to help people become healthy and united in mind, body, and spirit in order to prepare themselves to find their perfect mate as well as a path to fulfillment and higher consciousness. The focus is on developing compassion, understanding, and respect for each other based on important differences existing in both intimate and professional relationships.
For more information on Bill Farr, please visit his website at www.theartofunity.com.
PLEASE CALL  800-259-5791  TO SPEAK WITH BILL FARR.
Share this post...