Podcast/Show Archive: Hour 1 – Hour 2 – Hour 3 – Hour 4
Philosophical and Cultural Comments
Everyday we may contribute our understanding to improve our world. In our envisioned enlightened society, promoting harmony, understanding and cooperation may be everyone's mission.
We present viewpoints that reflect a synthesis of ideas presented in the Origins and History of Consciousness and A Treatise on Cosmic Fire. The perspectives of the ageless wisdom and archetypal psychology give great insight into our current state of affairs as a human culture. We see the effects of apparently unseen causes as our known world seems to change before our eyes. How then are we to understand the actual causes of our situation in today's world.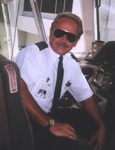 Captain Ross "Rusty" Aimer has over 45 years and 30,000 hours of world wide heavy-jet flight operation and training experience. He has a B.S. Degree in Aerospace Maintenance Engineering and an A&P license. Ross holds the FAA Type Ratings on the following aircraft: Boeing 777/767/757/747/737/727/720/707 and Douglas DC-10/-9/-8F.
He started his airline career with TWA as an A&P Mechanic in 1963. Shortly after he was promoted to a Flight Officer. The ups and downs of the airline industry took him for a wild ride in five continents where he flew for Continental, Iran Air, Lufthansa, Trans Global, CargoLux, Hawaii Express, Evergreen, Tower Air and finally United Airlines.
Captain Aimer retired from United Airlines in July of 2004 as an International Wide Body Captain. During his commercial airline service Ross served as Flight Engineer, First Officer and Captain. FAA mandatory retirement brought Ross to Boeing Training where he was chosen to be among the first cadre of Training Captains to teach the customer airline pilots around world on their new state of the art Boeing 787 Dreamliner.
Captain Aimer has an extensive background in aviation media relation, safety and security, maintenance, training, management and technical sales.
Captain Aimer is still a volunteer ALPA Airport Liaison Representative for several Southern California Airports. He has also served the 66,00 strong Airline Pilots Association (an AFLCIO Affiliate) as a member of its Board of Directors, Master Executive Council and Chairman of the Local Safety and Scheduling Committee.
Captain Aimer has also made cameo appearances on the set of several aviation related productions. He was recently the T/A (Technical Advisor) on the set of several motion picture and television shows.
Pilots for 9/11 Truth is an organization of aviation professionals and pilots throughout the globe who have gathered together for one purpose. We are committed to seeking the truth surrounding the events of the 11th of September 2001. Our main focus concentrates on the four flights, maneuvers performed and the reported pilots. We do not offer theory or point blame at this point in time. However, we are focused on determining the truth of that fateful day based on solid data and facts — since 9/11/2001 is the catalyst for many of the events shaping our world today — and the United States Government doesn't seem to be very forthcoming with answers or facts.
We stand with the numerous other growing organizations of Firefighters, Medical Professionals, Lawyers, Scholars, Scientists, Architects and Engineers, Veterans, Religious and Political Leaders, along side family members of the victims — family members of soldiers who have made the ultimate sacrifice — including the many Ground Zero workers who are now ill or have passed away, when we ask for a true, new independent investigation into the events of 9/11. We do not accept the 9/11 Commission Report and/or "hypothesis" as a satisfactory explanation for the sacrifice every American has made and continues to make — some more than others.
The Evidence of Climate Fraud and Here
A folder containing documents, data and, e-mails purportedly "hacked" from Britain's Climate Research Unit (CRU) may be smoking-gun proof of a worldwide conspiracy to exaggerate the existence, causation, and threat of global warming. And the list of apparent conspirators includes many of the world's leading climate alarmists — the very scientists on whose work the entire anthropogenic global warming theory is based.
In a Friday interview with Investigative Magazine's TGIF Edition, CRU director Phillip Jones confirmed [PDF] that the incriminating documents, which have been widely disseminated online, are in fact genuine. Accordingly, whether indeed the labor of hackers, or instead that of a CRU whistleblower, the contents of the FOI2009 folder are now public record — and that's nothing short of dynamite.
After all, the names of the email exchangers represent a who's-who of the world's leading climate alarmism scientists, including Stephen Schneider, Gavin Schmidt, and James Hansen. And the e-mails themselves seemingly betray an organized apparatus of deception.
As I've said all along, this scientific charade of Global Warming is cover for ACTIVE 100% of the time, complete, global weather modification.  Now is it possible to grasp just how big and complete this global climate weather conspiracy is?
–Scott Stevens  11/21/2009
Share this post...