February 2, 2013 – Archives/Pod Casts           Hour 1 –   Hour 2 –   Hour 3
Hour 1:  Linda Stasi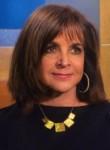 Joining Amerika Now during the first hour of the show is award-winning journalist, media personality, columnist, and critic for The New York Post, Linda Stasi, who will be discussing her recent novel, The Sixth Station.
What if a relic could show us the actual face of Jesus?  Could religious artifacts be used to gather his DNA?  And if so, what would spur at attempt to clone Jesus?  Who would try to stop it?
Media personality and critic Linda Stasi explores these controversial questions in her award-winning debut thriller, The Sixth Station, which is based on real history.  Stasi spent over six years researching, writing, and traveling around the world to see first-hand many religious relics, being led by experts, historians, priests, and even a hermetic nun.  Though most have heard of the famous Shroud of Turin, Stasi found the trail of the more mysterious Veil of Veronica–and she began to explore the secret history behind this holy relic.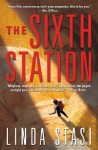 The Sixth Station is a riveting thriller that combines both controversy with suspense.  Stasi does an amazing job of mixing science with religious paranoia in her debut novel.  Combining her many talents as a journalist and media critic together, Stasi creates a very believable and well-researched apocalyptic tale of mystery and theology.
The book has it all:  the Vatican, ancient secrets, mysterious relics, the Knights Templar, and the trial of the millenium…and possibly the start of Armageddon!
Be sure to tune in for a riveting hour as Linda Stasi talks about a relic which may in fact contain DNA of Jesus Christ on a piece of cloth in a monastery 200 miles from Rome: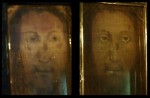 NOTE:  The image of a face on this small piece of fabric matches exactly to the Shroud of Turin, even though they reside hundreds of miles apart!
Linda Stasi is a celebrated media personality, columnist, and critic for The New York Post.  She is also an on-screen cohost of What a Week on NY1, Time Warner's 24/7 news channel, and has appeared on CNN, The O'Reilly Factor, The Today Show, The View, Chris Matthews, CBS Morning Show, Access Hollywood, and Good Day New York. An award-winning columnist, Linda is also the author of five nonfiction books.  The Sixth Station is her first novel.
For more information, please visit www.thesixthstation.com.
PLEASE CALL  800-259-5792  TO SPEAK WITH LINDA STASI.
Hour 2:  Katherine Stewart

Joining the show during the second hour is renowned journalist, Katherine Stewart, who will be discussing her book, The Good News Club:  The Christian Right's Stealth Assault on America's Children.
Do you think that our state-sponsored schools are free from religious indoctrination?  If so, think again.  As Katherine will discuss, evangelical organizations have cleverly insinuated themselves into the day-to-day operation of American public education.  From history curricula to after-school clubs, our classrooms bear the mark of proselytizing by the so-called Christian Right.  But this trend is under challenge from other Americans, including many devout Christians, who defend America's noble but battered tradition of church-state separation. – Jonathan Zimmerman, Professor of Education and History, New York University, and author of Whose America:  Culture Wars in the Public Schools.
Listen in if you want to understand our impending culture war over faith and education.  You might be shocked at what you hear!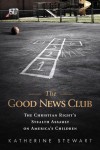 A few years ago, Katherine learned that her children's public elementary school had added a Bible study to its afterschool program called The Good News Club.  Her discovery quickly turned to concern when she found out that the club is sponsored by the Child Evangelism Fellowship, and that their purpose is to "take back" America's schools and convert children to a Fundamentalist Church agenda.
Katherine Stewart is a journalist whose work has appeared in Newsweek International, Marie Claire, the Times (London), the New York Times, the Village Voice, Rolling Stone, and many other publications.  She has published two novels and was the coauthor of Rent by Jonathan Larsen, the book about the musical Rent. She and her family recently moved from Santa Barbara, California, to New York City.
For more information, please visit her site at www.thegoodnewsclub.com.
NO CALLS PLEASE AS THIS HOUR WAS PRERECORDED.
Hour 3:  John Shimer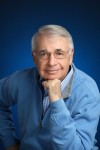 Founder of the Angels Among Us Project and author of Turn Right at the Dancing Cow, philanthropist John Shimer joins Amerika Now during the third hour.
As a longtime fundraising consultant for charities and other civic-minded groups, John Shimer says he's "witnessed firsthand the work of countless 'angels on Earth.'"
With the media presenting us daily images of the enraged, crazed, and depraved among us, wouldn't we be better off if we saw more about the "angels among us" in the media?
"If you want people to be their best, or just better than they are, you need to shine a light on what that looks like.  People tend to become what they see," says Shimer.  "But more and more our newspapers and TV screens are filled with stories about the people doing horrible things.  What does that teach our society?  Our children?  I believe we've reached a critical point–we need to address this now!  We need a counter-punch campaign that can help us to believe in ourselves again."
To that end, Shimer has launched the Angels Among Us Project through which he helps communities locate and share the stories of the people who selflessly give to uplift others (hometown human angels) by volunteering his time to teach the first 10 nonprofit groups that embrace this campaign in their own community how to organize for success and raise money to support it–at no charge.
"I've become an angel seeker," Shimer says.  "I want to recruit an army of angel seekers."
John Shimer is a director of Fortune Family Foundation, a charitable corporation that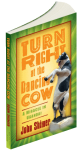 provides assistance to nonprofits focused on fostering self-sufficiency.  For 33 years, Shimer was a fundraising manager and consultant for hospitals, human welfare agencies, and similar organizations.  he is the author of Turn Right at the Dancing Cow, the story of a "human angel" from Seattle and the vocational school she established in Uganda.  He's also the Founder of the new Angels Among Us Project, which seeks to spotlight the best and most inspiring of human behavior.
For more information, please visit www.angelsamongusproject.org.
PLEASE CALL  800-259-5791  TO SPEAK WITH JOHN SHIMER.
Share this post...