Hour 1 – Barb Adams and John J. Higgins, America's Death Wish (Part 1)
Hour 2 – Barb Adams and John J. Higgins, America's Death Wish (Part 2)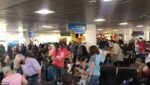 It appears that America has a death wish. Just one day after the CDC issued its latest warning and as the nation recorded its highest ever single-day case count of COVID-19 of 195,500 new infections,  you'd never know there's a pandemic raging throughout the country based on all the crowded airports filled with travelers packed together heading home for the holidays, many without masks.
Here in Colorado where I reside, one out of every 49 people are now infected with COVID-19 and this is in spite of mask mandates and stern reminders to socially distance, wash your hands, and take this pandemic seriously. Nationally, health experts are projecting the death toll could continue to rise more quickly now than even one week ago, up to 2,000 deaths per day, and that by mid-January, that number could climb to 2,500 per day. And these projections are based on governors in at least 40 states around the country putting safety mandates in place. If that doesn't happen, then the count could grow to some 4,500 deaths per day.
Almost every state is reporting a rapid surge in cases and nationwide, more than 2.7 million new infections have been reported just since the beginning of November. While these numbers are staggering, hospitalization rates are also increasing, with over 82,000 COVID-19 patients being reported hospitalized this past Friday. And with rising numbers of hospitalizations come rising death rates. In just this past week alone, more than 10,000 Americans died from COVID—that's almost double the weekly death toll of just one month ago. Sadly, these numbers come ahead of Thanksgiving week, when health experts fear many Americans will forego warnings and opt to visit family and friends, further fueling the spread of the virus.
But as worrisome as that situation may be, there's something much darker going on in this country we must address if we want to really to get control of this pandemic and heal this country. As the pandemic worsens and Trump and the GOP continue to spew their baseless election fraud claims and hatred, Americans grow more divided. Republicans downplay the virus and see it as inevitable while Democrats see the virus as a controllable threat. While some Americans misuse their first amendment rights to not wear masks, endangering themselves and others, denying the virus as real or hedging their bets on herd immunity or a vaccine, something as simple as increasing mask use in the U.S. by 95% could save at least 65,000 lives by March 1st.  But even with that scenario, until we rid ourselves of the real sickness underlying this country's problems–the lies, corruption, misinformation and hatred–this pandemic will continue to rage out of control and reflect the all-too-real death of democracy in America.
For now, it appears Trump has shot America in broad daylight and is getting away with it, aided and abetted by the majority of the GOP.  Will Democrats finally stand up for democracy and quit hoping in silence that the Trump coup will go away, or are we witnessing, in slow-motion, the collapse of American self-government and, with it, human existence?
JOIN Barb and John as they discuss America's Death Wish.
Share this post...