October 24, 2014 – Archives/Pod Casts         Hour 1 –    Hour 2 –    Hour 3
Hour 1:  Jim Harold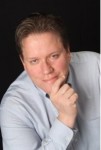 Joining Amerika Now to kick off this year's annual Halloween "spooktacular" is America's favorite paranormal pod caster, Jim Harold.  Jim returns to the show tonight to share more of his favorite ghastly tales from his latest book True Ghost Stories:  Jim Harold's Campfire 3, the third book in his popular true ghost stories series.
Tonight Jim will share some of the spookiest true stories as told to him by his listeners.  Hear about an evil spirit that stalks a young woman across the U.S.; a statue that comes to life and leaves proof; and a spine-tingling tale about two weary travelers who were nearly trapped in a mysterious mural.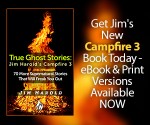 In 2005, Jim started pod-casting on the paranormal.  His life-long interest in the supernatural, combined with his love of broadcasting and technology, resulted in the most successful Web-based program in the world.  The Paranomal Podcast, Jim Harold's Campfire, and The Paranormal Report are regularly among the top pod casts in their categories on iTunes.  You can find his free programs at http://www.jimharold.com, on iTunes, Roku, TuneIn Radio and via many other apps.
Jim lives in Northeastern Ohio with his fantastic wife and two daughters. His favorite pastime is terrifying his listeners with creepy Campfire stories.
For more information, visit http://www.jimharold.com.
NO CALLS, THIS SEGMENT WAS PRERECORDED.
Hour 2:  Bob Cranmer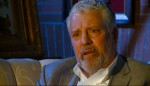 Businessman, author, and former politician Bob Cranmer joins the show in the second hour to discuss his book, The Demon of Brownsville Road:  A Pittsburgh Family's Battle with Evil in Their Home, which is based on his own family's true story.
It wouldn't be Halloween without a scary tale about a haunted house.  But Bob Cranmer's story takes haunted to a whole new level.  Bob and his family were tormented by an evil presence set on destroying their tight-knit household.  Bob joins me this evening to discuss the harrowing true story he and his family went through and the epic spiritual war he fought to save everything he held dear.

Lawyers, paranormal investigators, psychologists, and clerics witnessed terrifying events at the house on Brownsville Road, adding proof that this "demon" was real.  The story of the house and what the Cranmer family endured was documented by the Discovery Channel as well.
Bob Cranmer is director of Cranmer Consultants based in Pittsburgh.  He's also held a number of high-ranking political offices in Pennsylvania, where he is a well-known and respected community leader.  Bob has written numerous op-ed pieces for the Pittsburgh Post-Gazette on local and national issues, and has appeared frequently on radio and television, including Geraldo, and has testified before Congress on C-Span.
If you'd like more information about Bob and the house People Magazine called "One of the scariest places on Earth," visit http://www.demonofbrownsville.com.
NO CALLS, THIS SEGMENT WAS PRERECORDED.
Hour 3:  Dr. Peter Sacco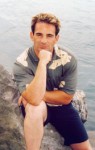 Author, psychologist, and television host/producer/writer Dr. Peter Andrew Sacco joins the show during the final hour to share spooky tales from his books and television show, Niagara's Most Haunted.
Supernatural phenomena aren't something seen only on the big screen – they may be happening in your own hometown, and they're getting the spotlight in mainstream media.  Dr. Peter Andrew Sacco, a psychology professor, has been working to better understand the apparent supernatural phenomena in his own backyard, Niagara Falls.
"Most people think of it as a honeymooner's destination, yet in nearby St.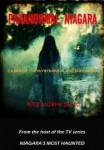 Catharine's in 1970, Canada hosted one of the most interesting supernatural cases in the world," says Sacco, author of Paranormal Niagara: Cases of the Mysterious and the Macabre," and host of the television series, Niagara's Most Haunted.
"For a complete lunar cycle (28 days), a family and their friends were tormented; police, priests and other high-ranking officials became part of this case. It became so widely known, Johnny Carson mentioned it on the Tonight Show."
Dr. Peter Andrew Sacco is a former adjunct psychology professor at Niagara University, Lewiston, New York, in the teacher education program.  Creator and instructor of the Criminal Psychology Program at Niagara College, Canada, he is also an instructor at McMaster University, Canada, in the Addiction Studies Program and Police Foundations Study.  In addition to 500 articles published in newspapers, magazines and journals, Professor Sacco is also the author of a number of other books.
Peter is the Host of the television series, Niagara's Most Haunted, now in its third season, and has a weekly radio show, Matters of the Mind.

For more information, visit http://www.petersacco.com.
NO CALLS, THIS SEGMENT WAS PRERECORDED.
Share this post...