Feb 4, 2012  Show Archives/Podcasts      Hour 1 –  Hour 2 –  Hour 3 –  Hour 4
Hours 1-2:  Dr. K. Paul Stoller and Galen Stoller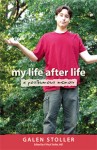 Joining Amerika Now during the first half of the show is Dr. K. Paul Stoller discussing his son, Galen's, book, My Life After Life. The provocative memoir is "told" by Galen Stoller from his afterlife and was transcribed by his father, and confronts timeless questions concerning what happens to our souls after death.
In 2007, Dr. Stoller received the phone call that is every parent's worst nightmare.  His sixteen-year-old son, Galen, had been killed at an unguarded railroad crossing.  Within a few weeks, Galen began appearing to his father and eventually the two began speaking through dream states, mediums, and channels.  Keenly aware of the strength of their emotional bond during his son's life, Dr. Stoller was amazed to find it could express itself across dimensions.  Immediately, he began journaling hundreds of pages of communication from Galen about his new circumstances.  Dr. Stoller's only comments in this revelatory account appear in the Editor's Notes at the end of each chapter.
Galen offers a compelling and comforting account of life after life.  This book is the first in Dr. Stoller's "Death Walker" series.
Dr. K. Paul Stoller started his medical career as a pediatrician and currently uses hyperbaric medicine to treat brain-injured children and adults, including Iraqi vets, retired NFL players, and children with fetal alcohol syndrome.
Galen Stoller, prior to the train accident that took his Earth life, was an accomplished actor, ethical vegetarian, and helped train dogs for Assistance Dogs of the West.   Following the second anniversary of his passing, he asked his father to start writing the book.
PLEASE CALL  800-259-5791  TO SPEAK WITH THE STOLLERS.
DURING THE SECOND HALF OF THE SHOW, FRANKLIN CARTER JOINED BARB ADAMS FOR A DISCUSSION OF CURRENT POLITICAL AND RELATED TOPICS.

Share this post...