Hour 1 – Barb Adams and John J. Higgins, Critical Patriotism (Pt 1)
Hour 2 – Barb Adams and John J. Higgins, Critical Patriotism (Pt 2)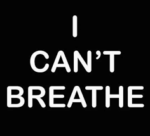 This week, hundreds gathered for a memorial service in Minneapolis on Thursday to honor George Floyd. The memorial featured a moment of silence that lasted 8 minutes, 46 seconds, the length of time police officer Derek Chauvin pressed his knee against Floyd's neck as Floyd lay on the ground pleading for his life, saying "I can't breathe," before dying.
Those words, "I can't breathe," have given life to a fiery moment in this nation's struggle for human rights, from the overwhelming chorus of outrage to the militarism of the government's response.
George Floyd joined a long list of black men, women and children who have been killed in recent years at the hands of police brutality. George Floyd mattered; black lives matter. Floyd moved to Minnesota for a fresh start – an opportunity to be a better father and to create a better life for himself. He loved and was loved. His life had value.
As I watch the protests all over the country and around the world, I am heartstruck by the majority of those marching peacefully together who have joined in one voice demanding hatred and intolerance be replaced by peace, justice and unity. At the same time, I am  deeply appalled by the shocking images showing the reality of policing across America…militarized forces firing on peaceful protesters, billows of tear gas pouring down streets, flash-bang grenade bursts, and rubber bullets that can kill, maim and blind. Even journalists are not immune as police have seemingly targeted reporters and television crews in the process of documenting the protests. Press cameras have been intentionally smashed and reporters have been arrested and seriously injured, leading to the United States being added to the list of most dangerous countries for journalists for the first time ever. Americans have been given a first-person view of what it's like in the thick of a peaceful protest when police abruptly turn violent.
Through his inflammatory rhetoric and constant shredding of the Constitution, this is what Trump seemingly wants though…war in America. He's already declared war on everything from common sense and decency to science, people of color, women, the press, Democrats and liberals, sanity, coronavirus (it's a hoax, remember?), the intelligence community, healthcare workers, and anyone else who won't bend to kiss his ass and worship him. He had peaceful protesters pepper sprayed for God's sake to clear a path for him to walk to a church he's never attended and will never attend to stage a photo-op with "a" bible he's probably never opened or read. He used George Floyd's name in vain on Friday, one day after Floyd's family asked that his name not be used as a prop, as he gloated about a recent jobs report, pointing out that he hoped George is "looking down" and saying this is a great thing that's happening for our country…it's a great day for him and it's a great day for everybody. Those remarks, BTW, were framed by most of Trump's speech praising law enforcement for quelling the protests while he kept the drumbeat up about dominating U.S. citizens. And he did all of this without once bringing up whether the source of the problem, lack of just treatment by law enforcement, is systemic racism and without taking one question from the media. Chilling!
America, we're at a crossroads. Our government and other major systems in this country are broken and in desperate need of reform. Federal law enforcement officers are operating on American streets without identification-creating not only a culture of impunity and unaccountability, but fully reminiscent of authoritarian regimes. This president is not our president-he neither seeks to unite this nation nor cares about all of its citizens.  It is time for us to reflect on our tragic failures…from systemic racism and police brutality to in-your-face greed and systemic corruption. As members of this society we not only have the right but the moral obligation to hold this nation and its leaders to high values and to speak our conscience when we know they're failing to live up to those values. Now is that time! Reform is about leadership "of the people," not against it! As former Secretary of Defense James Mattis stated so eloquently this week, and I paraphrase heavily for brevity's sake…"I have watched this week's unfolding events, angry and appalled. The words "Equal Justice Under Law" are carved in the pediment of the United States Supreme Court. This is precisely what protesters are rightly demanding. It is a wholesome and unifying demand—one that all of us should be able to get behind. We must not be distracted by a small number of lawbreakers. The protests are defined by tens of thousands of people of conscience who are insisting that we live up to our values—our values as people and our values as a nation. We must reject any thinking of our cities as a "battlespace" that our uniformed military is called upon to "dominate." We do not need to militarize our response to protests. We need to unite around a common purpose. And it starts by guaranteeing that all of us are equal before the law. "The Nazi slogan for destroying us…was 'Divide and Conquer.' Our American answer is 'In Union there is Strength.'" We must summon that unity to surmount this crisis—confident that we are better than our politics. Donald Trump is the first president in my lifetime who does not try to unite the American people—does not even pretend to try. Instead he tries to divide us. We are witnessing the consequences of three years of this deliberate effort. We are witnessing the consequences of three years without mature leadership. We can unite without him, drawing on the strengths inherent in our civil society. This will not be easy, as the past few days have shown, but we owe it to our fellow citizens; to past generations that bled to defend our promise; and to our children. We can come through this trying time stronger, and with a renewed sense of purpose and respect for one another. We must reject and hold accountable those in office who would make a mockery of our Constitution. At the same time, we must remember Lincoln's "better angels," and listen to them, as we work to unite. Only by adopting a new path—which means, in truth, returning to the original path of our founding ideals—will we again be a country admired and respected at home and abroad."
The new path, the new Way, awaits …
Share this post...