(1) OPEN Discussion on The Week in Review
On the political trail, Bernie Sanders inched closer to admitting he will not be the Democratic nominee, but has not yet endorsed Clinton. Sanders also said he wasn't being vetted as Clinton's running mate, but did weigh in on who she should choose, stating "I think she should select the most progressive candidate that she can find. It would be a terrible mistake for her to go to a candidate who has roots from Wall Street or has been backed by Wall Street." In addition, Sanders weighed in on Trump after Trump made an appeal to Sanders' voters in his speech on Wednesday. Sanders, in referring to Trump, said "This guy, you know, must not become president of the United States, and I am going to do everything I can to prevent that, but I don't think many of the people who voted for me will be voting for him."
Clinton addressed the state of the economy as being "messed up," but that she, alone, can fix it. Trump retaliated by calling Clinton a "world-class liar" during his speech. For Trump it was a rough week:  A shake-up in his campaign staff and then the release of his dismal fund-raising total.
In other news, Speaker Paul Ryan was shouted down by Democrats on Wednesday after about 30 Democratic lawmakers staged a sit-in to push House Republicans to hold a vote on gun control. Republican Brent Scowcroft joined Richard Armitage as the second staffer from a Republican presidential administration to endorse Hillary Clinton. Brits went to the polls on Thursday to decide the fate of the U.K. in the EU; a risky South Pole rescue succeeded in airlifting two patients out, and the owner of Orlando's Pulse nightclub held a "Latin Night" street part on Thursday, stating "We need to show that we are strong, that Pulse continues and that we appreciate all the help the community has shown us."
JOIN Barb and John as they discuss The Week in Review and more!
(2) Dr. Leslie Norins, MD, Ph.D.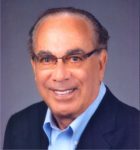 Joining the show during the second hour is medical expert, Dr. Leslie Norins, MD, Ph.D. Dr. Norins will be discussing his new book, Deadly Pages.
Bioterrorism is a terrifying threat, especially if we're attacked with smallpox. No one has been vaccinated for smallpox since the 1950s and no stockpile of smallpox vaccine exists anywhere in the world. Could a terrorist plot to infect up to five (5) million people in the U.S. actually be successful?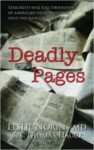 Leslie Norins, MD, Ph.D., with the help of Thomas Hauck, turns decades of medical research and infectious disease experience into a riveting fictional thriller about smallpox bioterrorism in his book, Deadly Pages.
Dr. Norins will discuss why smallpox is such a deadly threat if used for bioterrorism; how it was eradicated from the world by the WHO–and why it's still dangerous; what you need to know about how smallpox vaccinations work; plans the U.S. has for coping with a smallpox attack; and what he has discovered from his own experience researching smallpox.
Dr. Leslie Norins brings 50 years of medical research and medical publishing experience to Deadly Pages, his fictional thriller about smallpox bioterrorism.  After training with the Nobel Prize winner in immunology, he directed a major laboratory at the U.S. Centers for Disease Control.  Then, in the major phase of his career, he created and grew over 80 medical newsletters, providing news and advice for hundreds of thousands of healthcare professionals in specialized niches throughout the U.S. and the world. Trade publications called him "legendary" and "the Dean of medical newsletters."  Dr. Norins received his B.A. from Johns Hopkins University and his M.D. from Duke University School of Medicine.  His Ph.D. is from the University of Melbourne, where he worked with Sir Macfarlane Burnet at the Walter and Eliza Hall Institute of Medical Research. He was elected a Fellow of the Infectious Disease Society of America, and has served on committees of the National Institutes of Health and the World Health Organization.
For more information, visit http://DeadlyPages.com.
(3)  Nina McKissock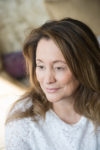 Joining the show during the third hour is author Nina McKissock. Nina will be discussing her book, From Sun to Sun, in which she shares the intimate account of her experiences as a Hospice nurse.
Twenty-one people of different ages have one thing in common–they're within six months of their deaths. They've endured the battle of the medical system as they sought cures for their illnesses and are now settling in to die. Some reconcile, some don't. Some are gracious, some not. As Nina McKissock, a highly experienced Hospice nurse, goes from home to home and within the residential Hospice, she shares her journey of deep joy, humorous events, precious stories, and heartbreaking love.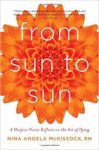 Free of religiosity, dogma, or fear, From Sun to Sun brings readers into McKissock's world―and imparts the profound lessons she learns as she guides her beloved patients on their final journey. Nina will share what Hospice care really entails, if there's an art to dying, and whether death can be the final act of living fully.
Nina Angela McKissock has been a registered nurse for 39 years. She was featured on the Spirituality Channel's three-part television series From Hospice to Heaven, has created hospital-based programs on Death and Dying and Bereavement, and was the Executive Director and Founder of Serenity House and Hospice Support in Doylestown, Pennsylvania. Before that, she worked as a nurse in top-rated hospitals including The National Cancer Institute in Frederick, Maryland, and Hahnemann University Hospital in Philadelphia.
For more information, visit http://ninaangelamckissock.com.
Share this post...