March 24, 2012 – Show Archives/Podcasts            Hour 1 –   Hour 2 –   Hour 3
Hours 1-2:  Dayna Winters, Patricia Gardner, and Angela Kaufman (left to right)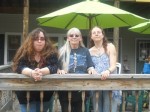 Joining Amerika Now during the first hour are Dayna Winters, Patricia Gardner, and Angela Kaufman to discuss their book, Wicca:  What's the Real Deal?  Breaking Through the Misconceptions.
There are many preconceived notions people have about Witchcraft and Wicca, and while most are simply preposterous, common misunderstandings exist.  Witches are everywhere…you can find them in your local schools, workplace, and community.  They are your friends, neighbors, colleagues, and even family members.  But what do you really know about Wicca and Witchcraft?
Dayna, Patricia, and Angela are Witches and Priestesses in the Dragon Warriors of ISIS Coven in Upstate, New York.  Patricia is the High Priestess of the organization.  Dayna and Patricia are the co-founders of ISIS Paranormal Investigations and the co-hosts of ISIS Paranormal Radio.  Angela is a psychic artist for the paranormal group and the owner of Moonlight Tarot LLC.  Together they wrote their book, Wicca: What's the Real Deal? Breaking Through the Misconceptions, as a groundbreaking, comprehensive guide to showcase Wicca and Witchcraft in a simple myth/truth format.  As guides, they invite Wiccans to come out of the broom closet and, for those just interested in learning more about the basics, they encourage understanding of the tenets of Wicca.  They hope the book will help separate the truth about modern Witchcraft from centuries of misinformation.
For more information about the book, please visit www.wwtrd.webs.com
For more information about ISIS, please visit www.isisinvestigations.com
PLEASE CALL  800-259-5791  TO SPEAK WITH DAYNA, PATRICIA, & ANGELA
Hour 3:  Dr. Kari Miller

Dr. Kari Miller, Psychic/Medium joins Amerika Now during the final hour.  Dr. Kari's skills and approach are unique. She blends psychic insight with training in counseling and education.  She has devoted many years to mentoring others to be successful, which has given her the capacity to help clients develop realistic strategies for advancing in any areas of their lives.
Training in psychology and education make it possible for Dr. Kari to infuse her psychic readings with a powerful sense of direction toward action and change. She combines intuition, energy, and spirituality with true compassion to guide her clients to achieve physical and emotional healing.  Much of the healing that comes from a reading with Dr. Kari is based in psychic messages that invite clients to embrace personal development with confidence and decision.
Dr. Kari relies on the following psychic gifts to help her clients:
Clairaudience – hearing psychic information;
Clairsentience – feeling psychic information;
Empathy – sensing emotions, discomfort, and pain; and
Medium – ability to connect with those who are not in physical form (loved ones who have passed over and guide spirits).
Dr. Kari holds a Ph.D. in Educational Psychology and degrees in Special Education.  She has mentored special needs students for many years.   Dr. Kari is also the host of two Blogtalk radio shows:   Know Your Path and Special Kid School Talk.
Dr. Kari is also the LA Psychic Examiner for Examiner.com.
If you would like more information about Dr. Kari Miller, please visit her website at http://psychicdrkari.com.
PLEASE CALL 800-259-5791 TO TALK WITH DR. KARI  &  GET A READING!
Share this post...