February 28, 2015 – Archives/Pod Casts      Hour 1    –    Hour 2    –    Hour 3
Hour 1:  OPEN DISCUSSION with John J. Higgins and Barb Adams on "America on Hold:  The Case for Corporate Interruptus"

Call  800-259-5791  to Join in the Discussion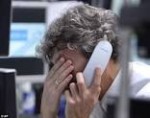 Help, my life's on hold! Have you ever been stuck in the endless loop of trying to get through to a customer "service" representative only to get disconnected or sent back to the start menu? Worse yet, you finally get through only to find out they can't (or won't) help you so you have to try again?
We've all been there at some point, waiting on the other end of the line going through the seemingly endless stream of automated messages when you call almost any business, government agency, or bank. Most of us don't keep track, but we all spend a great deal of time on hold.
A recent article in Woman's World Magazine (Dec 2014) stated that the average American will spend 1.2 years of their life on hold, and  wait times are getting longer, not shorter. So can anything be done to short circuit these agonizing wait times, and where's the service in customer service?
According to the website conversational.com, "The average hold or wait time for customers when they call companies today is 56 seconds. This may not seem like very much, but we get impatient when a website takes more than 5 seconds to load today.  A hold or wait time of nearly a minute can seem like an eternity, and this is just the average." In addition, "About 70% of business callers are put on hold," according to Inbound/Outbound.  Adding to the problem,  "Over 90% of business marketing budgets are spent to get customers to call, while only 6% is spent to actually handle the calls."
Perhaps it's time for corporate interruptus – time to say "enough's enough" to the business world spending the majority of their time and money selling to us while not providing real customer service in return.
Join Barb and John as they discuss America on Hold: The Case for Corporate Interruptus as part of their ongoing Practical Solutions for America series.
CALL 800-259-5791 TO JOIN THE DISCUSSION!
Hour 2:  Anthony Ford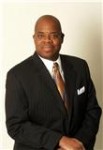 Joining Amerika Now during the second hour is author and radio personality Anthony Ford, who will be discussing his book, What Have We Done? (written under his pen name Mark Howard).
The United States of America appears to be in rapid  decline in all areas:  sex, sports, money, freedom of speech, politics, entertainment.  Under his pen name of Mark Howard, Anthony Ford has written "a scathing and brutally honest look at the rapid moral and spiritual decline of the once greatest nation on the face of the Earth, the United States of America."
Tonight, Anthony will discuss, in a no-holds barred fashion, the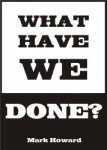 state of America and his critique of our country.
Anthony was born and raised in Brooklyn, New York.  His parents were  both politically and socially active, and many famous people such as Martin Luther King, Robert Kennedy, and Shirley Chisholm came to their house seeking political help and advice.
Anthony's father wanted him groomed in two fields:  entertainment and politics.  Trance, the band Anthony belonged to, was rather successful, opening for some of the biggest names in the music world in the sixties as well as being featured on the Johnny Carson show and playing on the same stage with John Lennon and Yoko Ono at the Apollo Theater for a special concert for the victims of the Attica uprising.
After leaving the entertainment industry, Anthony joined the Army during the Vietnam War.  When his enlistment was over, he joined the 55th AD Republican Party and enrolled in the Crown Business Institute for Broadcasting (a forerunner of the Columbia School of Broadcasting).
After living most of his life in New York, Anthony and his wife moved to Texas where he joined the Conservative Party, which he firmly believes is "the only hope for America."
CALL  800-259-5791  TO SPEAK WITH ANTHONY FORD.
Hour 3:  Helen Woo

Author, speaker, radio talk show host Helen Woo joins the show during the final hour to discuss her book, SELF-AID:  Inspirations to Turn Struggles into Success.
Are you depressed, unhappy, or feeling stuck in life?  Then take your cue from Helen Woo's "SELF-AID" to put your life back on track.
Helen endured her life.  Raised in a restrictive traditional Chinese-American household, she experienced self-esteem issues, mental and physical abuse, grief, substance abuse, betrayal and depression.  She knew something had to change, and it wasn't the world around her, it was the world within her.
After experiencing a philosophical and spiritual shift, Woo created the concept of SELF-AID:  Self Help, Esteem, Love/Laughter,

Freedom, Attitude, Integrity, and Dream.
Join Helen Woo tonight as she offers quotes and "Wooisms" from her book to help you open your heart and mind to reframe your life from lackluster to luscious.
As the host of a weekly radio show called SELF-AID Success Stories, Helen is inspiring listeners to laugh a little and reminding them that all challenges can be conquered and that each of us has a success story inside!
Woo is passionate about paying it forward–giving others the thrust they need to overcome whatever past traumas and dramas might have held them back. Her second book of the same title is due out in the spring and she is also creating a SELF-AID foundation for empowerment that gives people the courage to change from a negative to a positive framework in their lives; leaving the struggle behind and experiencing the surge!
For more information, visit http://selfaidsuccessstories.com/.
CALL  800-259-5791  TO SPEAK WITH HELEN WOO.
**KEN GOLDSTEIN'S COMMENTS ON "TALKING FAITH" CAN BE HEARD EACH HOUR.**
Share this post...