September 7, 2013 – Archives/Pod Casts          Hour 1 –    Hour 2 –    Hour 3
Hour 1:  Ronna Prince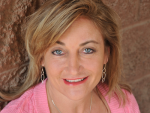 Joining Amerika Now during the first hour of the show is filmmaker Ronna Prince who will be discussing her powerful new film Sacred Journey of the Heart.
It truly is a matter of heart.  That's the essence of Ronna Prince's powerful and inspiring documentary film that traces the role of the heart in connecting us to our higher selves, our spiritual essence, each other, the planet, and the cosmic design.  The heart is the single organ that not only creates a unified field among all people, but also creates a harmonic field with the Earth itself.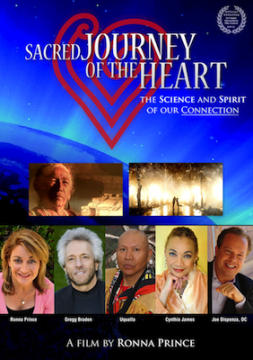 The compelling film reveals how modern science is proving what ancient peoples have known all along–we are all connected–and that connection is the human heart.  The film features leading luminaries and bestselling authors such as Gregg Braden, Dr. Joe Dispenza, Mary Morrissey, Colin Tipping, Sarah McLean, plus Dr. Rollin McCraty and Dr. Deborah Rozman of HeartMath, along with an array of other spiritual leaders, indigenous elders, and scientists.  Sacred Journey of the Heart is designed to give viewers new tools to achieve a state of "heart-centered balance" so they can create a peaceful state of connection in their own lives.
Prince set out to chronicle this core connection of the heart from a subjective vantage point, yet it was her own healing from childhood abuse that took place in the process and is now an integral aspect of the film.
This beautifully rendered movie crisscrosses the world to bring forth the "heart wisdom" of native elders from many cultures:  Mayan, Lakota, Inuit and more.  It touches profoundly on how delving into our pain and hurt allows us to free our hearts for the deeper connection to self, humanity, and the planet to enable the heart-centered balance that leads to a better life and a better world.
FILM TRAILER: http://www.youtube.com/watch?v=eEniWwx6aLo&feature=c4-overview&list=UUznwt3DYPcqZCpcl1iNrvug.
Listeners will have the added bonus of learning how they can participate at no expense in a 5-day telesummit with many of the luminaries in the film.
Ronna Prince is the Founder of Modern Mastery, Global Wholeness Corp., as well as an intuitive counselor, coach, workshop leader, inspirational speaker, and songwriter.  She created a step-by-step personal growth process that she trademarked as Modern Mastery in which she guides clients  through the process of transition and creating a new reality that aligns with each person's unique talents and dreams.
Ronna presents workshops throughout the U.S. on topics of spirituality and conscious change-creation.  She is a certified Radical Forgiveness Coach, an aura-soma practitioner, and a licensed teacher of the Institute of HeartMath tools and techniques.  Her goal with her film, Sacred Journey of the Heart, is to encourage viewers to "dive in" and to make the connection to their hearts and to the hearts of all.
Ronna also formed Global Wholeness Corp (GWC) in 2009 to support her vision of creating a whole and healed Earth upon which humans can find deeper connection, harmony and peace.  GWC is a non-profit with a mission to bring healing and wholeness to ourselves as individuals, to our communities, and to the whole Earth through the power of love.
For more information, please visit www.sacred journeyoftheheart.com.
PLEASE CALL  800-259-5791  TO SPEAK WITH RONNA PRINCE.
Hour 2:  David Christopher Lewis
Author, teacher, mystic and musical composer David Christopher Lewis joins Amerika Now during the second hour to discuss his newly released book, Advanced Studies of the Human Aura:  How to Change Your Energy Field with Light and Spiritual Radiance.
The aura is a subtle energy system, constantly moving, streaming and changing.  It reflects our every thought, feeling, word and deed.  In fact, this vibrant energy field says more about who we are than our physical appearance or personality.  But the aura is more than just a colorful energy field around all living things.  It can be a powerful resonator for both personal and global transformation.
David will offer a unique understanding of the power of a radiant aura.  He'll also discuss how in order to create an effluent, rainbow-colored energy field–supercharged with light and spiritual purpose–we must first enter into the space of being where all life is felt and embraced as sacred.  We must focus on body, mind and spirit–and on the truth that, at our essence, we are dynamic spiritual beings.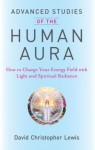 You'll learn keys to increasing the light within your aura from your heart outward to bring abundant blessings to yourself and those around you.  Through techniques such as exercise, meditation, prayer, solar gazing and pranic breathing, you can learn to purify and expand your aura to accelerate consciousness and move from a sense of limitation to an unbounded cosmic awareness.  You'll also learn how to create a more permanent connection with Spirit and live a life of greater joy, harmony and love.
David Christopher Lewis is an author, teacher, mystic and musical composer. He has been a student of the ascended masters and the world's major religions for three decades.  He began receiving regular telepathic communications from the masters in 2004 and co-founded The Hearts Center Community in obedience to their request in 2005.  The Hearts Center is a non-profit spiritual organization dedicated to sharing current teachings received from the ascended masters and helping people everywhere connect with and nurture their own divine potential.  It has grown into a worldwide movement with local centers in the United States, Canada, Latin America, Europe and South Africa.
David is also the founder of Meru University, which offers a wide spectrum of live online and on-demand courses in an interactive environment with vital progressive revelation. Each course includes direct communications or inspired discourses by David from a master who sponsors each new curriculum. David also founded Meru Press, which is the publishing arm of the Hearts Center.
David conducts prayer services during free Internet broadcasts on The Hearts Center's website. He speaks at Hearts Center conferences and workshops held around the world, and leads annual international pilgrimages. His published pocketbook, Now, Zen and Always, is a feast of spiritual wisdom quips. Among David's other published works are a collection of more than 150 devotional prayers, songs and mantras. His chapter on "Heartstreaming: The Mind of God at Work," was co-written with Michael K. McNeil for the anthology, Healing the Heart of the World, published in 2007.
David is married and lives in Livingston, Montana.
For more information, please visit www.advancedstudiesofthehumanaura.com.
NO PHONE CALLS PLEASE, THIS SEGMENT WAS PRERECORDED.
Hour 3:  David LeRoy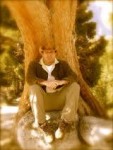 Joining the show during the final hour is author, artist, historical researcher and blogger David LeRoy, who will be discussing whether enough Americans appreciate the cost of war.  David is the author of the bestselling historical novel, The Siren of Paris.
For nearly every decade of our country's existence, the U.S. has been involved in some kind of military operation or war campaign.  Whether we were fighting the British for our independence, various Native American tribes, France, North African countries, the British again (1812), Caribbean pirates, Spain, Mexico, more Native Americans, ourselves (Civil War), and the numerous wars of the Twentieth Century, we have been largely defined by war.
While we have recently ended the war in Iraq, we continue to fight in Afghanistan and are now flirting with attacking Syria.  But do Americans really understand the cost of war?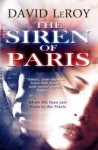 "It's not that I'm saying we should never engage in military combat; I simply want to make more people aware of what's not written in history books," says LeRoy, author of The Siren of Paris, a historical novel that closely examines the moral, philosophical, and spiritual issues of war.
"Today, less than one percent of our population fights our wars, so by a large margin, we just don't know what it's like to be involved in one.  We haven't witnessed a protracted war on our soil since our Civil War, and many veterans don't talk about what they've witnessed," says LeRoy.
"Atrocities do go unrecorded in history, including the immense suffering of women and children.  Even entire ships, including Britain's RMS Lancastria–sunk by the Germans in 1940, killing more than 4,000–remains unacknowledged by the British government.  Churchill wanted to keep the ship's sinking silent to maintain morale during the war effort," says LeRoy.
"We celebrate our returning veterans as war heroes–and rightfully so!  But unlike heroic war movies, the experience of war is quite inglorius.  Human decency is the rare exception and bloodshed of combatants and noncombatants is the rule."
David will talk about the situation in Syria as well as why he believes the U.S. has been engaged in some kind of fighting throughout so much of its history.
For more information, please visit his website at www.thesirenofparis.com.
PLEASE CALL  800-259-5791  TO SPEAK WITH DAVID LeROY.
Share this post...