April 20, 2013 – Archives/Pod Casts              Hour 1 –   Hour 2 –   Hour 3
Hour 1:  Claire Papin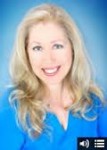 Joining Amerika Now during the first hour of the show is author and visionary Claire Papin, who will be discussing her book, Mary's Miracles and Messages – a True Story of a Visionary's Journey.
In this time of unprecedented shift for humanity, author Papin provides inspiring stories and messages that uplift and strengthen our understanding of the Divine forces that are always present and lovingly interacting with us.
With no religious background in her upbringing, Papin's experiences with Mother Mary, the mother of Jesus, were not bound by any preconceived ideology. The life altering visitations led to sharing Mary's Lullaby and Mary's messages as a way to spark inspiration, hope, and encouragement during times of great change. Her extraordinary spiritual journey offers miraculous experiences that propel hearts to open more fully and awaken humanity's destiny of coming together as One unified global family.
Papin's compilation of illuminating stories is for people from all walks of life and spiritual traditions, and are shared with dedication to the healing, awakening and transformation of human consciousness.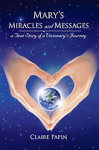 Claire is also a contributor to the books Angel Tales, The Art of Manifesting, and When Ego Dies. She was a columnist for Indigo Sun Magazine with her Joyful Earth Partnership that offered eco-friendly living practices for nearly six years. Claire can be heard as the voice of Mother Mary in the audio version of the bestselling book, Mary's Message to the World by Annie Kirkwood, and is the Marian visionary of Mary's Lullaby, which can be heard on her website at Lightedpaths.org. She is a pioneer in holistic media, and hosted and produced the radio talk shows It's All Good (now on GaiamTV.com) and Wisdom Today on the Wisdom Network, both of which aired coast to coast on Sirius XM Satellite Radio.  Claire has also locally coordinated relief projects for children including To Bosnia with Love and Shoes for Orphan Souls, and has spoken for the National Random Acts of Kindness Foundation.
For more information about Claire, please visit her website Lightedpaths.org.
PLEASE CALL  800-259-5791  TO SPEAK WITH CLAIRE PAPIN.
Hour 2:  Bill Tremblay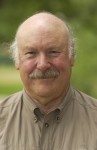 Joining the show during the second hour is award-winning poet, novelist, teacher, editor, and reviewer William (Bill) Tremblay, who will be discussing and sharing clips from his radio drama, Magician's Hat:  Poems on the Life of David Alfaro Siqueiros.
Tremblay's play covers four crucial years in the life and work of David Alfaro Siqueiros, the most radical of the Mexican Muralists.  It follows Siqueiros from George Gershwin's New York apartment, where there's an unveiling party for a portrait Siqueiros did of him, to Siqueiros' meeting with and  falling in "love at first sight" with Angelica Arenal, who is leaving as a photo-journalist to cover the Spanish Civil War for the Mexicano newspapers.  In Spain Sequeiros becomes an artillery officer and learns to hate the influence of Leon Trotsky on the outcome of the war so that when the fascist Franco wins and Siqueiros returns home he is outraged to find that President Lazaro Cardenas has granted Trotsky political asylum. After a police riot, Siqueiros decides to lead a paramilitary team in an attack on Trotsky's house in Coyoacan. The attack is a bust, but Siqueiros and Angelica flee Mexico to avoid prosecution on a visa to Chile, written by Pablo Neruda. When he comes home again, it is to a prison sentence, but prison allows him to do the preliminary sketches for his climactic "The March of Humanity Across the Earth and Into the Cosmos." The radio play ends with Mexican families awed by the Polyforum on a Sunday afternoon after Siqueiros' death when the exhibit is free.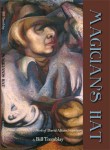 Tremblay's book, Magician's Hat, is a collection of poems that engage the life of the famed Mexican muralist Jose "David" Alfaro Siqueiros, whose vision of a free, generous, and artistically liberated Mexico, completely responsive to both its people and its history, unified and informed his inner and outer worlds. It is a book about the muralist's sensibility, about the way in which his experimental art and his human concerns synthesized in his work to become his vision. Less a biography than an interpretation of one artist's sensibility in love, in war, and in painting, it is unlike the usual collection of "stand alone" studio poems, but is rather an interdependent sequence that argues out its dialectic in a connected and accretive way. The result is a magical and riveting work of historiography and the lyric imagination.
Bill Tremblay is an award-winning poet as well as a novelist, teacher, editor, and reviewer whose work has appeared in seven full-length volumes of poetry including Crying in the Cheap Seats [University of Massachusetts Press] The Anarchist Heart [New Rivers Press], Home Front [Lynx House Press], Second Sun: New & Selected Poems [L'Epervier Press], Duhamel: Ideas of Order in Little Canada [BOA Editions Ltd.] , Rainstorm Over the Alphabet [Lynx House Press], and most recently Shooting Script: Door of Fire [Eastern Washington University Press].
Hundreds of his poems have been published in literary magazines in the United States and Canada, as well as such anthologies as the Pushcart Prize Anthology, The Jazz Poetry Anthology, Best American Poetry, 2003, The Portable Poetry Workshop, and Responding to Literature . In 1994 he published his first novel, The June Rise, which was widely and favorably reviewed, especially on NPR's All Things Considered.  In 2004, his book, Shooting Script: Door of Fire received both the ForeWard Magazine "Silver Award" and the Colorado Book Award from the Colorado Center for the Book [2004], an affiliate of the Colorado Endowment for the Humanities and the United States Library of Congress.
Bill has received awards and fellowships from the National Endowment for the Arts, the National Endowment for the Humanities as well as The Pushcart Prize Anthology and the Corporation at Yaddo. He was a visiting Lecturer at the Univerisdade Nova in Lisbon, Portugal, through the Fulbright Commission.
Mr. Tremblay edited Colorado Review for 15 years, served as a member of the Program Directors Council of the Associated Writing Programs [AWP], and is the recipient of the John F. Stern Distinguished Professor award for his thirty years teaching in and directing the MFA in Creative Writing Program at Colorado State University.
For more information, please visit his website at http://tremblayscript.com/default.asp.
PLEASE CALL  800-259-5791   TO SPEAK WITH BILL TREMBLAY.
Hour 3:  Jill Kraft Thompson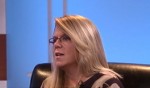 Joining the show during the final hour is author Jill Kraft Thompson to discuss her new book, Finding Jill.
On March 25, 2002, Jill Kraft Thompson's life changed forever.  In a horrifying car crash, she lost five members of her family–her husband, Bart, her two sons, Ben and Sam, her mom, and her niece, Sarah.  Jill survived but wish she hadn't.
This heartbreaking and ultimately heart-warming story will touch everyone who has ever experienced a bereavement and asked, "What's the point in going on?"
This is a powerful story of how one woman experienced unthinkable tragedy and survived to experience new love, new hope, and new life.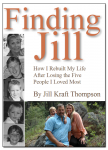 In Jill's own words, "I dedicate this book to all of us who have suffered through grief whether it comes in a great mass or a minute spore, one must honor grief with thought, perseverance, and understanding so that grief transforms into our strength instead of manifesting into endless grief."
Jill now lives with her husband, John, and their four-year-old son, Franklin, in the mountains north of Boise, Idaho.  She is dedicated to helping women and men of all ages and backgrounds navigate the grief recovery process.
For more information, please visit her website at www.findingjill.net.
PLEASE CALL  800-259-5791  TO SPEAK WITH JILL KRAFT THOMPSON.
Share this post...