March 1, 2014 – Archives/Pod Casts        Hour 1 –    Hour 2 –    Hour 3
Hour 1:  **Dr. Joe Vitale – RESCHEDULED TO MARCH 29**


Joining Amerika Now during the first hour of the show is renowned author, speaker, and luminary Dr. Joe Vitale, the man known to millions as Mr. Fire! Dr. Vitale will be discussing his book, At Zero:  The Quest for Miracles Through Ho'oponopono.
What are you searching for in life?  Do you want more money, a better job, freedom to travel or pursue your passion?  Maybe it's peace of mind or to heal your body.  The answers you seek are At Zero. At Zero is the place where no problems can touch you, where life is an easy ride, where inspiration is constantly informing your daily existence, where inner peace resides and where everything is infinitely clear or the answers come quickly, and from which we can attract the financial and personal successes we desire.  And it is the state where enlightenment, satori, or Nirvana can be glimpsed or experienced.
But for many, getting there is elusive.  And that's because of the unconscious programming running in our minds that hinders our health, success, and happiness.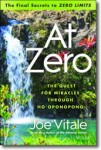 Tonight, Joe Vitale will reveal the secret of the Hawaiian art of Ho'oponopono, which instantly clears those unconscious programs, even if we don't know what they are!  He'll show you how we can realize our infinite potential and even experience enlightenment with new advanced techniques of Ho'oponopono.
"Life is an inside job," says Vitale.  What we experience externally can be corrected, adjusted, and healed from the inside using the Ho'oponopono process of "cleaning."  And by cleaning again and again, one can reach the stage of Zero – the state of magic, miracles, and no limitations.
To say that Dr. Joe Vitale is a man of many talents and accomplishments is an understatement. To millions of readers, seekers, listeners and movie watchers, he is the man who speaks to their fervent desire to enhance their lives. He is a source of simple, but profound, life-changing wisdom, words that inspire and music that touches their hearts. He shows that miracles can be achieved every day.
Once homeless, Vitale is a now luminary of the personal growth world, one of the stars of the blockbuster film, The Secret, and the author of multiple bestselling books., including The Attractor Factor, Life's Missing Instruction Manual, The Key, Faith, Attract Money Now and now his latest, which is a sequel to his bestseller Zero Limits, entitled At Zero, which starts where Zero Limits left off, telling new stories, presenting new processes, introducing a new healer, and revealing the fourth stage of awakening: enlightenment itself.
The man known as Mr. Fire! introduces people to Universal Laws, practical systems and methodologies that provide an astonishing pathway to freedom from limitations, and a means to achieve unlimited personal power, wealth and success—in short achieving miracles.
He has been featured on CNN, CNBC, CBS, ABC, Fox & Friends, Larry King Live, Donny Deutsch's The Big Idea, and Extra TV, and showcased in The New York Times and Newsweek. In addition to The Secret, Dr. Vitale has been featured in the films Try it on Everything, The Opus,  Leap!, The Meta Secret and many more!
For this man–who has reinvented himself many times over by expanding into entirely new areas that inflame his passion–music is the newest way that he expresses himself. He is now credited as the world's first self-help singer-songwriter, as noted in Rolling Stone Magazine. Vitale, a collector of prized and celebrated guitars, became accomplished on that instrument with extraordinary speed and has already released six albums. Several of his songs were recognized and nominated for the Posi Award, regarded as "The Grammys of Positive Music."
He is a sought after speaker who travels the world to spread his message on the Law of Attraction, "The Missing Secret," Ho'oponopono and much more. He was also a keynote speaker at the prestigious National Speakers Association Convention.
Vitale continues to produce a powerful body of work to help people clear their blocks, and have a direct unobstructed pathway to personal and financial success so they can live the life that empassions them. He's an authentic practitioner of modern Ho'oponopono as well as a certified Reiki healer, certified Chi Kung practitioner, certified clinical hypnotherapist, certified NLP practitioner, ordained minister, and also holds a doctorate in metaphysical science.
For more information on Dr. Joe Vitale visit http:www.mrfire.com.
CALL  800-259-5791  TO SPEAK WITH JOE VITALE.
Hour 2:  Rev. Dr. Karen Tate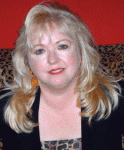 Joining the show during the second hour is Rev. Dr. Karen Tate to discuss her book, Goddess Calling:  Inspirational Messages and Meditations of Sacred Feminine Liberation Thealogy.
In ever-increasing numbers, women and men are seeking spirituality beyond traditional religious institutions and more and more their new normal includes the deities, ideals and archetypes of the Sacred Feminine.  They have a desire to get beyond the patriarchal dogma that often perpetuates sexism, homophobia, and the domination of Gaia and all her inhabitants, including the body of Mother Earth.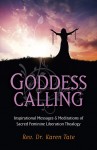 Goddess Calling is designed to give individuals or those desiring to serve their communities a springboard to offer "sermons from the pulpit" with ideas to create a format for a regular gathering of service. Easy to digest and sometimes gently following the seasons of the year and holidays already on most people's calendars, these messages and meditations use Goddess archetypes, ideals, and mythology to provide content for education, inspiration, and contemplation for anyone seeking to incorporate a feminine face of God within their spirituality, no matter what their faith.
An independent scholar, speaker, radio show host, published author, and and social justice activist, Karen Tate's body of work blends her experiences of women-centered multiculturalism evident in archaeology, anthropology and mythology with her unique academic and literary talents and travel experience throughout the world. Her first book, Sacred Places of Goddess: 108 Destinations has garnered prestigious endorsements, while her second book, Walking an Ancient Path, Rebirthing Goddess on Planet Earth, was a finalist in the National Best Books of 2008 Awards. Tate's work has been highlighted in the Los Angeles Times, Seattle Times and other major newspapers. She is interviewed regularly in print, on television, and on NPR and hosts her own radio show, Voices of the Sacred Feminine. Her work has segued into writing, producing and consulting on projects which bring the ideals and awareness of the Sacred Feminine into the mainstream world through television and film. She can be seen in the new documentary, Femme, Women Healing the World, produced by Wonderland Entertainment.
Her published articles have appeared in both domestic and international publications since 1995. She is on the Editorial Board of the journal, Goddess Theology and a founding Board of Directors member of the Institute for Theology and Deasophy. She is currently a contributing writer to Sacred History Magazine, Mystic Pop, Circle News, the Beltane Papers, and other domestic and international print and online magazines. Karen is also a contributing writer to Heart of a Woman in Business, Waters of Life, Goddess Guide to Business Bliss, and Jesus Through Pagan Eyes.
An independent scholar of the Sacred Feminine for over 25 years, an ordained minister, and graduate of The Women's Theological Institute, specializing in Goddess and Women's Spirituality, Karen's particular emphasis is on the roles of women and the study of comparative religions and ancient cultures in a modern or reconstructed context. For her significant contributions in bringing the Sacred Feminine to both academia and the lived experiences of women and men through active ministry, sacred tours, books and radio, Ocean Seminary College proudly conferred upon Rev. Karen Tate a Doctorate of Ministry in Thealogy. It is no surprise then that she is the Founder of the educational, art, and cultural organization, The Isis Ancient Cultures Society, which organized public events around the Los Angeles area for more than 10 years. She is also a Founder of Sacred Sundays and Wisdom Circles.
Tate's insatiable curiosity, scholastic achievements and special interests help define her focus of building bridges between cultural and spiritual communities and promoting ideals of partnership, inclusivity, compassion and continuing education.
An Adepta within the International Fellowship of Isis, Karen was ordained by one of the founders, Lady Olivia Robertson, at Clonegal Castle in Ireland.  More than a decade ago, Karen began the Iseum of Isis Navigatum, a hearth of the Goddess within the FOI, which continues to fulfill her calling to help mid-wife the rebirth of the Divine Feminine in contemporary society.
Karen was nominated for the Pagan Pride Day 2006 Community Service Award.
For more information, visit www.karentate.com.
CALL  800-259-5791  TO SPEAK WITH KAREN TATE.
Hour 3:   Dr. Sanjay Jain, MD, MBA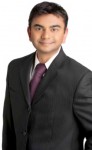 Joining the show during the final hour is Dr. Sanjay Jain, MD, MBA, who will be discussing his brand new book, Optimal Living 360:  Smart Decision Making for a Balanced Life.

Have you ever felt like you needed an upgrade on your life? Most of us have at one time or another…but the biggest challenge can be figuring out how to make decisions that improve your overall quality of life to receive the highest return on investment (ROI).  Life's a balancing act, so what are the steps we can all take to get to a life bursting with vitality, prosperity, and success?
"First, I tell people, 'Don't be afraid of making your life clearer.' Many argue that life is not simple and, therefore, there are no easy answers, but as we have paraphrased from Chinese philosopher Laozi, 'The journey of a thousand miles begins with the first step,' " says Jain, whose specialties include integrative medicine. 

"Lives are built from many small components which, when viewed as an assembled whole, can appear overwhelmingly complex," Jain says. "But when we break them down and consider the pieces as we make decisions in our lives, it's much easier to see how small adjustments can result in a better return on all of the investments we make – not only in health, but in relationships, finances, and all the other essential aspects of our lives."
Tonight, Sanjay will offer a number of points to keep in mind as you start your journey as well as talk about how you can enjoy life to the fullest by using integrative decision making.
Dr. Sanjay Jain is a U.S.-trained, board-certified physician with more than 15 years of clinical experience.  He holds certifications in Diagnostic Radiology, Integrative Medicine, and Healthcare Quality and Management. He's a graduate from the accelerated BS/MD program at The Northeast Ohio Medical University and was a former assistant professor at The Ohio State University, where he obtained an MBA.  His unique academic blend and perspective has made him a highly sought-after domestic and international speaker.  In addition, he remains actively involved with many medical organizations at both the local and national levels.
For more information on Dr. Sanjay Jain, MD, MBA, visit  www.sanjayjainmd.com.
NO CALLS, THIS SEGMENT WAS PRERECORDED.
Share this post...