Hour 1 – Barb Adams and John J. Higgins, Justice versus Justice
Hour 2 – Barb Adams and John J. Higgins, Justice versus Justice (continued from Hour 1)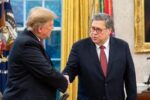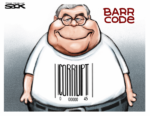 When scandals have rocked past American presidencies, the Justice Department's independence proved critical in upholding the law. But since being installed as attorney general, William Barr has turned the Justice Department into an arm of the Trump cover-up. Barr's mission was clearly visible when he moved to not only secure a lighter sentence for Trump campaign adviser Roger Stone, but to also dismiss the case against former National Security Adviser Michael Flynn. When nationwide protests and unrest broke out after the killing of George Floyd, Barr personally ordered federal police to remove peaceful demonstrators by force from Lafayette Square so Trump could parade across the park for a photo op at a nearby church. Barr continues to corrupt and politicize the Justice Department, working hand in hand with Trump to bend federal law enforcement to the president's will.
And Barr's loyalty has served Trump well thus far. Barr has used his authority to protect Trump from the Mueller investigation, the House impeachment inquiry, and the Ukraine scandal. Acting more as Trump's personal protective consigliere than as the guardian of this nation's legal system, Barr attacks perceived Trump enemies while offering aid to Trump friends like Michael Flynn and Roger Stone. Barr's recent firing of Geoffrey Bermen not only undermines the rule of law, but signals his intent to also undermine New York prosecutors looking into the president's associates and interests. Together, Trump and Barr have launched an all-out assault on America's justice system.
Barr's skill at shielding presidents from democratic accountability was honed during his time during the Bush years, when he spearheaded the successful effort to not only save his boss, but also kept Ronald Reagan from being implicated in the Iran/Contra scandal, earning Barr the nickname Cover-up General. And Barr's skill as a Cover-up General definitely played a role in Trump's picking Barr to head "his" Justice Department.
But Barr has his own agenda besides turning the Department of Justice into Trump's own personal law firm. Barr sees himself as the disciple of a fading legal and moral order, one in which unbounded executive power, the unitary executive, is coupled with a sacred mandate to preserve this nation's Christian culture from secular deterioration. He's gone so far as to pledge that as long as he's attorney general, the Justice Department, "…will be at the forefront of this effort, ready to fight for the most cherished of our liberties, the freedom to live according to our faith." Labeling progressives and democrats "would-be tyrants," Barr's charge is extremely troubling since it comes from someone who is obligated to uphold and defend the American constitutional order, which theoretically protects followers of any and all faiths, or none at all.
And while such an effort to protect this nation against "totalitarian democracy" is undemocratic, in Barr's mix of legal theology, spiritual affiliations trump democratic obligations and the highest civic priority is not to expand the reach of democratic self-rule as to guard against secular misrule.
Barr has spent most of his career advocating for an unbounded presidency, which would be a constitutional order allowing this nation's chief magistrates to wield all the various agencies of executive power without any safeguards beyond their own conscience, or lack thereof, and where Congressional oversight and media scrutiny would be swept aside. So while Barr pays lip service to the constitutional freedoms he's sworn to uphold, in reality, he practices opposing the things that would advance them.
Barr's vision for executive power and this nation is alien to the American experiment and experience, being more akin to an imperial prerogative. It is not normal and Barr must be held accountable for the sake of this Republic and our democracy.  It is time for a Higher Justice!
JOIN Barb and John as they discuss Justice versus Justice.
Share this post...