October 20, 2012 – Archives/Pod Casts          Hour 1 –   Hour 2 –   Hour 3
Hour 1:  Dr. Georgina Cannon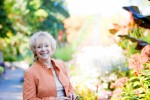 Joining Amerika Now during the first hour is award-winning consulting clinical hypnotherapist and lecturer Dr. Georgina Cannon who will be discussing her book, Return Again:  How to Find Meaning in Your Past Lives and Your Interlives.
Dr. Cannon says that Interlife is an awe-inspiring, wisdom-filled space between lifetimes–where you learn your soul's name, meet your soul mates, and understand your Karma source (with an opportunity to change Karma if needed) as well as find your true soul purpose.
Discover your true purpose in this life, by exploring your past life.  Dr. Cannon will share how we can consciously influence our future by better understanding our past.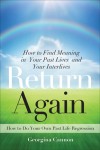 In her book, Dr. Cannon offers a practical and accessible approach that anyone can use to discover:
-Body and soul agreements
-Planes of existence
-Levels of understanding
-Karma
– Soul Mates – you may have more than one!
– Past lives and your "interlife" — where you meet those with whom you have a soul contract to plan your next life.
Dr. Georgina Cannon is recognized as the "public face" of hypnosis in Canada and a respected member of the mainstream health community.  She is an award-winning consulting clinical hypnotist and lecturer at the University of Toronto, and is a frequent media guest.  Her work and views have gained her prominence as a frequent source for news and feature articles on hypnosis and alternative therapies.
For more information, please visit her website at www.georginacannon.com.
Please call  800-259-5791  to speak with Dr. Georgina Cannon.
Hour 2:  Devra Jacobs

Professional intuitive life coach Devra Jacobs joins the show during the second hour.
Devra has been a professional intuitive life coach for more than 30 years.  Her unique connection with Arch Angel Michael since the age of 6 has provided a multidimensional view of what is happening in someone's life.  She does not channel Michael; rather, he speaks directly with her.  Many times in readings, people's spirits, guides, or relatives that have passed over will also give her information and join in as well.
Devra does not use any physical tools such as cards, so there are no pre-determined outcomes.  Devra and Michael read your energies, guides, spirits, and occasionally your loved ones who have passed over.  With this approach, your reading shifts as you shift.  She hears the words from Michael and your assistants and relays them directly to you.
Devra has studied and worked with what she describes as Dragon Energy for the last 18 years.  She says, "Dragons are a major part of the spiritual world that time has forgotten or have been ignored as simple folk lore.  They are strong, powerful, and present in our lives if you just tap into their energy.  The ancient Celtic and Druid traditions understood that the god/goddess spirit created dragons to do good works."  Devra believes through this teaching that there are 72 pleats of time going on simultaneously, in what many call multidimensional living.  A gift of using dragon energy is the ability to move with a person through those pleats as they shift in thought and action during a reading.
We all have the gift of sight, as Devra believes, but sometimes we are too close to a situation to read it clearly and without emotions.  That's when a reading from an outside source is more accurate.
Most importantly, Devra considers herself a real person living in the real world.  She's direct and says exactly what she hears.  Her goal is to provide you with information that will allow you to move ahead in all facets of your life.
Devra says "We are all gifted in one area or another, and what I believe to be true is if you learn how to listen to your spirit, then you will always have your own best answers.  I can assist you with learning how to do this."
For more information about Devra, please visit her website at www.readingsbydevra.com.
Please call  800-259-5791  to speak with Devra Jacobs.
Hour 3:  Stephan Bodian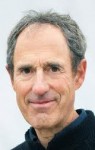 Joining the show during the final hour is licensed psychotherapist and spiritual teacher, Stephan Bodian, to discuss his guidebook, Meditation for Dummies, Third Edition.
These days, it feels like everything is a race: A race to get all the boxes on your to-do list checked off.  A race to make it to the next rung of the professional ladder.  A race to keep up with and perhaps even beat out "the Joneses."  A race to make sure your kids have the perfect academic, extracurricular, and personal qualifications so that they can get into a good college. A race to make sure all the bills get paid, even though you're on a reduced budget.
However, instead of building the perfect lives we want, what we're really doing is racing each other into the ground…and over the edge.  If this last description of manic modern life sounds all too familiar, it's high time you stepped off the merry-go-round (for at least five to ten minutes), sat down in a quiet place, and participated in a simple practice that has been around for millennia:  meditation.
"When people operate on low margins with time and money (which is everybody I know right now), their stress levels can go through the roof," points out Stephan Bodian, author of Meditation For Dummies®, 3rd Edition, (Wiley, August 2012, ISBN: 978-1-1182-9144-3, $24.99).
"In many ways, meditation is the perfect antidote to the postmodern predicament because it effectively reduces stress, increases energy, and enables you to enjoy better overall health…and much more," says Bodian.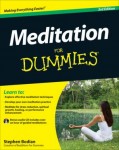 Bodian, who is a licensed psychotherapist, served as the editor of Yoga Journal for many years and has also practiced and taught meditation for over 40 years.  He has packed a fascinating array of facts and best practices into his easy-to-read guidebook, which also includes a forward by Dr. Dean Ornish, M.D.
Meditation offers numerous benefits, including:
Lower blood pressure
Quicker recovery from stress
Fewer heart attacks and strokes
Reduced cholesterol levels
Muscle relaxation
Reduction in the intensity of pain
More happiness and peace of mind
More loving, harmonious relationships
Enhanced creativity and self-actualization
Reductions in both acute and chronic anxiety
Heightened perceptual clarity and sensitivity
…and much more!
Stephan is a licensed psychotherapist and former Editor-in-Chief of Yoga Journal. He has practiced and taught meditation for more than 40 years, and has written extensively on meditation, stress management, and spirituality.  His articles have appeared in Fitness, Cooking Light, Natural Solutions, and other national magazines.
For more information about Stephan and meditation, please visit his website at www.stephanbodian.org.
No phone call please, as this interview was pre-recorded.
Share this post...