July 31, 2010, Podcast/Show Archives Hour 1 – Hour 2 – Hour 3 – Hour 4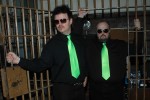 Joining Amerika Now for the entire show are Bryan Bonner (right) and Matthew Baxter (left) of the Rocky Mountain Paranormal Research Society. Bryan and Baxter, as they are known, investigate claims of the paranormal.
For over a decade this dedicated team has examined a wide range of paranormal phenomena, including ghosts, poltergeists, psychics, UFOs, conspiracy theories, urban legends, and much more.
Unlike others, Bryan and Baxter don't run around cemeteries screaming and scaring themselves with over-active imaginations. From the field to the lab, they road test bizarre beliefs and practices, conduct experiments and on-site investigations, and recreate unusual events. They've confronted hauntings, Ouija board activity, levitation, psychic readings, alien abductions, and telephones that try to talk to the dead.
With extensive experience and training and using a collection of equipment and the most important tool, an open mind, Bryan and Baxter utilize stage magic, mentalism, and science to seek the evidence, solve the mysteries, and close the cases.
Their critical work has earned them the respect of believers and skeptics alike as well as the fear of fraudsters and charlatans. In some hilarious encounters, the team outwits the con-artists. They are experts at exposing hoaxes, pranks, and scams and also creating a few themselves to prove a point.
Being honest has won them many nemeses, but Bryan and Baxter have truth on their side.
Bryan and Baxter are the chief members of the Rocky Mountain Paranormal Research Society (www.rockymountainparanormal.com), a group that has served the general public nationwide. On a daily basis, their professional team is contacted by real people who are frightened by weird and sometimes terrifying occurrences that happen in their businesses and homes. It is Bryan and Baxter's mission to help these people and to educate the public. They achieve these aims with humor, creativity, and compassion.
Bryan and Baxter also host Warning: Paranormal Radio, a popular live show with a following of over 30,000 listeners.
This infamous pair has made numerous media appearances, and their investigations have been featured on Larry King, The Peter Boyles Show, Fox News, The Scariest Places on Earth, Is it Real? and Ghost Hunters to name a few.
Bryan and Baxter use research as the key to unlock the unknown.
Beyond the deception they uncover, and the explanations they present, they still encounter some strange phenomena that they can't explain immediately. They've seen chairs move mysteriously in an empty room, they've heard disembodied voices, and they've felt the touch of unseen…people?
Sometimes, the questions remain unanswered. At least for now….
Their website is www.rockymountainparanormal.com
The phone lines will be open all night so share your paranormal experiences and ghost stories with Bryan and Baxter. Call 1-800-259-5791.
Share this post...