Hour 1 – Barb Adams and John J. Higgins, The Republican Revolt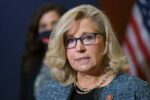 In a week where we went from one extreme to another as the CDC took the nation and President Biden from science to surprise by stating fully vaccinated Americans can now shed their masks basically everywhere, there was no surprise that the party formerly known as the Republican Party firmly booted Rep. Liz Cheney from their leadership trio for telling the truth. As quickly as Cheney was ousted, she was replaced by shape-shifting New York Rep. Elise Stefanik, a former Paul Ryan groupie who detested and wouldn't even say Trump's name as recently as several years ago. Stefanik now embraces Trump and his "Big Lie," the one thing that now unites his party.
Trump's forces are on the march, not only within the party but also within Congress and numerous state capitols where they are systematically and aggressively rolling back voting rights as part of their anti-democratic suppression agenda.
Although Cheney's ouster was no surprise, what has been surprising is the lackluster response from Republicans. Cheney is not only telling the truth about the 2020 election NOT being stolen, but she is also sounding the alarm about the January 6th insurrection at the Capitol as well as the takeover of her party by those who are more loyal to one man, Trump, than they are to their party, the country, and the Constitution.
In an interview with Jake Tapper of CNN, Cheney said some GOP members voted against impeaching Trump out of fear for their lives! What does that tell you about what is going on within the Republican Party and this country? For one thing, it says there is a rapid collapse of truth in this country which is being replaced with lies and conspiracy theories and it also alludes to Trump's "unusual" hold over party members.
So how do we stop this clear and present danger and how do we rid ourselves of this darkness once and for all? We need to take our cue from Liz Cheney and all those who are standing up and speaking out against this growing threat. We need to hold strong in the face of the lies, gaslighting, and chaos. We need to hold the media and leaders accountable, and we need to remember history and understand that what happened in Nazi Germany and in Russia can happen here. Just as importantly, though, we must remember who we are as a nation…one Republic, indivisible, with liberty and justice for all.
JOIN Barb and John as they discuss The Republican Revolt.
Hour 2 (Rebroadcast):  Howard Ross, Our Search for Belonging
Joining the show during the second hour is author, social justice advocate and one of the world's seminal thought leaders on identifying and addressing unconscious bias, Howard Ross.  Howard will be discussing his recently-released book, Our Search for Belonging: How the Need for Connection is Tearing Our Culture Apart.
Humans naturally bond with those in their own groups, but this tendency can foster unhealthy mindsets against those with political, religious, and cultural differences. For many, the workplace is the most diverse setting in their lives. Our work relationships tend to cut across race, gender, religion, sexual orientation and political persuasion. Because of this, workplace environments have the potential to orient us toward working across differences more than any other place.
Allowing the tribalism that has infected our society to undermine work environments is contrary to successfully meeting company goals and objectives. For this reason, companies need to take up the important work of addressing issues of diversity, culture, and finding common ground.
While many organizations provide skills training, it's just as important that they provide training in interpersonal areas such as communication, inclusion and addressing unconscious bias. From Target's "Courageous Conversations" workshops that engage employees of all backgrounds to talk about difficult issues to Kaiser Permanente's team culture, companies are exploring ways to build organizational structures that promote inclusivity.
Howard will discuss such topics as how to build organizational structures and systems that create inclusive communities; how to create opportunities for dialogue across groups in the workplace; how to encourage employees to share their own stories; how to acknowledge everyone's individual contribution; and how to communicate a clear vision of corporate identity.
Howard Ross is a lifelong social justice advocate and the founding partner of Cook Ross. He's considered one of the world's seminal thought leaders on identifying and addressing Unconscious Bias. Howard has delivered programs in 47 states and over 40 other countries to audiences including Fortune 500 companies and major institutions within healthcare, government, and non-profit sectors. He authored the Washington Post best seller, Everyday Bias:  Identifying and Navigating Unconscious Judgments in Our Daily Lives and ReInventing Diversity: Transforming Organizational Community to Strengthen People, Purpose and Performance. His book, Our Search for Belonging: How the Need for Connection Is Tearing Our Culture Apart  describes how to bridge the divide in our increasingly polarized society.
For more information, visit cookross.com.
Share this post...