August 30, 2014 – Archives/Pod Casts           Hour 1 –    Hour 2 –    Hour 3
Hour 1:  Paul Von Ward

Joining Amerika Now during the first hour is interdisciplinary cosmologist and author Paul Von Ward, who will be discussing his latest work entitled We Are the Aliens (chapter in Lost Secrets of the Gods, Pye and Dalley, Eds.).
There is much more to history than what has officially been recorded. Many ancient cultures spoke and wrote of visitors that gave them knowledge and helped share their societies. Who were they, and where did they come from?
Almost all ancient cultures, including Hindu, Sumerian, Egyptian, and Chinese cultures, told stories and created artwork and artifacts that represented alleged contact with aliens from the skies thousands of years ago. Most modern people conceptualize aliens as the small gray beings that were found in the desert near Roswell, New Mexico, in 1947.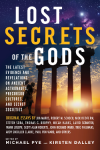 According to Von Ward, the word alien can be used as either a noun or adjective. As an adjective, it can denote something strange, foreign or unfamiliar, or someone who was born elsewhere. As a noun, it designates any life-form with origins/genetic roots in another planet. However, given the Universe as we know it, Von Ward believes that the use of the word alien to separate humans from other advanced species can no longer be considered accurate because most of the aliens inhabiting planet Earth right now are—human beings.  Yes, we are the aliens!
Von Ward says that we humans on do not hold a monopoly on life. Given the relatively young age of our planet, it would be foolish to think we are leading the way in the development of consciousness, intelligence, and technology.  He suggests that science in the 21st century should be pointing toward two new hypotheses: (1) That highly advanced beings (ABs) have colonized and still are colonizing our planet; and (2) that humans have some genes in common with these aliens. These hypotheses lead in the direction of what Von Ward calls the Advanced Being Intervention Theory (AB-IT).
Tonight, Paul Von Ward examines this hypothesis that we may be the aliens, offering possible evidence of AB manipulation in the evolution of our ancestors.
Paul Von Ward is an interdisciplinary cosmologist and author of Children of a Living Universe, We've Never Been Alone:  A History of Extraterrestrial Intervention, The Soul Genome:  Science and Reincarnation, among other books and articles.  An avid traveler who has visited 100 countries, his cultural lens is wide enough to cope with many realities.  For 20 years Paul focused on evidence of nonhuman intelligence in a multidimensional universe.  His research includes human and nonhuman consciousness and the influence of advanced beings (ABs) on human development.
A graduate of Harvard (MPA) and Florida State University (MSc and BA), Paul has served as a Protestant minister; U.S. Naval officer (1962-1965); a diplomat in France, Martinique, Sierra Leone, the Dominican Republic, and NATO; and has held senior positions in the State Department.  From 1980 to 1995, he was the founding CEO of the Washington-based nonprofit Delphi International Group, which provided international citizen exchanges, training, development, and support for Soviet- and Sino-American joint ventures.
For more information, visit http://www.wonward.com and  www.reincarnationexperiment.org.
CALL  800-259-5791  TO SPEAK WITH PAUL VON WARD.
Hour 2:  Graeme Cowan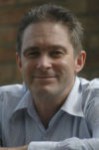 One of Australia's leading authors and speakers in the area of building resilience and mental health, Graeme Cowan, joins the show during the second hour to discuss what makes depression so deadly.  His bestselling book is Back From the Brink:  True Stories and Practical Help for Overcoming Depression and Bipolar Disorder.
With the recent suicide of beloved actor Robin Williams, renewed focus is being shed on depression, a relentless disease.  We all need to be aware and educated about just how despairing it can be.
Graeme Cowan knows the dark side of this disease all too well.  When he attempted suicide for the fourth time, he had tried a variety of treatments, including 23 different medications.  None had worked.  Tonight, this depression survivor turned author/speaker will explain what it is that makes depression so debilitating–and often, so deadly.
"There is a lot of misinformation about depression," notes Cowan. "And there is a tendency to avoid discussing it. But it's important that we do. Doing so is the only way we can begin to break through the despair it causes so that sufferers can get the help they need."
Tonight Cowan will discuss some of the factors that make depression so difficult to overcome as well as sharing real stories of hope and healing, information about treatment options and medication for depression and bipolar disorder, and tools for putting his book's lessons into practice.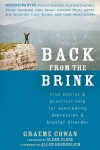 With a foreword by Glenn Close, Back From the Brink also features interviews with people from all walks of life, including former U.S. Representative Patrick Kennedy, Google's Director of Public Policy Bob Boorstin, former NFL player Greg Montgomery, and more. A free excerpt from the book can be downloaded from www.IAmBackFromTheBrink.com.
Graeme Cowan is one of Australia's leading speakers and authors in the area of building resilience and mental health. Despite spending most of his career as a senior executive in Sydney, Australia, with organizations like Johnson & Johnson, Pfizer, and A.T. Kearney, Cowan had struggled with depression for more than 20 years.
Graeme reemerged with not just a bestselling Australian book series to his name but a new attitude toward the way individuals approach recovery. He is also the author of The Elephant in the Boardroom: Getting Mentally Fit for Work, which highlights that 86 percent of people with a mood disorder in the workplace would rather suffer in silence than discuss their illnesses with colleagues.
Cowan has appeared regularly on national Australian television and radio and had articles written in the Australian Financial Review on workplace health. He is also a director of the R U OK? Foundation, whose slogan is "A Conversation Could Change a Life" (www.ruokday.com), which was supported in its launch campaign with video promotions from Australian actors Hugh Jackman, Simon Baker, and Naomi Watts. Cowan is passionate about sharing his journey and helping others to find hope, know they are not alone, and find a way back from the brink.
For more information, visit http://IAmBackFromTheBrink.com.
NO CALLS, THIS SEGMENT WAS PRERECORDED.
Hour 3:  Cheryl Kirwin

Award-winning author and storyteller Cheryl Kirwin joins the show during the final hour to discuss her novel, Chewed Confessions, a clever, thought-provoking series of short stories narrated by gum that offer life lessons and insights, some sweet and some sour, just like chewing gum offers a wide variety of life's flavors.
Most people are probably familiar with the term chick lit, especially if you're a woman.  Chick lit is the genre fiction that addresses issues of modern womanhood, often in a lighthearted fashion.  But what about Chiclet – the gum – as a form of literature? What if each piece of discarded gum on the sidewalk or stuck to a park bench could tell the story of how it got there?
That's the premise of Cheryl's book, Chewed Confessions. Pieces of anthropomorphized chewing gum narrate a collection of linked short stories based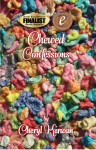 on characters from many walks of life.  And gum, in the process of being chewed, narrates each story. The gum is able to observe the environment of its chewer and gain access to the person's thoughts as they deal with all forms of life experiences, from  heartbreak and budding love to the dangers of embezzling money.  All the while the gum offers "juicy blasts" of flavors like "Cherry Jubilee" and "Fruity Explosion" to keep the characters going.  Each piece eagerly shares its day's adventure with others once it's inevitably spat upon the sidewalk (at each story's end).
Cheryl Kirwin is an award-winning author and storyteller.  Her debut book, Chewed Confessions, was embraced as "sweet and endearing" by Kirkus Reviews and called "clever confection" by Clarion Reviews. In addition, it was a Finalist Winner in the 2013 Indie Excellence Book Award and the 2013 Global E-Book Award Bronze Medal Winner, both in Fiction Short Stories.
As a national accounts manager for Wizards of the Coast/Hasbro, she helped grow sales for Fortune 500 accounts, such as Toys-R-Us, Target, Costco, and Walgreens.
At Holland America she promoted premium cruise ships and hotel packages to corporations and travel agencies in Europe, Australia, Africa, the Caribbean Islands, and the U.S.
As the CEO/owner for A'Roma Day Spa, she created a full service holistic medi-spa.
Cheryl earned a B.A. in Business Management from the University of Alaska and completed a paralegal certification program at Alaska Business College.
Kirwin is the single mother of an adult daughter.  She enjoys scuba diving, downhill skiing, hiking mountains, and bicycle riding.  Her hiking partner is an Australian kelpie/border collie.  Born and raised in Alaska, she has lived in Seattle and now resides in Pacifica, California, just outside of San Francisco.
For more information, visit http://www.chewedconfessions.com.
NO CALLS, THIS SEGMENT WAS PRERECORDED.
Share this post...