October 18, 2014 – Archives/Pod Casts        Hour 1 –    Hour 2 –    Hour 3
Hour 1:  John Hope Bryant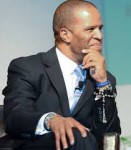 Joining Amerika Now is one of the nation's most recognized empowerment leaders, John Hope Bryant, who will be discussing his latest book, How the Poor Can Save Capitalism:  Rebuilding the Path to the Middle Class.
Fully 70 percent of our economy is powered by consumer spending, not by business or government.  But it's not the wealthy consumers who are driving economic growth in this country, it's the bottom 80 percent of Americans by income, who spend 90 percent of their pay every year.
This is important, says entrepreneur and Operation HOPE Founder, John Hope Bryant, because if Wall Street, banks, large corporations, and our government want sustained economic growth, they need to focus their efforts where emerging markets, entrepreneurs, and small business owners are most abundant:  America's poor and struggling middle class communities–especially our inner cities.  The 100 million Americans making $50,000 income or less, who routinely experience too much "month" at the end of their money, are the next major frontier of economic opportunity.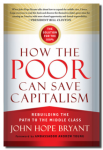 Bryant's critically acclaimed new book, How the Poor Can Save Capitalism, is endorsed by former President Bill Clinton, Martin Luther King's daughter, Rev. Bernice A. King, and conservative business leaders alike (with a forward by legendary civil rights leader Andrew Young).  In it, Bryant builds a compelling economic argument for investing in America's least wealthy consumers.
Bryant says leaders can and should play a key role in helping the poorest in their communities–it's a financial responsibility.
As Founder of Operation HOPE, a nonprofit private banker for low-wealth individuals and communities, Bryant explains the history and psychology behind the three factors that perpetuate poverty:  lack of self-confidence and self-esteem, lack of positive role models, and lack of opportunity.
Tonight, learn why financial literacy instruction from K through college is essential for self-determination and dignity; why improving credit scores can change one's future in unexpected ways; why access to banking and investing should be a legal human right; why investing in poor communities creates compounding wealth and other surprising benefits for corporations and banks; and why finance-related stress and lack of hope in less-privileged populations inhibits economic prosperity for everyone.
John Hope Bryant is an entrepreneur, author, advisor, and one of the nation's most recognized empowerment leaders.  Time Magazine named John Hope Bryant one of the "50 for the Future" leaders.  He is the Founder, Chairman, and CEO of Operation HOPE and Bryant Group Companies, and as the author of a former book, Love Leadership:  The New Way to Lead in a Fear-Based World (Jossey-Bass, 2009), was the only African-American bestselling business author for several years.  He currently serves on President Obama's Advisory Council on Financial Capability for Young Americans, and also served under George W. Bush as Chairman of the Subcommittee on the Underserved and Community Empowerment.
Bryant is the Co-founder of the Gallup-HOPE index, the only national research poll on youth financial dignity and youth economic energy in the U.S.  He also is a co-founder of Global Dignity, with Crown Prince Haakon of Norway and Professor Pekka Himanen of Finland.  Global Dignity is affiliated with the Forum of Young Global Leaders and the World Economic Forum.
For more information, visit http://johnhopebryant.com.
CALL  800-259-5791  TO SPEAK WITH JOHN HOPE BRYANT.
Hour 2:  Garnet Schulhauser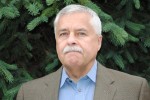 Author and retired corporate lawyer Garnet Schulhauser joins the show during the second hour to discuss his book, Dancing on a Stamp, which discloses startling new revelations about who we are, our purpose in life, and what happens after death.
Garnet Schulhauser's life changed dramatically one day in 2007 when he was confronted on the street by a homeless man named Albert.  Over the next few years, he had a series of conversations with Albert who disclosed startling new truths about life, death, the afterlife, and God.  Albert answered all of life's big questions about who we are, our purpose for being on Earth, and what happens to us after we die.  Albert's revelations were inspiring, uplifting, comforting, and empowering, and they flew in the face of almost everything that Christian holy men had been preaching for centuries.  Albert, it turns out, was actually a wise spirit in disguise.
Schulhauser wrote his book, Dancing on a Stamp, to make Albert's revelations  available to everyone.  In stark contrast to the beliefs of many religions, Albert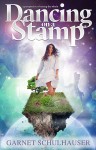 reveals that God does not make rules for us to follow and does not judge or punish us for the things we do on Earth.  Hell doesn't exist.  All Souls return to the Spirit Side (where we came from before this life) after their physical bodies die regardless of what they did on Earth.  Souls cannot go wrong or become lost; the the Spirit Side is a place full of love, peace and happiness–a place free of pain, suffering, and negative emotions.  Schulhauser says Albert urges us to enjoy the fullness of life on Earth by embracing love, hope, and forgiveness and casting aside our guilt and fear.
Garnet Schulhauser practiced corporate law with two large law firms in Calgary, Canada, for 34 years before retiring to Vancouver Island in 2008, where he now lives with his wife, Cathy, and little dog, Abby. He grew up on a small farm in Saskatchewan and attended law school in Saskatoon before moving to Calgary to begin his legal career. Although he did not begin writing until after retiring from his legal practice, he now pursues his new career with a passion. In his spare time, he enjoys golfing, kayaking, and long hikes in the forest with Abby. He takes great delight in family gatherings with his two sons, Blake and Colin, and their partners, Lauren and Bergis, and granddaughter Kymera.
For more information, visit http://www.dancingonastamp.com.
CALL  800-259-5791  TO SPEAK WITH GARNET SCHULHAUSER.
Hour 3:  Steve Janjic – CANCELLED – Illness
NOTE:  RESCHEDULED TO NOVEMBER 15th – Hour 3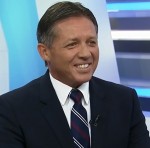 Joining the show during the final hour is Wall Street Commodities expert Steve Janjic, CEO of Amercanex, the first fully electronic marketplace exchange for the cannabis industry.
While America's emerging marijuana industry navigates though uncharted waters in what could be this country's biggest business experiment of the 21st century, what is the best way to insure a legal, fair, and accountable business model for the emerging industry?
Steve Janjic, CEO of Amercanex (http://www.amercanex.com/), the first fully electronic marketplace exchange for the cannabis industry, believes the solution is a Wall Street-like model which allows the young cannabis industry to participate in exchanges to buy, sell, or trade inventories in a fully disclosed and transparent marketplace.
Steve will answer such questions as
Why do exchanges ensure regulatory and tax agency accountability and reporting?
How can exchanges help cultivators, distributors and retailers stay connected to market trends, insuring a fair and open market and business success?
Why will such centralized exchanges force the industry to self regulate?
How can exchanges ensure fair and orderly transactions, efficient dissemination of pricing, market trends, etc.?
Steve Janjic is CEO of Amercanex, The ACE Marketplace (American Cannabis Exchange), which offers cutting-edge infrastructure, tools, technology, and a real-world Cannabis trading experience. ACE provides licensed cannabis industry cultivators, wholesalers, and retailers with a completely transparent, fully electronic, neutral and non-manipulated marketplace to buy, sell, and trade, while strictly adhering to taxation and the regulatory and reporting requirements of local and regional agencies.
By implementing the tools utilized on Wall Street and applying them to the cannabis industry, the ACE Marketplace gives users efficient dissemination of prices, supply and demand, market trends, and insures orderly transactions.
Steve is also the Global Head of eFX Sales and Distribution at Tullett Prebon, focusing e-Commerce and Prime Brokerage Sales/Distribution. Prior to that he was the Global Head of eFX/IRS Sales and Distribution at Christopher Street Capital (GFI Securities Group). Previously, he was with Morgan Stanley's FX team performing in a similar role.
Steve Janjic's experience includes successfully managing trading e-commerce trading room technology, with most recent emphasis on low-latency e-trading technology, executable streaming prices, request-for-quote, execution algorithms, price aggregation, and white-label solutions and pricing retail e-platforms. Steve attended the University of South Carolina, where he studied Finance, and St. Mary's Medical College, where he obtained his M.D. degree.
For more information, visit http://www.amercanex.com.
CALL  800-259-5791  TO SPEAK WITH STEVE JANJIC.
Share this post...