Dec 4, 2010,  Show Archives/Podcast    Hour 1 –  Hour 2 –  Hour 3 –  Hour 4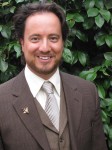 Our special guest for the show this evening is Giorgio A. Tsoukalos,  the star and Consulting Producer of ANCIENT ALIENS–THE SERIES (2010) on The History Channel (http://www.history.com/shows/ancient-aliens) and Publisher of Legendary Times Magazine (www.legendarytimes.com), the only  Ancient Astronaut  publication in the world.   Giorgio is the real-life Indiana Jones and he is changing the way the world thinks about the Ancient Astronaut Theory.
For over 12 years, Giorgio has been the  Director of  Erich  von  Daniken's Center for Ancient Astronaut Research (A.A.S.R.A.-Archaeology, Astronautics, and SETI Research Association).  The A.A.S.R.A. is determined to prove, using scientific research methods, but in layman's terms, as to whether or not extraterrestrials have visited Earth in the remote past.  The A.A.S.R.A. was founded in 1998 by co-founders Giorgio A. Tsoukalos, Ulrich Dopatka, and Erich von Daniken (Chariots of the Gods) as Erich von Daniken's official international research organization.  Giorgio is also Erich von Daniken's official representative in the United States and the rest of the English-speaking world.
As the world's leading Ancient Astronaut expert, Giorgio has starred in and appeared on The History Channel, the Travel Channel, the National Geographic Channel, the Sci-Fi Channel, Coast to Coast AM, and many other international television and radio programs such as UFO HUNTERS and  ANCIENT ALIENS reporting about the latest discoveries in the Ancient Astronaut field.  Giorgio has also created the world's only and definitive Ancient Astronaut research journal, Legendary Times Magazine (www.legendarytimes.com), which is jam-packed with exclusive research articles written by many leading researchers (including G. A. Tsoukalos, David H. Childress, et al.), none of which appear anywhere else.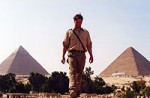 Giorgio has traveled the world extensively (54 countries and counting!) seeking out strange archaeological artifacts and monuments which will further strengthen his research.  Over the years, he has gained firsthand access to, photographed, and measured ancient artifacts and other archaeological relics currently not accessible to the general public.
ANCIENT ALIENS (www.history.com/shows/ancient-aliens), with Giorgio as its star and Consulting Producer,  is the best and most compelling Ancient Astronaut documentary ever made since Chariots of the Gods came out as a movie in 1972.  ANCIENT ALIENS features the world's top Ancient Astronaut experts such as Erich von Daniken, Giorgio A. Tsoukalos, David H. Childress, Buzz Aldrin, Robert Bauval, Graham Hancock, Bill Birnes, Christopher Dunn, Michael Cremo, Dr. Robert Schoch, Dr. Steven Greer, Linda Moulton-Howe, George Noory, Peter Fiebag, Dr. Algund Eenboom, Philip Coppens, Nick Pope, Dr. Luis Navia, Rev. Barry Downing, Dr. Uwe Apel, Rodney Dale, and many others.
Please join us this evening as we present a rare look behind the scenes of ANCIENT ALIENS and Erich von Daniken's latest book, Twilight of the Gods.
Giorgio's websites are:  www.legendarytimes.com/giorgio/ and www.history.com/shows/ancient-aliens.
To speak with Giorgio during the show, please call 1-800-259-5791.
Share this post...