April 14, 2012  Show Archives/Pod Casts           Hour 1 –  Hour 2 –  Hour 3
Hour 1:  Stephen Spignesi
Joining Amerika Now during the first hour of the show is Stephen Spignesi, a renowned New York Times bestselling author who writes about historical biography, popular culture, television, film, American and world history, and contemporary fiction.  He is also a university professor, novelist, poet, screenwriter, and musician.  Stephen will be discussing his recent work, Titanic for Dummies, as part of the show's live commemoration of the 100th anniversary of the sinking of the Titanic.
Spignesi has been christened "the world's leading authority on Stephen King" by Entertainment Weekly magazine, and has worked with Stephen King, Turner Entertainment, the Margaret Mitchell Estate, Ron Howard, Andy Griffith, the Smithsonian Institution, George Washington's Mount Vernon, Viacom, and other personalities and entities on a wide range of projects. He's also contributed essays, chapters, articles, and introductions to a wide range of books.
Stephen's more than 50+ books have been translated into numerous languages, and he also has written for Harper's, Cinefantastique, Saturday Review, TV Guide, Mystery Scene, Gauntlet, and Midnight Graffiti magazines. As well, Stephen has contributed articles to the New York Times, New York Daily News, New York Post, New Haven Register, the French literary journal, Tenebres, and the Italian online literary journal, Horror.It.  Spignesi has also appeared on CNN, MSNBC, Fox, and other TV and radio outlets; and has also appeared in the 1998 E! documentary, The Kennedys: Power, Seduction, and Hollywood, as a Kennedy family authority; and in the A&E Biography of Stephen King that aired in January 2000. Spignesi's 1997 book, JFK, Jr., was a New York Times bestseller. His Complete Stephen King Encyclopedia was a 1991 Bram Stoker Award nominee.
In addition to writing, Stephen also lectures on a variety of popualr culture and historial subjects and is a Practitioner at the University of New Haven and Adjunct Professor at Gateway Community College. He is the Found and Editor-in-Chief of the small-press publishing company, The Stephen John Press. In addition, he was recently praised for "reinventing the psychological thriller" upon the publication of his acclaimed debut novel, Dialogues.
Hour 2 at 9:30 PST, 12:30AM EST:  Shaeri Richards

Joining Amerika Now during the second half of the second hour is Shaeri Richards to discuss her first self-help book, Dancing With Your Dragon:  The Art of Loving Your Unlovable Self. Shaeri will lead you on a simple yet profound journey toward self-worth and unconditional love.  She will help you expand your awareness while opening your heart to the deeper layers of your being.  Most importantly, Shaeri will teach you the art of loving yourself–even when you don't!
Although Shaeri Richards is currently in demand as an author, speaker, and hypnotherapist, her foundational background was forged in the fields of communication and the performing arts.  In addition to her accomplishments as a musician, actress, and filmmaker, Shaeri Richards spent 30 years in radio and television as a journalist and talk show host.  During those years, she spent much of her free time studying metaphysics, astrology, and spirituality as tools for self-discovery, an effort that would become the foundation for her current life work.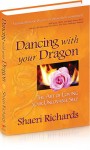 This background education, along with 10 years of study in a mystery school founded by her mother, led Shaeri to the writing of Dancing With Your Dragon.  She's also the author of an audio book for the young and young-at-heart called, Maressa & Merlone:  A Musical Fairy Tale, and the Writer/Director of the Award-Winning Short Film, The Mother Tree.
For more information about Shaeri Richards and her book, please visit her website at www.dancingwithyourdragon.com.
PLEASE CALL  800-259-5791  TO SPEAK WITH SHAERI.
Share this post...