(Hour 1) John J. Higgins & Barb Adams – Week in Review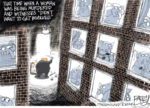 Join Barb and John as they highlight some of the top stories of the past week including  H.R. McMaster-out, John Bolton-in; #TradeWars, #RussiaGate, #Facebook in hot water over data leaks, the $1.3 trillion dollar appropriations package, the latest #TrumpScandals, John Dowd's resignation and McGahn wanting out, the DOW and fears of trade wars, and whatever happens between now and Saturday night .

Joining the show during the second hour is Transition Expert, Lexa Rollins. Lexa will be discussing navigating transitions as well as self-compassion and resilience.
Do you feel like you've lost control of your life?
Are you having a hard time moving forward after a major transition or setback?
Do you struggle to balance your grief and anger with society's push to get on with life?
Lexa Rollins is here to tell you, "There is Hope!" Her own experience with trauma ignited a passion to help others who have experienced a life-altering event. Life changes are often some of the most difficult times for individuals. People experience transitions in a wide variety of ways; some embrace it, while others run away from it. We are wired to like consistency and stability, so transitions can seem…scary. They can feel overwhelming and confusing. Learning to adjust and cope can be difficult for anyone.
As a Transition Expert, Lexa will discuss how you can face difficult changes in your life so you can create positive, constructive results. Whether the transition is your choice or was forced upon you, Lexa will show you how you can cope with the fears and doubts that come up during big changes.
Lexa will also discuss self-compassion and resilience and their importance in helping you move forward no matter what challenges you may be facing in your life.

Lexa Rollins is the Founder of Spheres of Influence, LLC; Career, Leadership & Wellness Consulting Services "For Significant Life Changes." She understands first-hand that transitions, unexpected or planned, will succeed better when working with someone you trust to create an action-based strategy and plan. On July 7, 2013, Lexa had a near-fatal motorcycle accident and spent 2 months in the hospital. The diagnosis was devastating; she had a traumatic brain injury (TBI), which forever changed her life. The path to recovery was grueling and extremely painful and required gut-wrenching resilience. Lexa's own experience with trauma ignited a passion and dedication to help others who have experienced a life-altering event.
Lexa has over 25 years of communication and business experience in industries that range from the technical Oil and Gas Industry to the creativity of sales & marketing. She holds a degree in both Communications and International Business.
For more information, visit https://www.linkedin.com/in/lexa-rollins-transition-expert-80572a150.
(Hour 3) REBROADCAST of Maurice Dorsey, Businessman First, from July 22, 2017
Share this post...