(1) John J. Higgins & Barb Adams, Week in Review

Join Barb and John as they discuss some of the top stories from the past week.
(2) Dr. Paul Boor, MD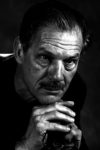 Joining the show during the second hour is author, scientist, and professor at UT Galveston, Dr. Paul Boor, MD. Dr. Boor will be discussing his latest book, The Ice Merchant.
Human trafficking is a growing global epidemic. But in the late 19th century, the trafficking of corpses supplied medical schools with the bodies they needed for research.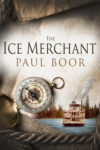 In his latest book, The Ice Merchant, Dr. Paul Boor, MD, Dr. Boor takes us back to 1889 Galveston, Texas, to explore the history of the body trade while exposing the human frailties of those devoted to scientific discovery.
Dr. Paul Boor, MD, is a world-renowned, Harvard-trained pathologist and scientist whose contributions to science are highly respected. He was the recipient of both a Young Investigator and an Established Investigator Award from the National Institutes of Health Heart, Lung and Blood Institute. Passionate about writing, the credibility he brings to his riveting storytelling is making Dr. Boor a hot contender in the thriller and suspense genre.
For more information, visit http://theicemerchant.com.
(3) Maurice Dorsey, Ph.D.


Author Maurice Dorsey, Ph.D., joins the show during the third hour to discuss his newly-released book, Businessman First: Remembering Henry G. Parks Junior 1916-1989.
Henry G. Parks, Jr.  Do you recognize the name? Anyone who grew up on the East Coast would probably recognize his slogan…"More Parks Sausages, Mom, Please!"
More than his ad, Henry G. Parks, Jr. was a man before his time. A pioneer in the American free enterprise system, Parks embarked on a journey leading to a multi-million dollar industry. After many endeavors in business, Parks Sausage became a reality in 1951. With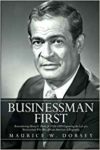 strong aggressive leadership, brilliant marketing, and advertising, Henry G. Parks, Jr. built a business that never posted a losing year under his ownership. Park's Sausage was the first African-American owned business to issue stock publicly, and Henry G. Parks, Jr. was once one of the wealthiest African-Americans in the country. His success caught the attention of some of the leading corporate boards in this country along with national organizations, city, state, and federal leaders. They sought to bring him aboard to share his knowledge, leadership skills, and ability with other leading American business, government, and non-profit leaders.
Maurice Dorsey will discuss such topics as
How an African-American rose to the top, bucking the odds.
How one man persevered through the racism in the Civil Rights era.
Tips for would-be entrepreneurs.
What we can learn from Parks' life.
How a catchy business slogan changed America's eating habits.
Share this post...