September 27, 2014 – Archives/Pod Casts       Hour 1 –    Hour 2 –    Hour 3
Hour 1:  Heather S. White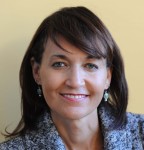 Joining the show during the first hour is award-winning, nonprofit executive and researcher Heather S. White, who will be discussing her film, Who Pays the Price?  The Human Cost of Electronics.
Earlier this year, Apple, Inc. committed to banning the use of the toxic chemicals benzene and N-hexane in the final assembly of iPhones and iPads. White's spotlight on those who suffered because of these dangerous substances has gotten the global leader to concede in what is hoped will be the first of many tech giants to reconsider their manufacturing policies.
White's yet unreleased film, Who Pays the Price?, profiles injured and chemically poisoned young Chinese workers in factories that manufacture the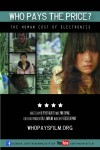 world's leading electronics brands.  Several of White's subjects have been discarded by their factories after being diagnosed with leukemia.  Others suffered debilitating accidents from faulty machinery.  Many return to their villages after they become incurably ill with no healthcare coverage–left to suffer, decline and struggle to survive.  The remarkably authentic film offers a touching, yet brutally honest, look at the workers who are paying the price for cheap electronics.
Heather has spent nearly two years researching and filming the 100+ hours in China for the film.  The trailer, released in March, has well over a million views, and the film has been featured in Upworthy, Huffington Post, and The Nation. In addition, more than 300 news articles have been written on the topics revealed in the film, and Heather's perspectives on Apple's labor challenges in its Chinese factories have previously appeared in the the U.S. and European media.
TO VIEW TRAILER: http://www.youtube.com/watch?v=ns-kJ5Podjw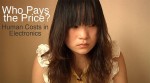 Heather S. White is the Producer and Co-Director of Who Pays the Price? She was until June a Network Fellow at Harvard University's Edmund Safra Center for Ethics, 2011-2014.  Her investigative work on transparency in global supply chains has led to improved industry standards in social auditing and verification practices.  Heather is the Founder and former Executive Director (1995-2005) of Verite, (www.verite.org), a nonprofit organization that has won international recognition for its efforts to reduce labor violations in factories producing for American consumer brands.  It has been recognized by the Clinton Global Initiative and is the recipient of numerous awards including Skoll Foundation, "Scientific American 50" Award for Policy Leadership in Manufacturing, and Fast Company's "Social Capital" Award 2004.
Heather's perspectives on Apple Computer's labor challenges in its Chinese factories have appeared in the U.S. and European media, including The New York Times, Bloomberg, CNN, The Philadelphia Inquirer, NPR, and European newspapers.
With a global reputation for her advocacy work, Heather has unique and longstanding experience working on China's subcontracting and supply chain challenges.  Her insight and networks provide an unprecendented analysis on the situation.  Heather was previously a MacArthur Foundation and Ford Foundation grantee for her human rights work.
For more information, visit http://whopaysfilm-org.
*ALSO:  Check out recent article regarding death of young worker in one of Apple's Chinese factories:  http://www.dailymail.co.uk/news/article-2772228/Worker-iPhone-factory-dies-cancer-days-mother-begged-Apple-help.html
CALL  800-259-5791  TO SPEAK WITH HEATHER.
Hour 2:  Joshua Warren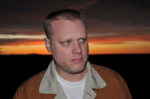 Internationally-recognized expert on paranormal research, Joshua Warren, joins the show during the second hour to discuss his latest book, It Was a Dark and Creepy Night:  Real-Life Encounters with the Strange, Mysterious, and Downright Terrifying.
Halloween is next month, and who doesn't enjoy a ghost story, especially if it's true.  Joshua Warren's latest book, It Was a Dark and Creepy Night, is a spine-tingling collection of frighteningly real-life stories guaranteed to keep you up all night.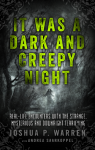 Joshua will lay out in eerie detail a casket full of weird and spooky tales about ghosts, UFOs, cryptids, angels, demons, ESP, inter-dimensional contact and more.  Imagine you met a strange woman who said she remembered Lincoln's funeral, then she vanished; you dreamed you were attacked by a demon and woke up with scratch marks on your body; or the face of the person in front of you is suddenly transformed into a reptilian.
Famous for his research and discoveries of the unknown, Joshua Warren, aka "Dr. Supernatural," is the proprietor of the Asheville Mystery Museum and Haunted Asheville Ghost Tours.
A favorite interviewee about the paranormal on the History, Discovery, SyFy, and National Geographic TV channels, Joshua is also in the new movie, Alien Abduction! (from the producers of Inglourious Basterds) and on the new Travel Channel series, Paranormal Paparazzi.
A popular speaker at paranormal-oriented conferences, Warren is also a syndicated radio host (Speaking of Strange).  He was a host on the A&E Psychic Cruise, and he often leads public expeditions to amazing paranormal sites around the world, such as Transylvania and the Bermuda Triangle.
Joshua Warren is an on-screen credited feature film consultant for Warner Brothers, has been recognized by CNN, Fox News, Entertainment Weekly, Delta Sky, and The New York Times.
He's the author of more than a dozen books, including Poor Man's Paranormal, Pet Ghosts, Haunted Asheville, and How to Hunt Ghosts.  He has appeared on the Travel Channel, History Channel, National Geographic, Discovery, SyFy, Animal Planet, TLC, as well as many other additional television and radio programs.
Joshua has also been featured at The International UFO Congress, GhostFest, and the SCCS Conference on Cryptozoology.  His syndicated paranormal program, Speaking of Strange, airs on the flagship station, NewsRadio 570 WWNC in Asheville, North Carolina.
If you'd like more information, visit Joshua's website http://JoshuaPWarren.com.
CALL  800-259-5791  TO SPEAK WITH JOSHUA.
Hour 3:  Steven G. Blum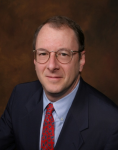 Expert negotiator and professor in the Department of Legal Studies and Business Ethics at the Wharton School of Business of the University of Pennsylvania, Dr. Steven G. Blum, joins the show during the final hour to discuss Negotiating Your Investments:  Use Proven Negotiation Methods to Enrich Your Financial Life.
It's often been said that everything is open for negotiation – prices, schedules, and even those items supposedly carved in stone.  Life's a series of negotiations, and while we may realize this in theory, we probably don't realize how often it applies in practice.  Think about it, your work schedule, your pay and benefits, prices on cars and in big box stores, cell phone contracts…you name it, it's negotiable.  And once you realize that, it's a different way of looking at the world.
"Sharpen your negotiating skills and you'll unlock options and opportunities that you may have assumed were closed to you," Blum says. "This can truly change your life."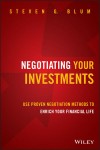 Negotiating Your Investments is an in-depth guide to applying proven principles of negotiation to your personal finances. With expert insight into the before, during, and after of a successful negotiation, you'll learn how to prepare for and conduct important financial discussions with an eye toward getting the best possible outcome. What's more, you'll learn how to use basic negotiating skills outside the world of investing.
Before you can negotiate anything, however, you have to know how to start the dialogue and how to ask right the questions.  Blum will offer such tips as
The elements of negotiation – identifying goals, interests, commitments, alternatives, and power
Preparation, information exchange, bargaining, and closing and commitment – the four phases of negotiation
Asymmetric information, conflicts of interest, professionalism, and whom to trust
Investment vehicles and the economic science that lies behind wise investing.
Steven G. Blum has been teaching in the Department of Legal Studies and Business Ethics at the Wharton School of Business of the University of Pennsylvania since 1994 and was a visiting professor at the ALBA Graduate Business School in Athens, Greece, for more than a decade.
He holds two law degrees and has been guiding clients through all aspects of their financial lives for more than 30 years. In addition to maintaining a law practice, he is a principal at Steven G. Blum and Associates, LLC, which places a special emphasis on the ethics of the professional-client relationship. The firm is based near Philadelphia.
In addition to teaching semester-long courses for undergraduate and MBA students, Blum has taught in Wharton Executive Education programs, lectured and consulted widely, and frequently leads seminars and educational forums. He has led training sessions for a number of Fortune 100 companies as well as organizations of lawyers, physicians, accountants, and other professionals.
Of all the different aspects of his career, Blum takes tremendous pride in his role as teacher. He believes it is the highest calling in society. He has six times won the William G. Whitney Award for outstanding teaching at Wharton.
Blum holds a Bachelor's degree from Wesleyan University, a law degree from Northeastern University School of Law, a Master's degree in education from Harvard University, a Certificate of Specialization in Negotiation and Dispute Resolution from Harvard University's Program on Negotiation, and a Master's degree in the law of taxation from the New York University School of Law.
If you would like more information, visit his website ww.negotiatingtruth.com.
NO CALLS, THIS SEGMENT WAS PRERECORDED.
Share this post...