June 11, 2011  Show Archives/Podcasts  Hour 1 –  Hour 2 –  Hour 3 –  Hour 4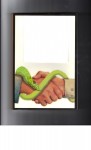 Ann and John Tarr join Amerika Now to discuss mortgage fraud and predatory lending in America.  Both Ann and John have been victims of predatory lending.  In 1988-89, Ann says she was a victim when she obtained a loan for a property she was going to rehab.  Then in 2003, John experienced a similar fate when he obtained a loan through Ameriquest.  After researching their situations and those of countless others like them, Ann decided to produce a book about the mortgage loan industry and who the key players are behind the mortgage crash which led to the world's biggest financial collapse.  Her audio book, Deception:  Who Is Allegedly Behind the Mortgage Crash, is a true account of the history of how the business of sub prime loans and adjustable rate mortgages evolved, and details who she discovered is actually pulling the strings "in the biggest scheme since Bernie Madoff, ENRON, and the S&L crisis together."
Ann traces links back to when Richard Nixon was president and gives accounts of how all of it began in Kansas City, Missouri, which was the birthplace of the first sub prime loan and adjustable rate mortgage in the nation…with one very unique twist (you'll have to listen in to get it).
Ann and John's research also discovered a link between all the foreclosures in America and the fraud that had been committed to steal from borrowers and gain control of billions of dollars through fraudulent loans approved and sanctioned by Fannie Mae, Freddie Mac, HUD, and the Federal Reserve Bank.
Ann and John Tarr's website is  www.project13d.com and Ann's audio book is for sale on their site.
If you wish to learn more about mortgage fraud and predatory lending, you can contact Ann and John at www.project13d@gmail.com.
PLEASE CALL 800-259-5791 TO SPEAK WITH ANN OR JOHN TARR
Share this post...