November 15, 2014 – Archives/Pod Casts      Hour 1 –    Hour 2 –    Hour 3
Hour 1:  Robert Salas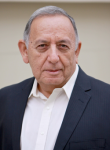 Joining Amerika Now during the first hour is author Robert Salas, who will be discussing his latest book, Unidentified:  The UFO Phenomenon:  How World Governments Have Conspired to Conceal Humanity's Biggest Secret.
In 1969, the U.S. Air Force issued a statement that read, "No UFO reported, investigated and evaluated by the Air Force was ever an indication of threat to our national security."  This statement is patently false, according to Robert Salas, a graduate of the U.S. Air Force Academy with a Masters in Aerospace Engineering who has also worked for the Federal Aviation Administration (FAA).
Salas has been conducting massive research and documentation of UFO incidents related to nuclear and military installations and will discuss evidence which indicates UFOs threaten U.S. nuclear and military installations.  From incidents at Wright Patterson, Selfridge, Whiteman, Ellsworth, and Beale Air Force bases to Camp New Amsterdam in the Netherlands and many more sites, Salas has unearthed new material and verification of hundreds of UFO episodes.
A trusted and long-established expert on the subject, Salas has appeared many times on TV panels about the UFO/nukes relationship and has been a guest on Larry King among other media appearances.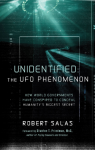 Tonight, Robert will discuss more than six decades of UFO occurrences, alien abductions, and threats to military installations.  He will also present ample evidence that the U.S. government and military have maintained absolute secrecy and distortion of the truth.
A 1964 graduate of the U.S. Air Force Academy, Robert Salas served seven years on active duty as a weapons controller.  He flew target drones, commanded intercontinental ballistic missiles as a launch officer, and worked as an Air Force missile propulsion engineer on the Titan III program.
Robert has worked as a safety and reliability engineer for Martin-Marietta Aerospace and Rockwell International on Space Shuttle design proposals.  In addition, until his retirement in 1995, he worked for the FAA.
In 2005, he co-wrote Faded Giant, a book that details the UFO incident he witnessed at Malmstrom AFC.  Salas continues to speak publicly about this incident and others at UFO conferences and on numerous radio and TV programs.
For more information, visit http://www.warwickassociates.com/about/book-campaigns/unidentified-the-ufo-phenomenon/.
CALL  800-259-5791  TO SPEAK WITH ROBERT SALAS.
Hour 2:  Dr. Jennice Vilhauer

Emory University Psychologist Dr. Jennice Vilhauer joins the show during the second hour to discuss her book, Think Forward to Thrive:  How to Use the Mind's Power of Anticipation to Transcend Your Past and Transform Your Life.
Is it truly your past that informs your life?  Most people are stuck in reverse.  Their memories of the past influence what they expect in the future and they act accordingly, which creates a self-fulfilling prophecy.  They relive the past over again in their minds–thinking about and dreading what they DON'T want to experience.
But Dr. Jennice Vilhauer says you can train yourself to set your sights on the future, which can be the actual determination of your life to come.  By thinking about and visualizing the future, the mind begins to create the problem-solving steps and thoughts that can actualize what you DO desire, not what you fear will occur from your past.  In other words, it's time to step on the gas and get out of reverse!

Tonight, Jennice will discuss "Future Directed Therapy" (FDT), which she developed, illuminating how it can help depression; how it's different from other psychotherapies; why future thinking is so important to emotional well-being; how FDT fits in with the mindfulness movement; and the top three tips for redirecting thoughts toward a positive outcome.
Jennice Vilhauer, Ph.D., is the Director of the Adult Outpatient Psychotherapy Program and an Assistant Professor in the Department of Psychiatry and Behavioral Science in the School of Medicine at Emory University in Atlanta, Georgia.  The developer of Future Directed Therapy, she has over 12 years of experience training psychologists and psychiatrists in cognitive therapy and helping clients create better futures.
For more information, visit http://www.futuredirectedtherapy.com.
CALL  800-259-5791  TO SPEAK WITH Dr. JENNICE VILHAUER.
Hour 3:  Steve Janjic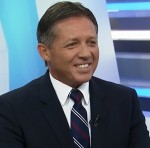 Joining the show during the final hour is Wall Street Commodities expert Steve Janjic, CEO of Amercanex, the first fully electronic marketplace exchange for the cannabis industry.
While America's emerging marijuana industry navigates though uncharted waters in what could be this country's biggest business experiment of the 21st century, what is the best way to insure a legal, fair, and accountable business model for the emerging industry?
Steve Janjic, CEO of Amercanex (http://www.amercanex.com/), the first fully electronic marketplace exchange for the cannabis industry, believes the solution is a Wall Street-like model which allows the young cannabis industry to participate in exchanges to buy, sell, or trade inventories in a fully disclosed and transparent marketplace.
Steve will answer such questions as
Why do exchanges ensure regulatory and tax agency accountability and reporting?
How can exchanges help cultivators, distributors and retailers stay connected to market trends, insuring a fair and open market and business success?
Why will such centralized exchanges force the industry to self regulate?
How can exchanges ensure fair and orderly transactions, efficient dissemination of pricing, market trends, etc.?
Steve Janjic is CEO of Amercanex, The ACE Marketplace (American Cannabis Exchange), which offers cutting-edge infrastructure, tools, technology, and a real-world Cannabis trading experience. ACE provides licensed cannabis industry cultivators, wholesalers, and retailers with a completely transparent, fully electronic, neutral and non-manipulated marketplace to buy, sell, and trade, while strictly adhering to taxation and the regulatory and reporting requirements of local and regional agencies.
By implementing the tools utilized on Wall Street and applying them to the cannabis industry, the ACE Marketplace gives users efficient dissemination of prices, supply and demand, market trends, and insures orderly transactions.
Steve is also the Global Head of eFX Sales and Distribution at Tullett Prebon, focusing e-Commerce and Prime Brokerage Sales/Distribution. Prior to that he was the Global Head of eFX/IRS Sales and Distribution at Christopher Street Capital (GFI Securities Group). Previously, he was with Morgan Stanley's FX team performing in a similar role.
Steve Janjic's experience includes successfully managing trading e-commerce trading room technology, with most recent emphasis on low-latency e-trading technology, executable streaming prices, request-for-quote, execution algorithms, price aggregation, and white-label solutions and pricing retail e-platforms. Steve attended the University of South Carolina, where he studied Finance, and St. Mary's Medical College, where he obtained his M.D. degree.
For more information, visit http://www.amercanex.com.
CALL  800-259-5791  TO SPEAK WITH STEVE JANJIC.
Share this post...