March 26, 2011    Show Archives/Podcasts    Hour 1 and  Hour 2

Joining Amerika Now for the first half of the show is J. (Jeffrey) Allan Danelek, who will be discussing his latest book, The Case for Reincarnation.
Jeff's life has been a journey that has taken him down many different paths.  After a stint in the Navy (as a navigator and briefly as an air traffic controller), he attended the Rocky Mountain College of Art and Design, specializing in illustration and graphic design, working for an array of employers from public schools to the aerospace industry.  His hobbies, which include art, politics and political history, world and military history, religion and spirituality, numismatics, paleontology, astronomy (and science in general), and Fortean subjects such as Bigfoot, UFOs, and "things that go bump in the night" led him to his current passion, writing both fiction and nonfiction.  His writing career didn't blossom until recently, however, with his first published feature article appearing in the March 2002 issue of Fate magazine. In September 2003, his first book, Reconsidering Atlantis:  A New Look at a Prehistoric Civilization (now out of print) was published.  Since that time, he has added six more titles to his repetoire:  The Mystery of Reincarnation (May 2005), The Case for Ghosts (July 2006), Atlantis:  Lessons Learned from the Lost Continent (June 2008), UFOs:  The Great Debate (December 2008), 2012:  Extinction or Utopia (November 2009), and his latest, The Case for Reincarnation (June 2010).  Jeff has also authored a book dealing with the mysterious sighting of "airships" reported over California and the Midwest in the winter of 1896-97 entitled The Great Airship of 1897 (from Adventures Unlimited Press), for which he also did all of the illustrations.
Jeff says that the best thing about being a writer is the opportunity it affords him to meet a host of interesting people in the literary and paranormal community, among them real-life ghost hunters, past-life regression hypnotists, Wiccans, and everything in between.  He is a frequent guest on radio shows such as Coast to Coast AM with George Noory, Whitley Strieber's Dreamland Radio Show, the X-Zone with Rob McConnell, EUP Radio with Scott Colborn, Erskine Overnight, and Para-X Radio.  He's also a frequent speaker at paranormal conferences (Stanley Hotel in Estes Park, CO and Queen Mary in Long Beach, CA) and gives lectures on ghosts, UFOs, and reincarnation at Colorado Free University.
Jeff's personal philosophy is that life is about learning and growing, both intellectually and spiritually.  As for writing, fame and wealth are not his goals (although they are acceptable consolation prizes!).
Jeff's website is www.ourcuriousworld.com.
Please call 1-800-259-5791 to speak with Jeff during his interview.
March 26, 2011  Show Archives/Podcasts    Hour 3 and  Hour 4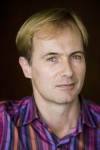 Dr. Christophor  "Bob" Coppes joins Amerika Now for hours 3 and 4 to discuss his latest book,  Messages from the Light:  True Stories of Near-Death Experiences and Communication from the Other Side.
Messages from the Light makes clear that we are all heading for a more wonderful future, but that we must first realize that we have grossly neglected the spiritual part of ourselves by focusing too much on our own short-term self interests.  According to Dr. Coppes, we have created a materialistic "I don't care about you" society.
When our physical body dies, our spirit will discover that it does not only belong to our material, four-dimensional world, but also to something that is so much greater, more wonderful, and more amazing–a  "unity universe"  in which there are no lesser souls, for we are all interconnected and connected to the Light, the ultimate unconditional Love.  Each of us is indispensable because we are ingeniously interconnected with everyone and everything.
Christophor "Bob"  Coppes holds a Ph.D. in Economics and worked for many years at the University of Groningen and in the banking industry.  He was both in a commercial position with a French bank,  as well as in a supervisory role at the Dutch Central Bank.  He is currently working for this institution, monitoring the developments in the international financial markets.
Bob's interest in near-death experiences dates to 1979, when he read Raymond Moody's bestseller, Life After Life.  Several years ago, Bob wrote a book in which he compared the essence of  NDEs (near-death experiences) with those of five world religions.  In 2008, he became president of the International Association for Near-Death Studies (IANDS) in the Netherlands.  He is also a board member of the Society for Worldwide Dentistry and has participated in dental projects for underprivileged school children in Kenya and Cambodia.  Dr. Coppes lives in Amsterdam, the Netherlands.
His website is www.christophor.nl and you can get more information about the International Association for Near-Death Studies (IANDS) at www.iands.org.
Please call 1-800-259-5791 to speak with Dr. Coppes during his interview.
Share this post...