September 15, 2012   Archives/Pod Casts          Hour 1   –   Hour 2   –   Hour 3
Hour 1:  Becki Hawkins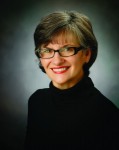 Joining Amerika Now during the first hour of the show is author, newspaper columnist, and 30-year Oncology/Hospice nurse Becki Hawkins to discuss what the dying can teach the living.
When you've compassionately aided people leave the planet for 30 years—helped them be comfortable, reduced their pain and listened to their words—what emerges is not just a way of dying, but also a way of living. That's what Becki Hawkins discovered in her uplifting and beautiful new book, TRANSITIONS: A Nurse's Education About Life and Death.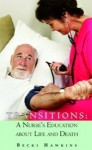 Hawkins, who spent the heart of her career as an Oncology and Hospice nurse in Oklahoma, will offer tenderly-rendered recollections of those experiences that stayed with her…those that touched her heart, took her breath away, and opened her to a greater wisdom.  And it's that wisdom that she will share with us—how we can live better, more richly, more wisely and with greater love before we, too, transition—and look back to wonder what we missed.
She'll also discuss how we can help those who are dying go with grace, peace and love.
First offered in her regionally-syndicated newspaper column Beyond Statistics, Hawkins' stories so resonated with the community that she wanted to share them via her book. She began the column shortly after she first started caring for the terminally ill, and was overwhelmed with emotion.  It was her husband that suggested she start keeping a journal to release those emotions, and from those first scribblings, her column was born.
The time spent at the bedside while giving someone care with Hospice created the opportunity for a patient to tell Becki his or her story.
Becki, who is a sought-after speaker today, will make you feel as if you have shared these enlightened moments.  She'll bring to life the woman who came to chemo in her mink coat,  the man who saw angels, the many who had Near Death Experiences, the sisters who laughed until they parted, the SOB who turned out be a gentleman, and her brother who taught her that redemption and courage can be profound after years of dissipation.
For more information about Becki Hawkins and Transitions, please visit her website at www.ladyhawkpublishing.com.
*This interview was pre-recorded, so no phone calls please.*
Hours 2 and 3 are re-broadcasts
Share this post...