July 12, 2014 – Archives/Pod Casts         Hour 1 –    Hour 2 –    Hour 3
Hour 1:  Annie Kagan

Joining Amerika Now during the first hour is successful singer-songwriter and bestselling author, Annie Kagan, who will be talking about her internationally bestselling book, The Afterlife of Billy Fingers:  How My Bad-Boy Brother Proved to Me There's Life After Death.
Most of us are fascinated with the idea of the afterlife and what lies beyond, especially when death involves a loved one.  Our lives can change forever. Annie Kagan knows this to be true.  Annie's life took a surprising change when her brother died unexpectedly and then began speaking to her from the afterlife.
Annie's not a medium or psychic, and tonight she will share the extraordinary true story of her after-death communications (ADC) with her brother, Billy, who began speaking to her just weeks after his unexpected death.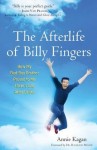 One of the most detailed and profound after-death conversations ever recorded, Kagan's book, The Afterlife of Billy Fingers, takes the reader beyond the near-death experience. Billy's vivid, real-time account of his ongoing journey through the mysteries of death is filled with transcendent wisdom, irreverent humor, and hope. Annie will help demystify death, confirming that love endures beyond this life, and she'll reveal the bliss and wonder that awaits us all in the next world.
She'll share the captivating story of how her brother first contacted her after his death; why her book has become an international phenomenon and is resonating with so many people; Billy's profound description of mystical realms he traverses and the many secrets he shares with her about the afterlife; why, as a former addict, Billy felt it was important to let us know that no matter how we lived, we are loved; and how her book can help provide comfort to those grieving a loss or anxious about death.

In a little over a year, Kagan's book has become a word-of-mouth phenomenon. The author has around 500 five-star Amazon reviews, 100,000 FB fans, and she receives personal emails from people around the globe – those who are grieving, spiritual teachers and seekers of all faiths, people facing death, and much more – they are all sharing how much comfort and enlightenment they have gotten from the book.
Listen in as Annie's tales will may change your views about life, death and the Universe.
NO CALLS, THIS SEGMENT WAS PRERECORDED.

Author and truth-seeker
Niki Norlock
joins Amerika Now during the second hour to discuss her newly re-released book,
Truth – My Synchromystic Journey (3rd Edition).

Does it take a miracle to save a woman who has lost everything?  Does God really step in and carry those who cannot or will not for the moment carry themselves?  Are the prayers we scream to the heavens in our most desperate hour of need really answered?
The answers can be found in the remarkable journey of the woman who went from laying curled up on the bathroom floor praying for God to take her home to the woman who now believes that faith in the Divine is just the beginning of this incredible adventure we call life.  Niki's story will take you from a jaded and misdirected view of faith to one of unshakable faith in God, Humanity, and finally in Self.  It will help you understand that all of these are irrevocably intertwined.
After losing the majority of her immediate family to illness, her marriage to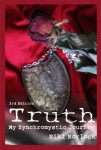 dis-ease, her freedom to the physical powers that be, and finally her health to a broken spine and a broken heart, there seemed no other option for Niki but a graceful exit.  Spirit, however, did not agree.  In one final act of desperation, Niki lay awake one night and cried to the heavens, "I give up, show me the way, lead me and I will follow."
Tonight Niki will share her journey, the journey of a Synchromystic, to help us understand who we are, why we're here, and most importantly, how to know God and what that means.
Truth – My Synchromystic Journey is the story of Niki's return to innocence.  It reveals a deeper truth, one that we all share, buried in our untapped knowing–that we humans are not, never have been, and never will be, alone.
For more information, visit www.nikinorlock.com.
CALL  800-259-5791  TO SPEAK WITH NIKI NORLOCK.
Hour 3:  Mark Henshaw

Joining the show during the final hour is bestselling author and decorated active CIA analyst
Mark Henshaw
, who will be discussing his latest book,
Cold Shot
.
Imagine balancing a career in the CIA while trying to write a novel about the CIA.  Can't make it too realistic, right?  You might compromise some national, confidential information, and you'd have to maneuver through the maze of the CIA Review Board to get your novel approved by the Agency.  In addition, you might close off career opportunities, including any undercover, overseas jobs.
Henshaw was actually part of the CIA's Red Cell Program (a program launched after the 9/11 terrorist attacks) and used his incredibly unique perspective to write an exhilarating novel about two CIA analysts who travel to Venezuela only to discover that Iran and Venezuela are engaged in nuclear proliferation and are much closer to building a weapon of mass destruction than anyone imagined. When the situation deteriorates, the CIA is left with few good options.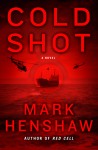 Both exciting and educational, Henshaw explores the frightening realities of political instability in Venezuela along with Iran's on-going mission and treachery involving the development of nuclear weapons. Through his characters, CIA Red Cell analysts Kyra and Jon, Henshaw depicts real locations, institutions, military equipment, and vessels to provide realistic and accurate detail of life in the CIA.
Henshaw will talk about real-time political mayhem, including the Iranian-Venezuelan alliance and what that could realistically entail for America.  He'll also discuss the possibility of Iran building nuclear weapons in countries closer to the United States as well as the current civil unrest in Venezuela and possible impacts on the U.S.
In addition Mark will talk about his unique perspective from "being on the inside" and the challenges of balancing realistic details of his CIA career with storytelling.
Mark Henshaw is also the author of Red Cell as well as being a decorated, active CIA analyst with more than 14 years of service.  He's earned 17 exceptional performance awards and, in 2007, was the recipient of the prestigious Director of National Intelligence's Galileo Award for innovation in intelligence.  A former member of the Agency's Red Cell think tank, Mark now lives with his family in Leesburg, Virgina.
For more information, visit www.markhenshaw.com.
NO CALLS, THIS SEGMENT WAS PRERECORDED.
Share this post...