September 28, 2013 – Archives/Pod Casts        Hour 1 –    Hour 2 –    Hour 3
Hour 1:  Thomas J. Carey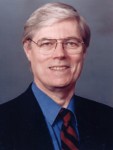 Joining the show during the first hour is world-renowned UFO researcher Thomas J. Carey who will be discussing his and co-author Donald R. Schmitt's latest book, Inside the Real Area 51:  The Secret History of Wright-Patterson.
It's classified.  The real story of what actually crashed in Roswell, New Mexico, in 1947 remains "eyes only" to the select few who have been granted access to the truth about the notorious Area 51.  But renowned UFO researchers Tom Carey and Don Schmitt have produced a startling body of research pointing to Hangar 18 at Wright-Patterson AFB as the storage site of fragments of the alien craft and even bodies of crew members of the downed spaceships.
According to Carey, "We believe that some of the stuff was loaned around, but the main repository is the foreign technology division at Wright-Patterson."
Carey and Schmitt are among the most well-known of UFO experts in the world.  They're the co-authors of the bestselling Witness to Roswell, Revised and Expanded Edition:  Unmasking the Government's Biggest Cover-Up.
Tom Carey , a native Philadelphian, holds degrees from Temple University (B.S. in Business Administration) and California State University, Sacramento (M.A. in Anthropology), and also attended the University of Toronto in its Ph.D. Programme in Anthropology. An Air Force veteran who held a Top Secret/Crypto clearance, Tom is now a retired Philadelphia area businessman. He has been a Mutual UFO Network (MUFON) State Section Director for Southeastern Pennsylvania from 1986 to 2001, a Special Investigator for the J. Allen Hynek Center for UFO Studies [CUFOS] from 1991 to 2001, and a member of the CUFOS board of directors from 1997 to 2001.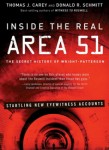 Tom began investigating aspects of the Roswell Incident in 1991 for the Roswell investigative team of Kevin Randle and Don Schmitt, and since 1998 has teamed exclusively with Don Schmitt to continue a proactive investigation of the case. Tom has authored or coauthored more than 40 published articles about the Roswell events of 1947, and has contributed to a number of books on the subject as well. He has appeared as a guest on many radio and TV shows throughout the country, including Coast to Coast AM with Art Bell and George Noory, Fox and Friends, Comcast Network Friends and Larry King Live! and has contributed to a number of Roswell-related documentaries both on-screen and behind the scenes. Tom was a consultant and interviewee on the highly acclaimed and rated 2002, two-hour SyFy Channel documentary, The Roswell Crash: Startling New Evidence, the History Channel's Conspiracy Theory, the Travel Channel's Weird Travels – Roswell, the SyFy Channel's SyFy Investigates and the History Channel's, The UFO Hunters. He was also a featured interviewee on the 20th Century Fox, Golden Anniversary, re-release DVD of the 1951 sci-fi classic, The Day the Earth Stood Still.  His 2007 book, co-authored with Don Schmitt, Witness to Roswell: Unmasking the 60-Year Cover-Up, was the #1 best-selling UFO book in the world in 2007-2008.  Its sequel, Witness to Roswell: Unmasking the Government's Biggest Cover-Up, published 2009, still remains a best seller. Both books are considered to be the best books ever written about the "Roswell Incident." A motion picture, based upon these books, titled Majic Men, is nearing production, as is a TV mini-series based on the book.  Another book about Roswell, with Don Schmitt and fellow-researcher Kevin Randle, is in preparation for a 2014 release.
Tom and his wife of 45 years, Doreen, have two grown children and reside in Huntingdon Valley, Pennsylvania.
PLEASE CALL  800-259-5791  TO SPEAK WITH TOM CAREY.
Hour 2:  Steve Olsher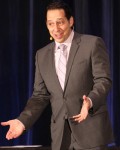 America's Reinvention Expert Steve Olsher joins the show during the second hour to talk about his highly-anticipated new book, What is Your What?  Discover the One Amazing Thing You Were Born to Do.
Would you like to achieve both peace and prosperity by sharing your unique gift with the world?  Steve Olsher, America's Reinvention Expert, has taught thousands how to NICHETIZE! by identifying and monetizing their "WHAT," that is, the ONE thing they were born to do.  His singular approach for realizing permanent, positive change blends proprietary methods with ancient wisdom and revolutionary lessons from modern thought leaders and forms a proven system for ultimate achievement in business and life.
Steve's a successful entrepreneur who has applied his business acumen and communication skills to a wide range of endeavors.  He is the Chairman and Co-Founder of Liquor.com; President of Bold Development; co-star of the groundbreaking film, The Keeper of the Keys with Jack Canfield, John Gray, and Marci Shimoff; author of Internet Prophets:  The World's Leading Experts Reveal How to Profit Online; Founder of the Reinvention Workshop; Creater of Internet Prophets LIVE!; author of USA Book News' Self-Help of the Year Journey to You:  A Step-by-Step Guide to Becoming Who You Were Born to Be; and an in-demand media guest who has appeared on ABC, FOX, CNBC.com and more than 200 radio shows, including national shows hosted by Lou Dobbs, Jim Bohannon, and Mancow Muller.
Click link below for trailer for What is Your What?
http://www.youtube.com/watch?feature=player_embedded&v=dffjZYrJi0U
If you'd like more information on Steve Olsher, please visit his website at http://www.whatisyourwhat.com/.
PLEASE CALL  800-259-5791  TO SPEAK WITH STEVE OLSHER.
Hour 3:  Dr. Michael F. Cantwell, MD, MPH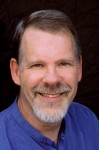 Joining the show during the final hour is Integrative/Holistic physician and author Dr. Michael F. Cantwell, MD, MPH, who will be discussing his recent book, Map of the Spirit:  Diagnosis and Treatment of the Spirit.
Can treating your spirit heal disease and bring you peace?  The roots of disease can lie in your body, mind, or spirit.
Every day, doctors are confronted with diseases that are incurable or difficult to treat.  Could it be that these challenging diseases don't arise from patients' bodies or minds but rather from their spirits?
"Yes," says Dr. Michael Cantwell, whose book affirms that people who are sick in spirit can often present with physical or psychological problems.
"Western medicine has become increasingly aware that treating patients' bodies and minds isn't always enough," he says.  "Sometimes, a patient's spirit needs to be treated before their diseases can heal."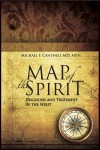 Dr. Cantwell, an integrative physician who assesses the spiritual health of all his patients, acknowledges that several questions spring forth from this idea, including:  How do we know which patients need to have their spirits treated?  And how do we treat their spirits?
"Until now, we've had no way to talk about, diagnose, or treat this spiritual aspect of health," he says.
"We'd like to know when and how spirituality is affecting our health and how to treat our spirits," Dr. Cantwell says.  "Sometimes, the best way to treat your disease is by treating your spirit."
Dr. Michael Cantwell is a Board-Certified Pediatrician and Integrative/Holistic Physician who sees both adults and children in his Complementary/Alternative Medicine practice at the Institute for Health and Healing Clinic in San Francisco, California, where he has been practicing since 1998 and has been its Lead Physician through 2012.  Dr. Cantwell's work has been recognized nationally through multiple lectures, publications, and service on the first National Advisory Council for the National Center for Complementary/Alternative Medicine of the National Institutes for Health, 1999-2003.
Dr. Cantwell is a Quaker and seeks to integrate the physical, mental, and spiritual aspects of health.  His book, Map of the Spirit presents a universal framework for diagnosing and treating the spirit and the spiritual aspect of health.
For more information, please visit his website at www.mapofthespirit.com.
PLEASE CALL  800-259-5791  TO SPEAK WITH DR. MICHAEL CANTWELL.
Share this post...