Hour 1 – Barb Adams and John J. Higgins, Apocalyptic Times (Part 1)
Hour 2 – Barb Adams and John J. Higgins, Apocalyptic Times (Part 2)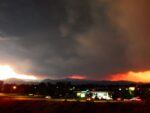 Supreme Court Justice Ruth Bader Ginsburg has died, and there is little time to mourn her, although her legacy deserves to be honored. A pioneer for gender equality and women's rights, Justice Ginsburg was a stalwart on the court and a staunch defender of democracy, truth, and justice. With her passing, though, comes a new challenge to our already weakened American democracy.
With only 44 days left until the election, Republicans, led by Senate Majority Leader Mitch McConnell, are being urged to commit the greatest act of political hypocrisy yet—to appoint a successor to Ginsburg before the election. They are being asked to do so even though when Justice Scalia died in February 2016, nine (9) months before the 2016 election, McConnell used the then forthcoming presidential election as his excuse not to confirm or even hold hearings on Merrick Garland, President's Obama's appointment to replace Scalia. Instead, McConnell successfully stalled the appointment until Trump became president and appointed Neil Gorsuch.
It was McConnell himself, however, who said in 2016, "The American people should have a voice in the selection of their next Supreme Court Justice. Therefore, this vacancy should not be filled until we have a new president." But when it appeared that Ginsburg might pass earlier this year, McConnell did a complete one-eighty, telling Fox News that the seat would be filled, which he reconfirmed Friday evening upon her passing. "President Trump's nominee will receive a vote on the floor of the United States Senate" stated McConnell.
We are at a dangerous point in this country; there are no precedents to be observed anymore and no rules to follow. Power is the only principle and those who do not have it can only sit by and watch.
But let's not forget the power We the People have – the Vote!  The Vote isn't just about Biden vs Trump; there's so much more at stake. Elections have consequences, and the Supreme Court is a prime example. If McConnell and Trump's party are successful, it will change the court and this country for generations to come. But we now have, before us, a chance to restore checks and balances and vote out this blatant hypocrisy and corruption.
It is this blatant hypocrisy and corruption that has led to the violence and chaos that we currently experiencing all across America. Add in a pandemic, climate change, voter suppression, police brutality, systemic racial injustice, economic crisis, unbridled corruption and greed, and a president who has already said he won't accept the outcome of the election if he loses and these are truly nothing less than scary times, which now seemingly are certain to get worse. These are truly apocalyptic times!
Although most people believe the term apocalypse to mean the literal end of the world, it originally denoted a revelation, an unveiling or unfolding of things not previously known and which could not be known apart from the unveiling, the open source.
On one hand, we're in a moment of unprecedented confusion and chaos, with a barrage of partial truths and outright lies bombarding us with a technology-fueled intensity that none of us has ever known before. On the other hand, we're at the precipice of embracing a clarity unlike any we've ever known previously.
What has been revealed these past four years and especially in 2020 is that we are not the nation or people we believed we were. However upsetting and distasteful that truth is, it is a truth we desperately need to face if we are to move to a Higher Truth and Awakening…a transformative vision where we finally make possible the birth of a new nation, new world, and new humanity.
What will your choice be? Choose wisely!
JOIN Barb and John as they discuss Apocalyptic Times.
Ken Goldstein (Rebroadcast) –Comments each hour on Active Listening.
Share this post...