(1) David M. R. Covey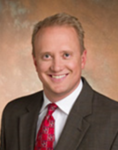 World-renowned expert in the field of global learning and development, David M. R. Covey, joins the show during the first hour to discuss his and co-author Stephan M. Mardyks' new book, Trap Tales: Outsmarting the 7 Hidden Obstacles to Success (Wiley, May 2017).
Your path to success seems clear–but are you prepared for the hidden traps that lay ahead?
You've got a really great life, at least on paper, but have you anticipated the hidden obstacles in your path ahead? David M. R. Covey will point out the blind spots ahead by discussing the traps that can hold you back.
"Many of us spend so much time thinking about how we can move ahead that we fail to spot the traps that will hold us back," says David M. R. Covey. "Like the great chess masters, successful people learn to think many moves ahead and avoid the traps that would derail them from their goals."
Getting unstuck isn't as hard as it seems, though, once you realize you're caught in a trap. But don't count on traditional approaches to free you from problems involving debt, relationships, career, and other common traps. The advice you've always heard for life's big problems rarely works. In truth, extricating yourself from a trap requires an open mind and a willingness to try something completely different, often something that goes against the cultural grain.
Covey will touch on the seven (7) traps we all risk falling into as well as talk about the Art of Trapology, which can help free you from each trap.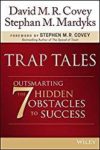 The core message of Trap Tales is hope–the belief that anybody can change the trajectory of their life, at any stage of their life. Stop letting traps steal your time, money, energy, and happiness–Trap Tales provides survival training of a different sort, allowing you to write your own tale of success.
David M. R. Covey is a world-renowned expert in the field of global learning and development. He is the Co-founder and CEO of SMCOV, Wisdom Destinations, and Trap Tales; and Co-founder and Managing Partner at ThomasLeland, Leading in English, and Streamline Certified. Past experiences include serving as joint COO at FranklinCovey.
For more information, visit http://traptales.com.
(2) Steven J. Stein, Ph.D.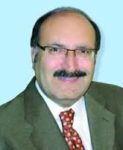 Joining the show during the second hour is clinical psychologist and the Founder and CEO of Multi-Health Systems, Inc., Steven J. Stein, Ph.D. Steven will be discussing his book, The EQ Leader: Instilling Passion, Creating Shared Goals, and Building Meaningful Organizations Through Emotional Intelligence.
In today's work settings, many old-fashioned hierarchal and authoritarian styles of leadership have become obsolete. There have been significant strides made in replacing rewards-punishment "transactional" management styles–that have mostly proven unproductive–with "transformative" styles in which organizational leaders inspire their teams to achieve a collective purpose.
And yet we remain in the transition zone where we need more leaders equipped with the skills that combine interpersonal abilities, including empathy and trust, with the capacity to model creative problem-solving when faced with tough situations.
Dr. Stein will discuss four (4) emotional intelligence skills to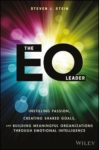 transform your leadership style:  authenticity, coaching, insight and innovation. In addition, he'll discuss how to know if you're a Steve Jobs or a Carly Fiorina; how leaders rate their EQ compared to subordinates' ratings of them; who exemplifies great leadership; what the data reveal about male and female leadership traits; and where Millenials and Gen-Zers fall on the EQ spectrum.
Steven Stein, Ph.D. is a leading expert on psychological assessment and emotional intelligence. He is the Founder and CEO of Multi-Health Systems, a leading publisher of scientifically validated assessments. Dr. Stein is also the author and coauthor of several books on EQ, including the international bestseller, The EQ Edge: Emotional Intelligence and Your Success. Dr. Stein has consulted on numerous reality TV shows, providing psychological expertise and candidate screening, and has appeared on more than 100 TV and radio shows throughout North America.
For more information, visit http://drstevenstein.com.
(3) Dr. Georgina Cannon (Rebroadcast)
Share this post...