Hour 1 – Barb Adams and John J. Higgins, A Collective Crisis
We're living through unprecedented times when intersecting crises of the pandemic, rising nationalism, social and political turmoil, economic uncertainty, and environmental degradation and climate destabilization are tipping the balance and requiring all of us to rethink the next steps.
As the highly-contagious Delta variant tightens its grip and we're beginning to see a steep rise in Covid deaths again, our post-coronavirus world will depend on what we do now. The same holds true for the other crises we are facing. Each requires immediate, long-term thinking as well as the political will and cooperation to make the fundamental changes needed. How we deal with the coronavirus pandemic reflects on how we come to grips with the largest public health threat of our time, the climate crisis.
We have already witnessed the devastating consequences of under-prepared healthcare systems coupled with politicized responses to the pandemic. With the increasing frequency and strength of extreme weather events and related spread of other public health threats, it becomes clear just how important well-resourced, equitable health systems are to protecting us all from security threats like the pandemic and climate change. Creating healthier environments will lead to healthier populations, increasing our resilience and adaptive capacity to pandemics and climate change.
The pandemic has forced us to make dramatic changes in our behaviors in order to protect ourselves and those around us. Although the climate crisis presents a relatively slower, more long-term threat, it requires an equally dramatic and sustained shift in behaviors to prevent irreparable damage.
We must learn to live well with less energy. The money saved from waste made with fossil fuels can be applied to making better sources of energy that don't include burning fossil fuels–solar power, wind power, hydropower, and better grids and storage of energy. This is not a red or blue issue nor should it be seen as a choice of progress versus prosperity. Progress is prosperity!
The clock is ticking. Continuing drought and subsequent wildfires across the West threaten lives and spread toxic smoke across the nation. Severe storms, flooding, and major hurricanes are increasing and disrupting lives and economies throughout the Midwest, Southeast and East Coast. Glaciers are melting much faster than expected, causing a rise in sea levels. Additionally, because ice captures the contents of the atmosphere over time including viruses and microbes, it is yet unknown how many of these viruses could pose a health risk. Until recently, relatively little has been known about viruses in land ice. Research in this area is growing, however, as the Covid pandemic has raised awareness of our need to understand microbial communities.
The pandemic and the climate crisis offer opportunities for a regained sense of shared humanity. If we can hold onto that sense of shared humanity and respond as such to rebuild infrastructure and social and economic systems that are better, more resilient, and compassionate, we will build a better future for all of us and hopefully rid ourselves of the darkness upon us once and for all.
JOIN Barb and John as they discuss A Collective Crisis.
Hour 2 (Rebroadcast) – Dr. Karl Kuhnert, The Map
Industrial and Organizational Psychologist Dr. Karl Kuhnert joins the show in the third hour to discuss his and co-author Dr. Keith M. Eigel's new book, The Map: Your Path to Effectiveness in Leadership, Life, and Legacy.
We're all leaders somewhere…either at home, with friends, or informally with peers or coworkers in various situations. On a personal level you likely make daily decisions to strengthen your most important relationships, grow in your knowledge and skills, and otherwise add value to life.
Great leadership isn't about winning, though. It's not about pleasing people, and it's certainly not about titles. Great leadership is about making the contributions only you can make for your family and friends, your community or organization, your country or the world. But having that influence requires us to grow into–and take ownership of–who we are and what we stand for. The journey isn't automatic. Leadership maturity isn't the natural byproduct of aging. It requires wisdom, courage, and effort. Too many people find themselves stuck under the weight of their circumstances, so they don't realize their potential.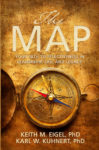 Based upon decades of research on adult development, The Map explains how we can take control of our growth and accelerate progress in leadership, life, and legacy.
Dr. Karl Kuhnert is an Industrial and Organizational Psychologist in the Psychology Department  at the University of Georgia. He has won numerous teaching and professional service awards over his career which spans thirty years, and has devoted his adult life to understanding and growing leaders both in the classroom and outside of it through executive coaching and leadership development programs.
For more information, visit http://themapthebook.com.
Share this post...