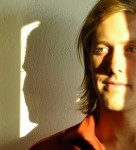 June 19th, 2010 Podcast/Show Archive  Hour 1 – Hour 2 – Hour 3 – Hour 4
Chris Clark (hours 2-4)  is an independent researcher and author on numerous subjects including globalization, climate change, and health and nutrition.  He is also a world-renowned chef specializing in health-supportive foods.  Originally from Michigan, Chris now travels worldwide  for various freelance teaching, cooking, and consulting work.  He earned his undergraduate degree from the University of Michigan's Business School and previously worked as an analyst for a Fortune 100 company.
Chris recently published his second book, The Triumph of Consciousness:  Overcoming False Environmentalism, Lapdog Media and Global Government, which traces the history of globalization during the past hundred -plus years by examining the writings and public statements of various financial and political elites who are determined to implement an authoritative, non-democratic, global government.  By various mechanisms, these elites also control the environmental movement and promulgate its prevailing ethos:  Earth is overpopulated, and humans are causing potentially catastrophic global warming.  But are these postulations based on concrete, scientific evidence?  The Triumph of Consciousness addresses these issues, while reminding us that societal change begins when individuals overcome their fear and apathy and embrace their inherent strength and wisdom.
His site is christopherjamesclark.com
Share this post...